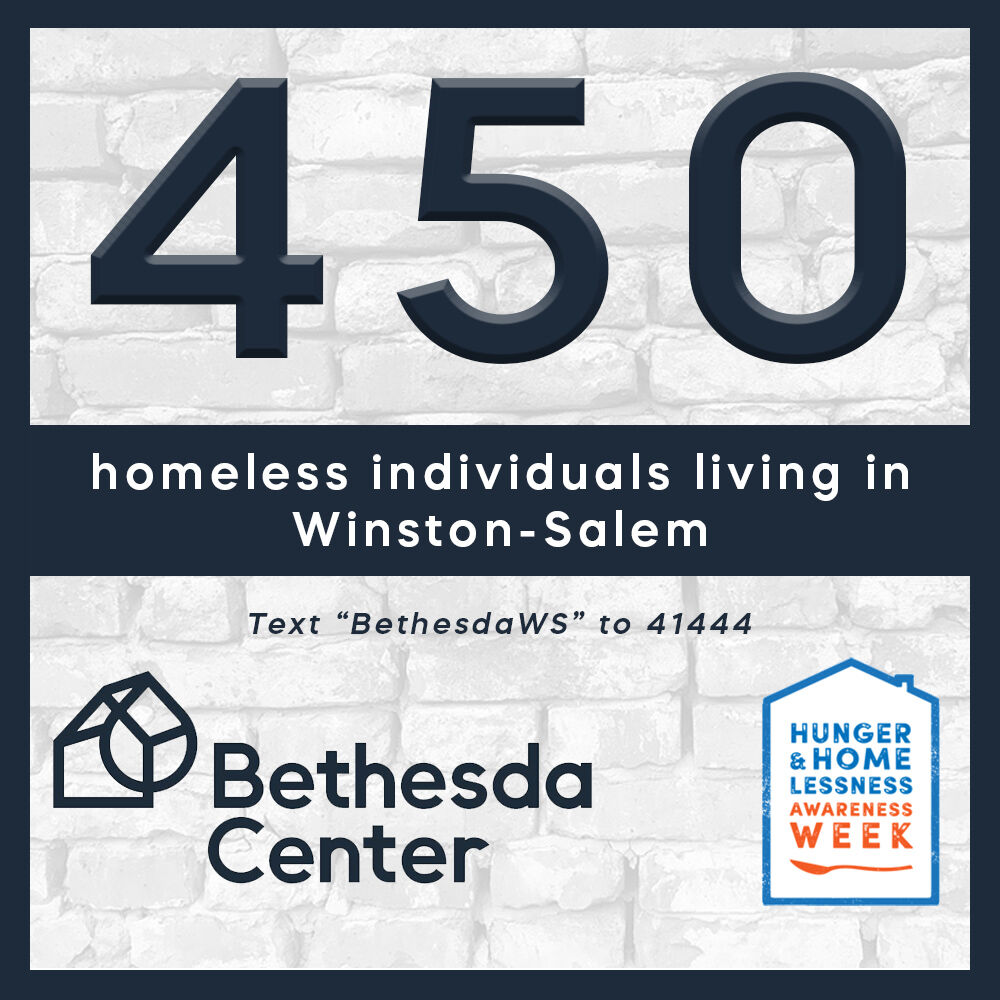 On any given night in Forsyth County, more than 450 men, women and children do not have a place to call home. The COVID-19 pandemic has only increased the struggles of homelessness and hunger, as many local individuals have lost their job and been hurt by the downfall our economy.
In an effort to combat local hunger and homelessness, the Bethesda Center has planned events throughout the week to raise awareness of the issues of hunger and homelessness, right here in Winston-Salem and Forsyth County.
The Bethesda Center is the only local day-shelter in the community and the only emergency night-shelter that servers, both men and women. The Bethesda Center helps to improve the lives of Winston-Salem's homeless men and women by providing shelter and housing stabilization services with intensive case management.
On Tuesday, Nov. 17, there will be a live virtual town hall featuring Bethesda Center Executive Director Derwin L. Montgomery, Housing Authority Winston-Salem Executive Director Kevin Cheshire, Forsyth County Housing Director Dan Kornelis, City of Winston-Salem Director of Community Development Marla Newman and City with Dwellings Executive Director Russ May, along with a special message from North Carolina First Lady Mrs. Kristin Cooper. The town hall will run from 6:30-7:30 p.m. and streamed on the Bethesda Center's Facebook Live. 
Thursday, Nov. 19 is the Bethesda Center's annual Heroes for the Homeless Breakfast & Lunch. This will be held virtually to celebrate Bethesda's 30+ years of service to the community of Winston-Salem, and to honor the volunteers and community leaders who work relentlessly to improve the lives of homeless individuals. This will also be available on the Bethesda Center Facebook page beginning at 8 a.m.
"At this time of year, as we head into the holiday season, most people are preparing for Thanksgiving meals with their families," Montgomery said. "The reality is that there are many in our community who are not nearly that fortunate. At  Bethesda Center for the Homeless, we work 365 days a year to provide food, shelter and support to 100 men and women in our facility. This week gives us the opportunity to increase awareness for the growing hunger and homelessness issues in the area and celebrate our volunteers who helped us place more than 100 residents into permanent housing last year."
Help combat local homeless and hunger:
There are also several needs in the shelter created by the COVID-19 pandemic. The most urgent needs include Lysol, disinfecting wipes, toilet paper, Ziploc bags (sandwich & quart), hand soap and sanitizer, 39-gallon trash bags, ready-to-eat meals (mac n cheese, vienna sausages, etc), towels, and cases of water. Contact nstevenson@bethesdacenter.org to arrange a drop-off time.