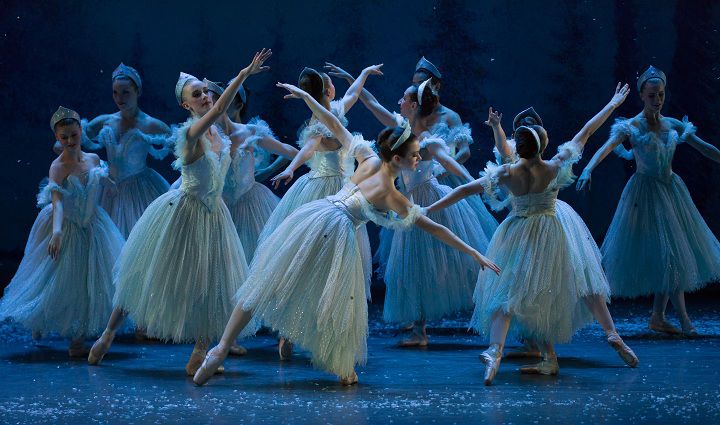 The holidays are all about traditions – from decorating the tree to savoring grandma's famous pecan pie. And one of the most anticipated traditions in North Carolina is UNC School of the Arts' annual production of "The Nutcracker" ballet.
Now in its 50th year, UNCSA's "Nutcracker" has been revamped multiple times over the years with new scenery, costumes and choreography. No matter the changes, though, the production remains a beloved part of the holiday season, bringing, joy, music and dance to countless North Carolina families.
"UNCSA's production is part of the very fabric of our community" says UNCSA Chief Marketing Officer Katharine Laidlaw. "Generations of families have experienced UNCSA's 'Nutcracker' together, thrilled by the incredible, heartfelt performances of these talented young artists. It's one of the ways we celebrate a special time of year with those we love."
Still not convinced? Here are three more great reasons to make UNCSA's "The Nutcracker" a part of your family's holiday festivities this year.
1. Critics are raving about the production
Since its reimagining in 2009 by director Ethan Stiefel, former dean of UNCSA School of Dance and former principal dancer of American Ballet Theatre, "The Nutcracker" has received glowing reviews from both critics and audiences alike. YES! Weekly calls it a production of "enormous power and artistic excellence" and the Winston-Salem Journal raves "gorgeous...UNCSA's Nutcracker thrills."
"UNCSA's annual production of 'The Nutcracker' showcases some of the finest talents at the School of the Arts and engages a broad spectrum of our community with beautiful music, superb performances, and excellent stagecraft," says UNC School of the Arts' Dean of Dance Susan Jaffe.
2. It's your chance to see world-class guest artists perform
This year's production will feature guest dancers Megan LeCrone performing the role of the Sugar Plum Fairy and Martin Harvey as the Cavalier Prince for two evening performances on Wednesday, Dec. 14 and Thursday, Dec. 15.
"We're thrilled to continue the tradition of bringing world-class guest artists to our stage," says Jaffe. "Megan and Martin are extraordinary dancers who will inspire our students and captivate audiences. Megan, an alumna of our high school ballet program, serves as a perfect testament that the brightest ballet stars of the future are performing on UNCSA's stages today."
3. You're supporting student dancers and the arts
Over 200 UNC students are involved in each performance, including dancers, musicians in the orchestra and production crew. The show gives audiences the opportunity to see the next generation of ballet stars before they make it big, says Laidlaw.
"Very often the students who dance the principal roles of 'The Nutcracker' are plucked from our school to join major companies," she says.
Presented by First Tennessee Bank, the 10-show performance schedule for UNCSA's production of "The Nutcracker" is: Dec. 9, 10, and 14-17 at 7:30 p.m.; and Dec. 10, 11, 17 and 18 at 2 p.m.
Make "The Nutcracker" part of your family's holiday celebrations by reserving your tickets today. Tickets are available at the Stevens Center Box Office, by calling (336) 721-1945 or visiting UNCSA.edu/Nutcracker.