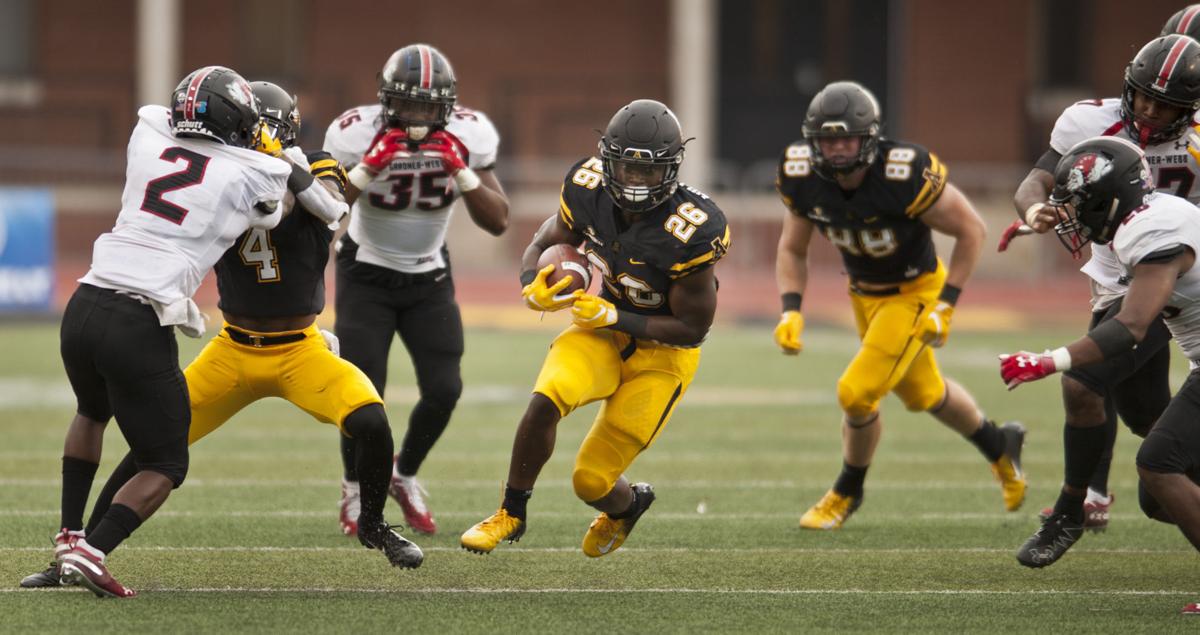 This time last year, Appalachian State's running back troubles were really about to start.
Jalin Moore had already suffered an injury in what became a health-plagued season for the Mountaineers' star.
A couple weeks later, Terrence Upshaw saw his senior season end because of a triceps injury.
App State had to lean on two freshman running backs (Marcus Williams and Daetrich Harrington) to provide steady contribution.
Six running backs had carries in a 432-yard rushing performance for Appalachian. The showing impressed Moore as he scanned the postgame stat sheet.
"Me being an older guy looking down at them (younger running backs), seeing them compete like that, that just gives me that extra drive," Moore said. "Made me want to get back in the game, get me another touchdown in. And that's a good thing when you got that feeling."
Coach Scott Satterfield mentioned a universal truth about the App State offense on Saturday: the Mountaineers offense needs many running backs to be effective.
"That's (the production) good as we head into conference play," Satterfield said. "Because last year, we saw what happened with the injuries at running back, so you want to be able to have a stable of backs with our offense."
In a short day's work, Moore carried the ball eight times for 119 yards and two touchdowns, including an 81-yard run that was the longest of Moore's career.
But he was upstaged by Hicks, however, who tallied 150 yards on 11 carries. Hicks' last carry of the day featured a 73-yard score in the fourth quarter that flashed his blazing speed.
In August, Satterfield mentioned Hicks and true freshman Camerun Peoples as players he was excited to see in games. Peoples is 6-foot-2 and 202 pounds, and he'll likely be a building block in the near future for App State.
Satterfield thinks Hicks, who played quarterback in high school, is on course with his development right now. He's still learning how to pass protect, the coach said, but his talent with the ball is apparent, displayed by his two long runs (of 73 and 28 yards on Saturday).
Before he finished speaking, Satterfield leveled some heavy praise on the young position group: Outside of Moore, the rest of players the previously mentioned (Evans, Williams, Hicks, Peoples and the still-sidelined Harrington) are sophomores or younger.
"I'm really pleased with all our backs," Satterfield said. "We have some very very talented running backs.
"To me, probably five guys could potentially be starters in the Sun Belt out of our running backs."
It will take a few seasons to prove that true. But this past Saturday at least proved the group is in far better shape than it was a year ago. ejoyce@wsjournal.com
Be the first to know
Get local news delivered to your inbox!