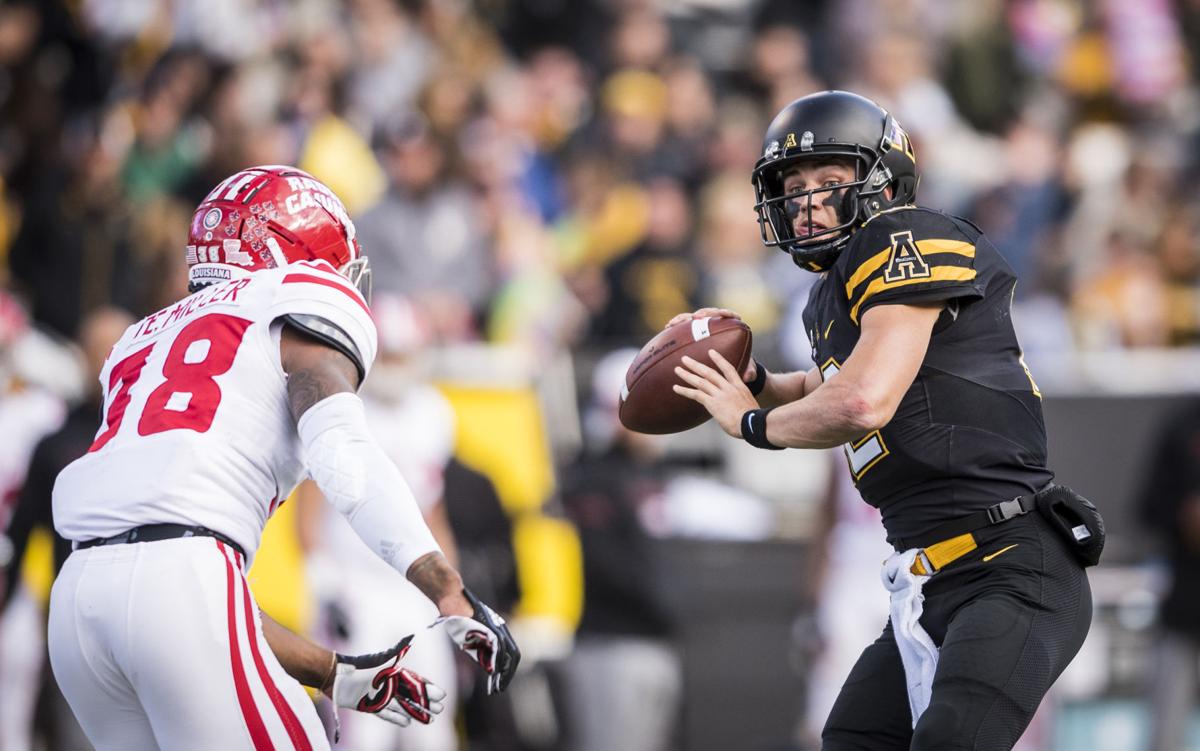 Appalachian State made a trip to Conway, S.C. this weekend for a game against Coastal Carolina.
There were two significant presences on the App State (6-2, 4-1 Sun Belt) sideline even though neither player saw the field. 
App State quarterback Zac Thomas and running back Daetrich Harrington both dressed out and went through pregame warm-ups before the 23-7 Mountaineers' win on Saturday. According to Coach Scott Satterfield, Thomas should return soon. And Harrington, the coach said, is nearing his chance at playing time.
Thomas, App State's regular starter at quarterback, exited Appalachian's 34-14 loss to Georgia Southern on Oct. 25 during the first quarter. He was later diagnosed with a concussion. He didn't practice on Tuesday or Wednesday, App State's open practices during the week. 
Satterfield expected Thomas would be back on normal schedule this week as the team prepares for an away game at Texas State.
"He'll be practice tomorrow (Sunday), full bore, ready to go," Satterfield said after the CCU game. "He actually felt really good, man. He wanted to play.
"Just with our protocol, they were not able to let him play today, which is unfortunate, but I stay out of that stuff. I let those guys do it."
It was the first trip on the travel roster for Harrington this season. The sophomore running back tore his ACL during spring practices in February. He wasn't needed against the Chanticleers, Satterfield said, with Darrynton Evans and Marcus Williams Jr. providing the offense.
App State also had true freshman Camerun Peoples available. Peoples has appeared in only one game this season, and he's a potential redshirt candidate thanks to the new rule allowing players to appear in four games and still maintain that year's eligibility. Harrington, who played has true freshman last season, is also still eligible for a redshirt season.
Harrington left the scout team and joined the offense for some reps during the week. Satterfield's thinks Harrington may eventually have his chance to play.
"I think he's really, really close to maybe getting some playing time and getting some games experience back again," Satterfield said. "He's feeling good. I talked to him yesterday, and he's like 'Coach, I'm back to normal now.' I think that confidence factor is big for him.
"And you know, we'll need him. We'll need another running back as we come down the stretch. . . Those other two guys (Evans and Williams) were just running really hard tonight. And we wanted to keep those guys in, the hot hand, and the game was still kind of close, so we didn't want to put a new guy in there at the end of the game."