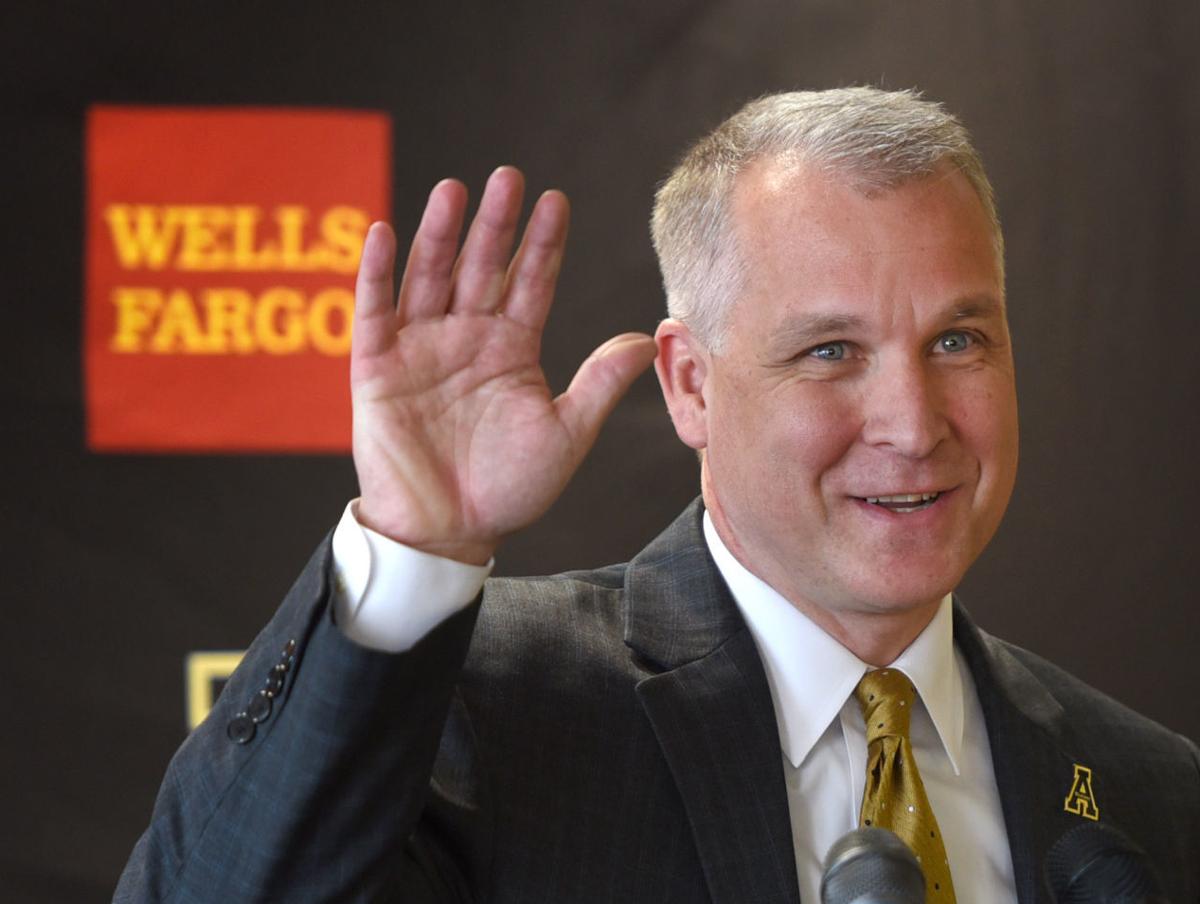 By this time in April, Doug Gillin will likely have made the two most-important hires of his Appalachian State tenure in the short span of four months.
In December, the athletics director saw Scott Satterfield plucked away by Louisville, prompting Gillin to hire Eli Drinkwitz as the new leader of the football program. On Friday, Jim Fox was fired as men's basketball coach after five seasons where the Mountaineers saw 20-plus losses in three of the last four seasons.
With Drinkwitz, Gillin scooped up a successful young coach who was a coordinator at a Power Five program within the same geographical region. Drinkwitz, who is 35, served as N.C. State's offensive coordinator the last three seasons.
Those parameters can also be applied to Appalachian's basketball vacancy with a couple of caveats. Given that basketball exists outside of the P5-G5 structure of football, Gillin has more options to consider. But since App State's last two men's basketball coaches have been first-time head coaches who struggled in Boone (Fox and Jason Capel), a premium also could be placed on prior head-coaching experience.
With that baseline set, here are 10 options that fit the above profile. And as a reminder: this is not a list of candidates who will be interviewed. It is, however, a worthy list featuring folks who are worth Gillin calling if they're interested.
Fit the profile
Tim Craft, Gardner-Webb head coach: The Runnin' Bulldogs are NCAA Tournament bound for the first time in school history thanks to Craft. The 42-year-old has been at the school the last six seasons.
Craft has won 111 games at the school, including 23 wins this season. That's the highest win total for the school since moving up to Division I in 2008. His teams also have maintained a steady diet of beating bigger programs. Gardner-Webb beat Georgia Tech and Wake Forest this season. His team also beat Clemson and Purdue during the 2014-15 season, and then Nebraska in 2016.
A coach since 2000, Craft was an assistant at Gardner-Webb from 2004 to 2007 before stints at Auburn (2008 to 2010) and East Carolina (2010 to 2013).
Bart Lundy, Queens University head coach: Queens has turned into a Division II power with Lundy. The Royals are currently 30-4 and are among the final 16 teams vying for a national championship. They are one of three No. 1 seeds left in the D-II tournament.
Lundy, 47, has been the coach at Queens on two separate occasions. The first, from 1988 to 2003, resulted in three seasons of at least 25 wins. The second, which started in 2013, has seen win totals increase every season. The Royals won 25 games games in 2015-16, followed by seasons of 25, 30 and 34 victories. They've appeared in the Elite Eight three times with Lundy.
Between his Queens stints, Lundy was head coach at High Point from 2003 to 2009, followed by three years as director of basketball operations at Marquette and a season (2012-2013) as an assistant at North Texas.
Kevin McGeehan, Campbell head coach: McGeehan has seen much improvement from his Campbell program during the last three seasons.
On top of recruiting and securing one of the best scorers in NCAA history — Campbell's Chris Clemons garnered national attention as he rose to No. 4 on the all-time scoring list — the Camels have won at least 18 games the last three seasons. That's culminated in a 20-win season and a share of the Big South regular season championship.
McGeehan, 45, is a former assistant at Air Force (2004 to 2005) and Richmond (2005 to 2013).
Levelle Moton, N.C. Central head coach: Moton has been as foundational to NCCU as a coach as he was as a player. The 44-year-old has gotten the Eagles to the NCAA Tournament in four of the last six seasons, which includes this year.
Since joining the MEAC in 2011, NCCU has had winning records in all but one (2015-16). That stretch includes three seasons of 20-plus wins.
Gillin was on the other side of this alumnus situation with Satterfield, a former App State quarterback. Moton is a 1996 graduate of NCCU and the third-leading scorer in school history (1,714 points). Moton grew up in Raleigh, graduating from Enloe. Could App State be enough to pull Moton away from a community in which he's very entrenched?
Josh Schertz, Lincoln Memorial head coach: Another coach from the Division-II ranks, Schertz has the Railsplitters rolling. He's 286-64 in his 11 seasons at LMU.
Schertz has 10 straight 20-win seasons, ending this season with a first-round loss to Wingate, 80-78, in the South Atlantic Conference.
Schertz is a former assistant under Lundy at both Queens and High Point.
Missing head-coaching experience
Nate James, Duke associate head coach: James has spent his entire post-playing career in Durham.
He joined the Duke program as a strength and conditioning coach in 2008 before becoming an assistant coach the next season. James played for one national championship team (2001) before helping coach two others (2010 and 2015).
It's taken large jobs to pull assistants from the Blue Devils program — see Johnny Dawkins to Stanford, Chris Collins to Northwestern, Steve Wojciechowski to Marquette and Jeff Capel to Pittsburgh. James hasn't made his jump yet, but after spending most of his adult life in Durham, would he be willing to leave for Boone?
Joel Justus, Kentucky assistant coach: Justus is a Winston-Salem native in the midst of his third season as an assistant coach with the Wildcats. He joined the program in 2014-15, working as the director of analytics then as special assistant to the head coach for the following season.
Before that, Justus was the head coach at Davidson Day High School for two years. He's also been an assistant at Elon (from 2004 to 2008) and graduated from UNC Wilmington.
Justus's only experience as a head coach is at the high school level — coming at Davidson Day and at Woodberry Forest School in Virginia (2008 to 2012).
Takayo Siddle, N.C. State assistant coach: This option might seem a bit on the nose. Gillin hired an N.C. State assistant for the football job, so why not hire another? But Siddle has been an integral part in Kevin Keatts's rise to N.C. State.
Siddle is an Eden native, playing at Gardner-Webb and working with Keatts at both UNCW and at Hargrave Military Academy in Virginia. Siddle was the interim head coach for the Seahawks after Keatts was hired by the Wolfpack and was considered to be Keatts' permanent replacement.
Siddle graduated from Gardner-Webb in 2009, making him the youngest candidate on this staff.
Longshot options
Bobby Lutz, former Charlotte head coach and N.C. State assistant: Lutz, a North Carolina native, compiled a career record 398-247 as head coach at Pfeiffer and Charlotte. In his time with the 49ers, he took his teams to five NCAA Tournaments and four National Invitational Tournaments.
After being fired from Charlotte in 2010, Lutz coached at Iowa State as an assistant for the 2010-11 season and was an assistant coach at N.C. State from 2011 to 2016. He spent two years after that with the Windy City Bulls, the G-League affiliate of the Chicago Bulls.
Lutz is 60 years old, indicating to the Charlotte Observer in 2018 that he likely wouldn't coach again.
"They have a younger set and group and an old guy like me who isn't into politics and never will be," Lutz told the Observer. "....I always said if I'm not good enough on my own, I'm not good enough, and so I know my chances are not very good (to coach again). And it's OK. I'm content."
Matt McMahon, Murray State head coach: Though the chance of getting McMahon is small, App State has to call this guy. Even if it's only to convey admiration for his work.
McMahon, a former Mountaineers player and assistant coach, is rolling with Murray State. The Racers have won the Ohio Valley Conference tournament the last two seasons, resulting in automatic berths.
McMahon has set himself up for a bigger job in the future should he decide to leave. But Appalachian has to attempt to bring back the man it passed over for Capel in 2009.