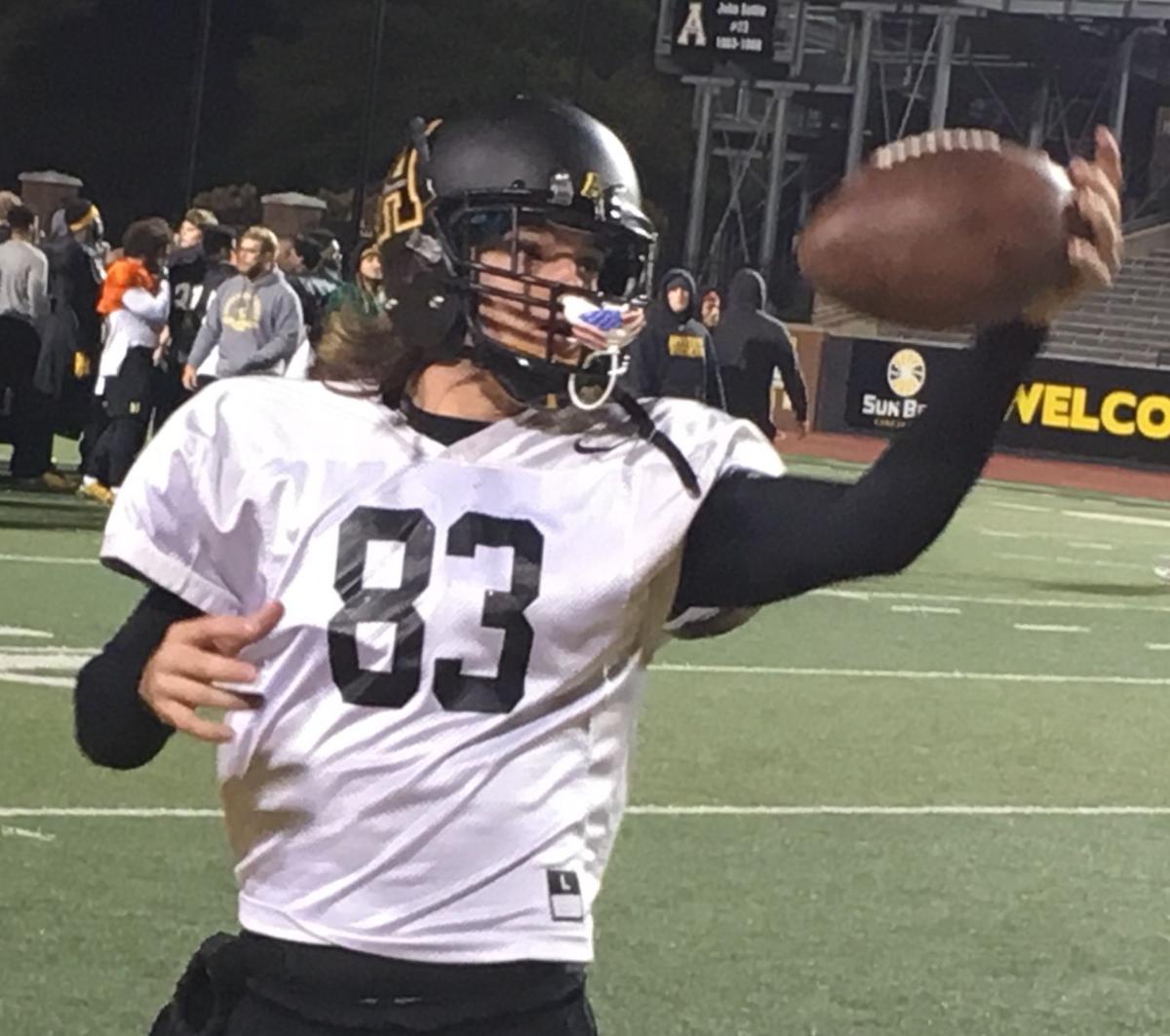 BOONE — As soon as Appalachian State's practice ended Wednesday, a 5-foot-11 scout team receiver with long hair flowing out from the back of his helmet walked directly to the ball machine and started working on gloveless, one-handed catches.
Mykel Golden has attended four colleges and played in one App State football game. Saturday is senior day at Kidd Brewer Stadium, and Golden prepares with a starter's diligence for an opportunity that may never come.
"I'd stay on that thing all day," he said. "I just love catching footballs."
The Mountaineers' roster lists 16 seniors, and 15 regularly make visible contributions.
Most Appalachian fans may not have heard of Golden, but those in attendance Saturday will hear his name called as he's escorted onto the field by his parents, Ron and Saundra, before kickoff against UL Monroe.
Golden, 22, has taken a long road to senior day.
He played football at South Stanly High School before following his father, a coach, to West Montgomery and Providence Grove. Golden competed in football and baseball at Division III Guilford College before transferring to Stanly Community College, and his hopes of walking on at Charlotte were wiped out, in part, by a delayed enrollment.
Golden, who had played with current App State receivers Jaquil Capel and Brad Absher at West Montgomery, arrived at Appalachian in the spring of 2015 and talked to receivers coach Justin Watts about becoming a walk-on. Golden made the team and appeared in a game for the first time during a 35-10 rout of Texas State on Nov. 5.
"It was cool to be out on the field," he said. "I understand things don't always go the way you want them to. Of course I'd love to play every down, but we have a deep receiving corps and a lot of awesome guys. It's just fun to be around them."
Sharing the field with his parents during Saturday's pregame ceremony will have special meaning.
"It's hard to move around that much and not have a supportive family," Golden said. "They've allowed me to chase my dream as far as I could take it."
The Mountaineers actually plan to honor 17 players Saturday, as fourth-year junior Hunter Nunn, the twin brother of offensive lineman Beau Nunn, is wrapping up his college football career this season. A tight end, he scored a 1-yard touchdown in 2015 on his only career catch.
Time management
App State coach Scott Satterfield provided some clarity regarding how the Mountaineers managed their timeouts in the final minute of a 28-24 loss at Troy on Saturday.
Appalachian moved from its 24-yard line with just under a minute left to the Trojans' 38 before time expired. The game ended with three incompletions, including two on deep throws toward the end zone.
The Mountaineers had two timeouts left and didn't use one when Capel, who was relatively close to the Trojans' sideline, caught a first-down pass for a 7-yard gain to Troy's 44 with 33 seconds left.
"No. 1, I didn't know if he caught it — it was on the other side of the field, and I couldn't tell or didn't get word that he caught it," Satterfield said. "When he caught it, I couldn't tell if it was a first down — I assumed it was a first down."
The clock continued to move, as an official spotted the ball with 22 seconds remaining and quarterback Taylor Lamb took the snap with 19 seconds left. Capel gained 6 more yards on a sideline throw to the Troy 38 and stepped out of bounds with 14 seconds left.
"The clock was running, and at that point I could have called a timeout and probably saved five seconds, but at that point, let's just run the play," Satterfield continued. "Sometimes you have momentum, when you have positive plays, you want to continue to go. You call timeout, you stop momentum, they have time to regroup, and we have to come over here and draw something else up.
"In that situation, time was very important for us. We had two timeouts. Certainly should have called it. We would have saved probably 10, 12 seconds on the clock."
Appalachian used its second of three timeouts to stop the clock when Shaedon Meadors appeared to make a 13-yard catch at the Troy 25 with nine seconds left. The clock would have stopped temporarily to reset the chains for a first down, but one official came in late to rule the pass incomplete — a debatable call depending on school allegiance.
A review led officials to stick with the incomplete call, and App State used its final timeout with two seconds left, after the first deep pass toward the end zone had fallen incomplete.
Hat trick for Townes
Appalachian received some criticism for using only a three-man rush when Troy quarterback Brandon Silvers had ample time to hit Sidney Davis with a 43-yard pass on a fourth-and-6 play in the final two minutes.
Earlier in the game, using a three-man rush with linemen stunting, Rashaad Townes and Myquon Stout combined for a sack of Silvers. The two defenders also shared a sack the previous week against Texas State.
Townes, listed as an outside linebacker, has spent time at three defensive spots in recent weeks.
"We're just trying to find ways to get him on the field," Satterfield said. "He's such a great pass rusher. He's athletic and can tackle. He's done a great job of learning all three positions."