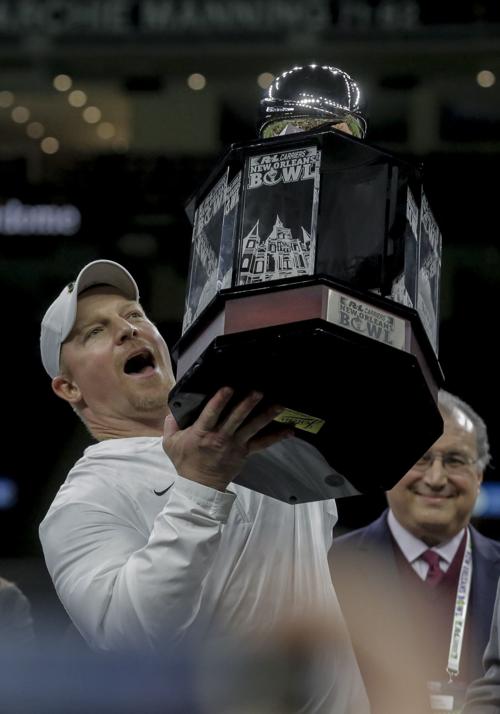 NEW ORLEANS — Shawn Clark was freshly showered and sitting in the Superdome during Sunday's dawning hour. Appalachian State's run game coordinator and fill-in play caller for the New Orleans Bowl had just authored a risk-taking assault on Middle Tennessee, resulting in a 45-13 Mountaineers win and a fourth straight bowl victory.
Clark, an Appalachian alum who joined the staff in 2016, reflected on his contributions to the series of season-ending victories.
"Hat's off to Scott (Satterfield), he's built a heck of a program," Clark said before correcting himself. "Or, we built a heck of a program, put it that way.
"It was a dream come true to end this season the way the program deserved to be ended."
Clark was one of a few who tried to steady what became two trying weeks for the football team. First, Satterfield was hired by Louisville on Dec. 4 after six years as the Mountaineers' head coach. Mark Ivey, the team's assistant head coach and defensive line coach, took on interim duties.
On Wednesday, Ivey and the players learned that he would not have his interim tag removed. And on Thursday, the Mountaineers tabbed Eliah Drinkwitz to be the program's next head coach, meaning staff changes will follow.
App State had faced adversity in bowls before. In the 2015 Camellia Bowl, the team overcame a 17-point deficit to beat Ohio with a game-winning field goal. And the next season, Appalachian battled a Toledo team that responded to touchdowns with touchdowns en route to winning in Montgomery again.
Those two games featured on-field challenges. Saturday's game against MTSU could've become a chaotic disaster had the off-field struggles leaked onto the turf.
On top of Satterfield, App State players dealt with the departures of defensive coordinator Bryan Brown, passing game coordinator Frank Ponce and strength and conditioning coach Mike Sirignano as well.
Ivey said those coaches came by practices to say their goodbyes, each one triggering emotions as he left. But as those coaches moved on, others still at App State began focusing on what they could provide more of.
For Ivey, it was honesty. And for Clark, it was perspective. The interim coach saw only two options. The team could either be upfront and discuss the changes or avoid them entirely. Ivey and staff felt the former was better, allowing for quicker recovery. For Ivey, that approach works not only in football, but in everyday life.
"The biggest thing was that we knew as great and as tough as these players were, if they smell any fear or weakness or confusion out of us, you can't fake it," Ivey said. "We just decided hey, we're going to have fun with it.
"We're going to make sure they get exactly what they've been getting all along, and if we do that, then they're going to do exactly what they've been given. And that's what they did."
And Clark helped prep players for the impending staff shuffling. This will be the third coaching change of his 18-year coaching career. As a grad assistant, he was on Louisville's staff in 2002 when John L. Smith told the team he was taking the job at Michigan State during halftime of its bowl game. And as the offensive line coach at Purdue, the staff was let go in 2012.
His return to App State allowed Clark to keep building something he'd worked on as a player from 1994 to 1998. He reminded current Mountaineers that it would continue as well, no matter what happens in the future.
"Just let the kids know that this program is going to be here no matter if Coach Ivey's here, if Coach (Dale) Jones, Satterfield, myself, (Nic) Cardwell — this program is on solid ground," Clark said. "And no matter who's here Appalachian State football is here to stay."
App State's offensive game plan on Saturday featured two trick plays that resulted in a couple of passing touchdowns for wide receiver Malik Williams. It also produced three touchdowns by quarterback Zac Thomas, as well as an explosive running back combination of Darrynton Evans and Camerun Peoples.
Clark realizes how quickly things could change for him and the rest of the App State staff, as Drinkwitz starts assembling his own staff. But he's holding out hope that he can continue working in Boone.
"I want to be here. I can't tell you how much I love it," Clark said. "When I got back here three years ago — four years ago now — and just be a part of something special. And nobody understands that unless you're here. I mean, we don't do things the norm. We do it our way, and it's worked. That's what's so special about it."
Ivey echoed similar sentiments after winning his one and only game as the program figurehead.
"Well, if this is the end, I feel real good about it. It's better than the alternative," Ivey said. "I'm just pleased that the kids played well tonight. I'm glad that they were able to experience a fourth bowl game victory, four out of four, could be worse, you know?
"Really pleased that they were able to get that type of victory. And you know, any time I can be around black and gold, Mountaineers, it's a great day for me. I just feel blessed to be able to do this for the last week-and-a-half with those guys."
During his final press conference as an App State football player, senior nose tackle MyQuon Stout pointed out the way that App State's remaining coaches handled everything. He talked about how it reinforced the family foundation that Satterfield, Brown and the rest of the staff preached.
So when Stout finally got his hands on his phone after the game, he noticed Brown had been tweeting throughout the game, rooting on his former players.
The Mountaineers realize how different App State's staff could look next year. It will be another new challenge for a wildly successful Group of Five program. But to Stout, Brown's post reinforced something major about App State in a minor way.
Then Stout uttered a thought he's mentioned before. But as the program sits on the cusp of more change, the statement rang true following the last game of his Mountaineers career.
"That just shows how much App State means to everybody," Stout said. "It's just special up there on that mountain."