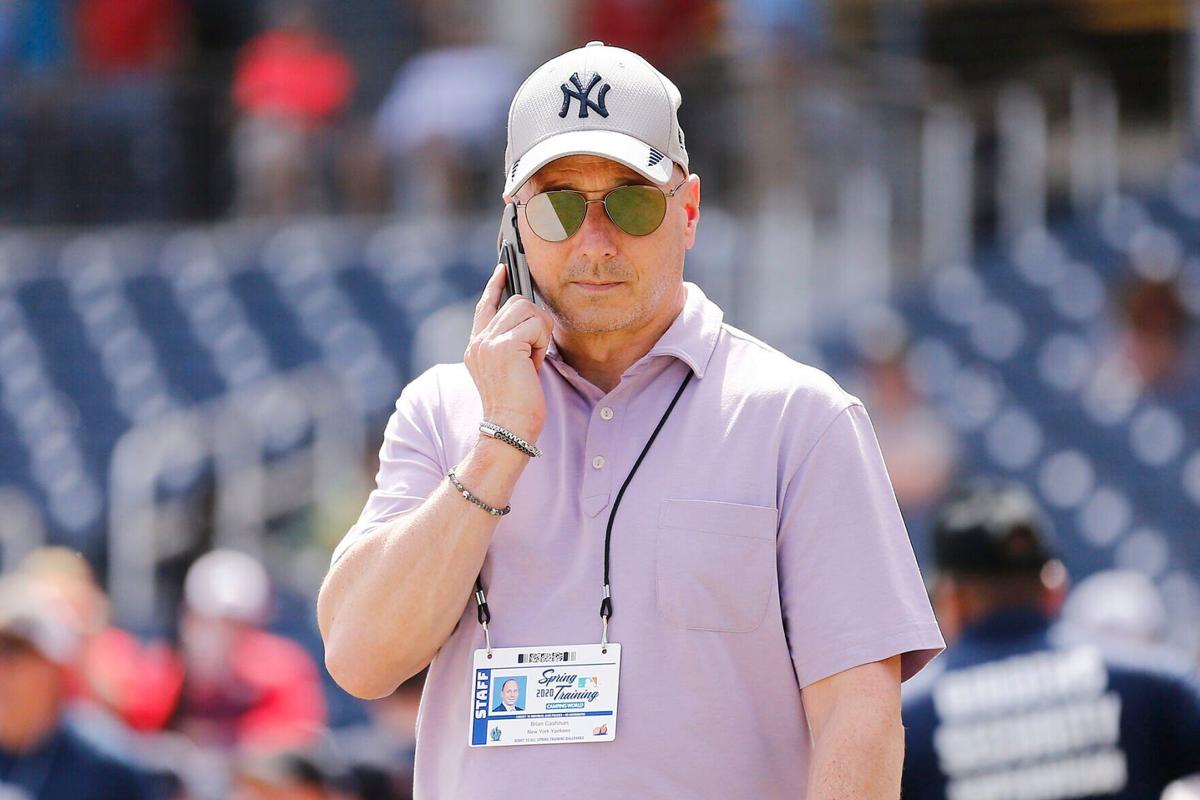 The prevailing line right now across MLB — a league facing a lockout if a new collective bargaining agreement isn't signed by Dec. 1 — is that things are business as usual. Everyone involved knows what could be coming, but that's a bridge they are avoiding until other conditions make it absolutely necessary to cross.
Brian Cashman said despite the lockout lurking over every move this offseason, he has not seen a hesitancy from players or their agents to wait until a new CBA is signed before engaging in contract discussions. While the Yankees GM will not be involved in the labor negotiations (call it "above his pay grade"), he is bullish about the whole situation getting settled.
"You've got two really smart sides. One side has a business to run, the other wants to work in the business," Cashman said last week at a charity event, referring to the owners vs. players struggle that will define the offseason. "I'm optimistic. They both want the same thing in different ways, so that's what negotiating is all about."
For the next ten days, those sides will work toward a new deal to avoid the dreaded lockout. While the word has a dirty connotation, the reality is that a lockout is probably the necessary move to ensure a season takes place. The man who will provide the most public comments on this topic over the next few months, MLB Commissioner Rob Manfred, has been in charge of labor since 1998 when Bud Selig hired him as Executive Vice President of Economics and League Affairs. Manfred has enjoyed relative labor peace for his entire tenure, though getting the 2020 season off the ground was an ordeal that foreshadowed how tense the current negotiations could be. Manfred said at the recent Owners' Meetings in Chicago that reaching an agreement in any manner possible will take precedence over protecting his already-stained legacy, while calling the focus on 2020 "excessive."
"The way I think about my job is that I try to come to work every day and do the very best job for the owners, our clubs and our fans," Manfred said on Thursday. "Whatever my legacy turns out to be, it's going to turn out to be. All I can do is do the very best I can each and every individual day. In this circumstance, I think the best thing for clubs and the fans is to do everything humanly possible to make an agreement."
If there is no agreement by Dec. 1, which is the expectation, the lockout would accelerate urgency on several fronts. Both sides will want to get it resolved before actual games are at stake, but from the players' perspective, there will be an urgency to get paid. A lockout puts a freeze on the hot stove (no free agent deals, trades, or player movement can be completed under a lockout), so reaching a deal would mean the money can start flying again.
That's definitely what Yankee fans around the world are hoping for, as the thirst for a juicy mega contract is still unquenched each time they refresh Twitter. That feeling will linger and patience will become thinner during a lockout, but Manfred has a message for those fans and their insatiable desire for NBA-style player movement.
"Honestly, I can't believe there is a single fan in the world who doesn't understand that an offseason lockout that moves the process forward is different than a labor dispute that costs games," Manfred said from Chicago.
Before the ominous deadline hits, a handful of impatient players and their agents could put pen to paper to avoid the uncertainty that would come from a winter of radio silence. Several players have already secured their next contract, particularly across a lucrative pitching market. Former Met Noah Syndergaard didn't mention the labor issues as a reason for signing with the Angels so quickly, but he did say the Mets' lack of organizational clarity or structure during the negotiating period steered him away from a return.
That school of thinking — choosing the comfort of a signed contract over the wait-and-see dance — can easily be applied to lockout fears as well. Those who dislike uncertainty may be more prone to take the money and run. Cashman said that the Yankees are acting as though everything is normal and have seen reciprocal feelings from their potential suitors.
"My impression is that free agents are ready to rock and roll. We've made offers and some have signed," he said, reminding reporters that Joely Rodriguez re-signed with the Yankees in the early days of free agency. "It's a swift-moving market so far."
That has not applied to the top of the market yet. All eyes are still on Carlos Correa, Corey Seager, Kris Bryant, Max Scherzer and others that are set for larger bankrolls than Syndergaard or Rodriguez. Teams, and their fans, who have one of those players atop their holiday wish list will be frustrated by each day of a lockout that adds free agent coal to their stocking. That, according to Manfred, is not something that anybody wants.
"I don't think there is anybody who understands any better than I do, that from the perspective of the fans, that they don't want a labor dispute," the commissioner, who is often ridiculed for being out of touch with the common fan, opined. "That's why our No. 1 priority is to make a deal."
The clock is ticking, though, which makes the next eight days a pressurized stretch of intrigue. If some of those big names don't come off the board by the end of November, there's a chance they won't until the end of February, or whenever these fraught and complicated labor disagreements are resolved.
Photos: Game 6 highlights from Braves-Astros World Series
World Series Baseball
World Series Baseball
World Series Baseball
World Series Baseball
World Series Baseball
World Series Baseball
World Series Baseball
World Series Baseball
World Series Baseball
World Series Baseball
World Series Baseball
World Series Baseball
World Series Baseball
World Series Baseball
World Series Baseball
World Series Baseball
World Series Baseball
World Series Baseball
World Series Baseball
World Series Baseball
World Series Baseball
World Series Baseball
World Series Baseball
World Series Baseball
World Series Baseball
World Series Baseball
World Series Baseball
World Series Baseball
World Series Baseball
World Series Baseball
World Series Baseball
World Series Baseball
World Series Baseball