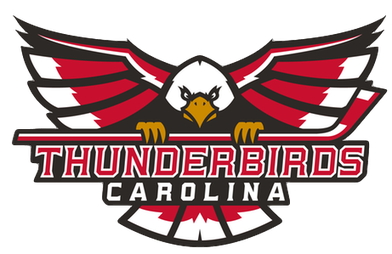 Carolina Thunderbirds update


Record
11-11-2, fifth place in the FPHL standings
This past weekend
The Thunderbirds had a tough road trip to upstate New York losing all three games to the first-place Watertown Wolves. The Thunderbirds lost 4-2 on Friday night, 7-3 on Saturday night and 5-3 on Sunday night.
On Sunday night the Thunderbirds fell behind early 3-0 and never recovered as they tumbled out of fourth place and into fifth place in the FPHL standings.
Stars
Jacob Schnapp had two goals in the series and Tommy Cardinal also had two goals in the three games for the Thunderbirds. John Buttitta and Gus Ford each scored goals on Sunday night in the loss and Tommy Cardinal had a goal and two assists.
In Friday's loss the Thunderbirds outshot the Wolves 41-32 but fell behind 3-0 after two periods.
Notable
Earlier this season veteran Jiri Pestuka of the Thunderbirds reached 200 career points. He's been a member of the Thunderbirds for the last three seasons.
Stat of the weekend
After 12 home games at the Winston-Salem Fairgrounds Annex the Thunderbirds are second in the FPHL in attendance. The Thunderbirds are averaging 2,604 in the 3,000-seat Annex. In 2018-19 season when the Thunderbirds were the FPHL champions they averaged 2,639 fans for the season.
Looking ahead
The Thunderbirds need to do some work to move back into fourth place. They will need to finish the season in fourth place or higher to make the playoffs. The Thunderbirds will play Friday at Delaware before playing two straight games at the Annex against Delaware on Saturday and Sunday. The Thunderbirds are in good shape for a sweep of Delaware, which is in last place with a 1-18-1 record this season. All three games can be heard live on radio station WTOB (980 AM and 96.3 FM).