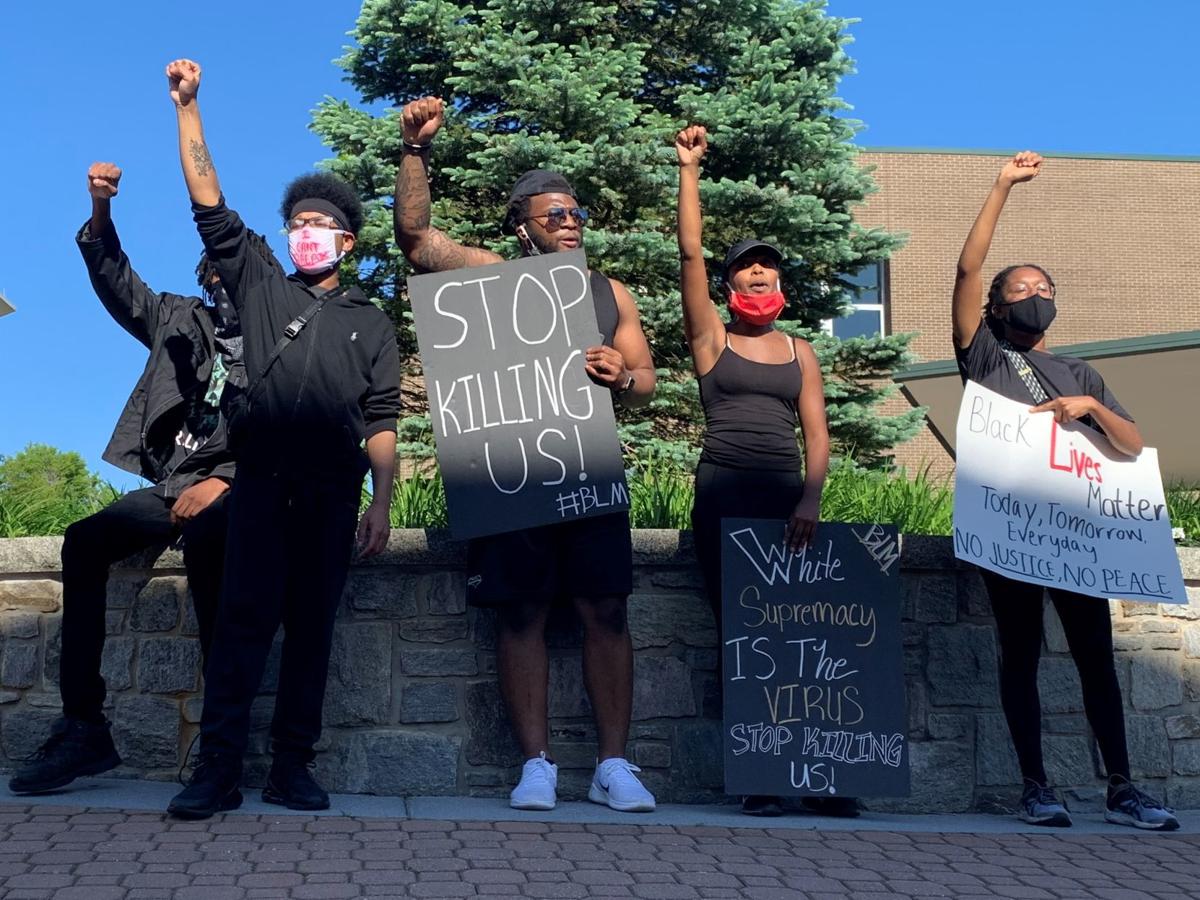 BOONE — The five of them stood there, at the end of a busy two hours, engulfed by roars.
In just a couple of days, a small group of Appalachian State students organized a protest that brought hundreds out around downtown Boone today. It became part of the nationwide outcry of the killing of George Floyd in Minnesota, the growing list of black people killed by police officers and the continuing fight against racism in our nation.
They walked out of the heart of campus, through the town's main vein and arrived at the Watauga County courthouse. Their group was so large, it took about 15 minutes for everyone to gather before speeches could start. And when they returned to their starting point, outside the university's library, they led fellow protesters in chants for more than an hour.
Markell Clark was one of the students who helped plan the event, along with Kyndavee Bichara, Jay Edwards, Colbie Lofton, Dray Petree and some others. As the evening closed, Clark mentioned the group hoped for a strong turnout. Even they were surprised by the number of people who helped flood King Street.
"There were some people who tried to scare us out of doing this, but we knew that if we let them intimidate us, then they won at the end of the day," said Clark, a defensive lineman for the school's football team. "And like I said when I was up there — we're going to get justice, we're going to get our rights."
Clark said the effort came together swiftly. Shortly after Friday, he and the other students formed a group chat. They then hopped on a call, piecing together the plan for their next steps. It became the walk to the steps of the county seat.
The group followed the sidewalk past store fronts, shouting in unison. When they arrived at the courthouse. That's where Bichara, a track and field athlete, talked about her family. She's the oldest of five, some of them younger brothers. She has a father and some uncles. Floyd's fate could be theirs, too.
The group shouted the names of other black men and women killed both recently and in the past: Ahmaud Arbery, Breonna Taylor and Trayvon Martin. Rodney King, who was assaulted by Los Angeles police officers in 1991, was also mentioned. They were a few of many mentioned as protesters stood in the shutdown portion of the street.
"Please do not forget that these things happen where we are right now," Bichara said. "Racism exists in every city, every place, everywhere. And it needs to end now."
The students drew the support of some of the biggest names in the athletics department. Athletics director Doug Gillin, football coach Shawn Clark and basketball coach Dustin Kerns were a few of many in attendance.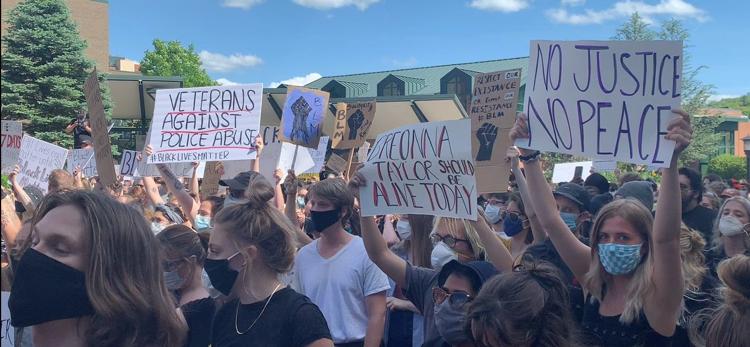 Markell Clark said it was important to see those figures supporting efforts of minority students on campus. App State, according to university data, is 81.9 percent white. Black students, however, make up 3.7 percent of the student body.
"With us being here at App, there's not many that look like us," Markell Clark said. "So it was good to see the same people that brought us in, brought us to this school, were the same people that were standing there with us. We definitely appreciate them."
The protest leaders put together emergency protocol in case violence broke out. It turned out it wasn't needed. Officers from App State police saw the group off, and the Boone Police Department helped stop traffic to allow the protesters through. Officers handed out bottles of water and some thanked Bichara and the rest of the group for the chance to walk with them.
Even more importantly, the five students kept control of their message throughout. After the march stopped, the five hopped on the foundation of a raised flower bed in the center of a roundabout. They stood in the sun, using the platform to make their message certain: That all lives can't matter until black lives matter, and justice should be equal.
Markell Clark said hearing everyone shout in unison, staying on their message, showed the group's quick planning turned into a difference quickly.
"We've all been blessed with a great platform, and this was our way of using it," Markell Clark said. " . . This isn't about politics, like I said. This is all about a fight against humanity and just being a decent human being.
"It has nothing to do with your political view. Your political views may play a role in it, but at the end of the day, it's about being a decent human being and showing respect and loving others."