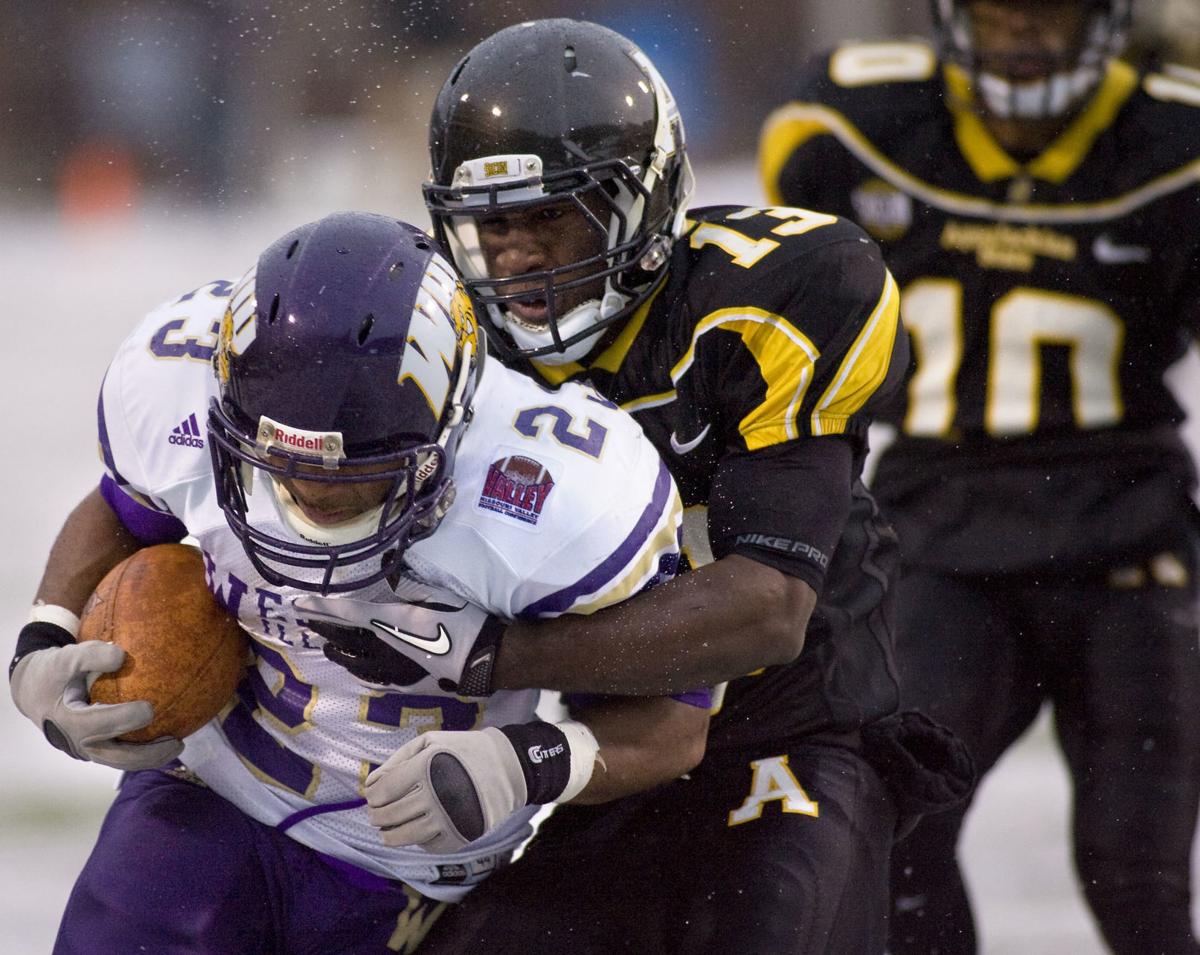 Appalachian State has announced its 2021 athletics hall of fame class. 
The five-person group is headlined by former defensive back Mark LeGree, a three-time All-American and fifth-round pick by the Seattle Seahawks. 
A 2020 class will not be named or inducted, according to the school's release, due to the coronavirus pandemic. 
LeGree (who played from 2007 to 2010) is joined by track & field thrower Malcolm Styers (2007 to 2011), softball player Katie Boyd (2008 to 2011), tennis player Bob Allsbrook (1979 to 1983) and wrestler George Sansone (1966 to 1969). 
Here are bios provided by App State on its 46th athletics hall of fame class: 
Mark LeGree
Three-time first-team All-American (2008, 2009, 2010), one-time national champion (2007) and four-time conference champion as a cornerback | Along with Dexter Coakley, Corey Lynch and Armanti Edwards, one of only four App State football players to be named a first-team All-American in at least three seasons | Native of Columbus, Ga., finished No. 3, No. 5 and No. 17 in Buck Buchanan voting for national FCS Player of the Year in his final three seasons | FCS national leader in interceptions in 2008 with 10, also the App State single-season record | Third place in App State history with 22 career interceptions after leading team in each of his final three years | In addition to his 10 interceptions as a sophomore, had seven as a junior and five as a senior | Tied for first place in App State history with a three-interception game (vs. Wofford in 2008) App State went 45-11 in his four seasons | Appeared in 14 games as a true freshman during the 2007 national championship season | Finished career with 197 career tackles while playing for head coach Jerry Moore | Fifth-round draft pick of the Seattle Seahawks in 2011 spent time with seven NFL franchises and also played in the CFL in 2014-15.
Malcolm Styers
Nine-time conference champion and 15-time All-SoCon performer as a thrower | SoCon champion in five different events (indoor and outdoor combined) | Native of Newton, N.C., ranks in top five in App State outdoor history in all three throwing events (including No. 2 in hammer) and in the top seven in App State indoor history in both the 35-pound weight throw (No. 2) and shot put | SoCon outdoor champion in shot put (2010), discus (2010) and hammer (2010, 2011) while helping App State win three SoCon outdoor team titles (2008, 2010, 2011) | SoCon indoor champion in shot put (2009, 2010) and 35-pound weight throw (2009, 2010, 2011) while helping App State win three SoCon indoor team titles (2009, 2010, 2011) | Only three-time winner of the SoCon indoor 35-pound weight throw in league history | Most Outstanding Athlete at the 2010 SoCon Outdoor Championships (won three throwing events in same meet) | Most Outstanding Field Performer at the 2011 SoCon Indoor Championships | Honorable mention All-American in the hammer (2011) | Competed for coach John Weaver's teams.
Katie Boyd
App State's career leader in home runs (44), batting average (.357), runs scored (159), slugging percentage (.697) and walks (171) while ranking No. 2 in career RBIs (125) and No. 5 in career hits (186) | Native of Walkertown, N.C., was a four-time all-conference performer (first team as a catcher in 2008, second team as a third baseman the next three years) | App State's single-season record holder for home runs (17 in 2009), runs scored (48 in 2011), slugging percentage (.879 in 2009), walks (64 in 2009) and total bases (116 in 2009) | App State's single-game record holder (alone in first or tied for first) in hits (four), runs (four) and walks (four on three occasions) | Had a pair of two-homer games for the Mountaineers | Five-time SoCon Player of the Week and two-time SoCon Player of the Month | All-state selection as a sophomore | Responsible for two of the top six single-season batting averages in App State history at .386 in both 2008 and 2009 | Has the two best single-season run totals in App State history, the two best single-season walk totals in program history and three of the top six single-season slugging percentages in program history | As a freshman, made Sports Illustrated's "Faces in the Crowd" after going 10-for-13 with four homers, seven RBIs, seven runs scored and two steals in a tournament at Kennesaw State.
Bob Allsbrooks
Four-year lettermen who played No. 1 singles and No. 1 doubles for the Mountaineers | As a sophomore, teamed with Butch Dunn to win the Southern Conference's No. 3 doubles championship thanks to a 7-5, 1-6, 6-2 victory over Chattanooga's Billy Dean and Stewart Lawwill | As a junior for a 22-6 team that tied a program record for wins, had a 20-7 record at No. 2 singles and a 15-9 record in doubles | Won 13 matches at No. 1 singles and 12 matches playing No. 1 doubles with Dunn as a senior, when he pulled out three-set singles wins against Davidson and Western Carolina | Played for coach Bob Light | Native of Rocky Mount, N.C., went on to play professionally and earn ATP Tour singles and doubles rankings | State champion high school coach in Spartanburg was inducted into the South Carolina Tennis Hall of Fame in 2013.
George Sansone
All-American in 1968 and two-time national qualifier | Will be honored posthumously | Fifth place in the 123-pound weight class at the NAIA national championship tournament in Alamosa, Colo., in 1968 | Career record of 45-11 in college | Four-year starter at 123 pounds while helping App State post a combined team record of 37-10-2 during his time with the Mountaineers | Wrestled for coach Steve Gabriel at App State | All-America honor came during junior season in which he went 12-3 and App State had an 8-4-1 record | Went 13-3 as a sophomore (when App State was 8-1-1) and a senior (when App State was 12-5) | Had a 7-2 record as a freshman for an unbeaten App State team that went 9-0.
Be the first to know
Get local news delivered to your inbox!