Appalachian State athletics announced its Hall of Fame class for 2019, a four-person group that's headlined by the school's all-time leading scorer for the men's basketball program and a former all-purpose threat for the football team.
Donald Sims, a former guard who played for the Mountaineers from 2007 to 2011, and DaVon Fowlkes, a receiver and kick returner for App State from 2000 to 2004) leads a class that will be honored on Aug. 31, the same day as the football program's season-opening matchup with East Tennessee State. 
The two other members of the 2019 class are Jim Whitmer (wrestling, 1963 to 1967) and Bobby Barbera (men's tennis, 1963 to 1967). 
Here are the bios and career highlights of each, provided by App State athletics at the time of the announcement on Thursday: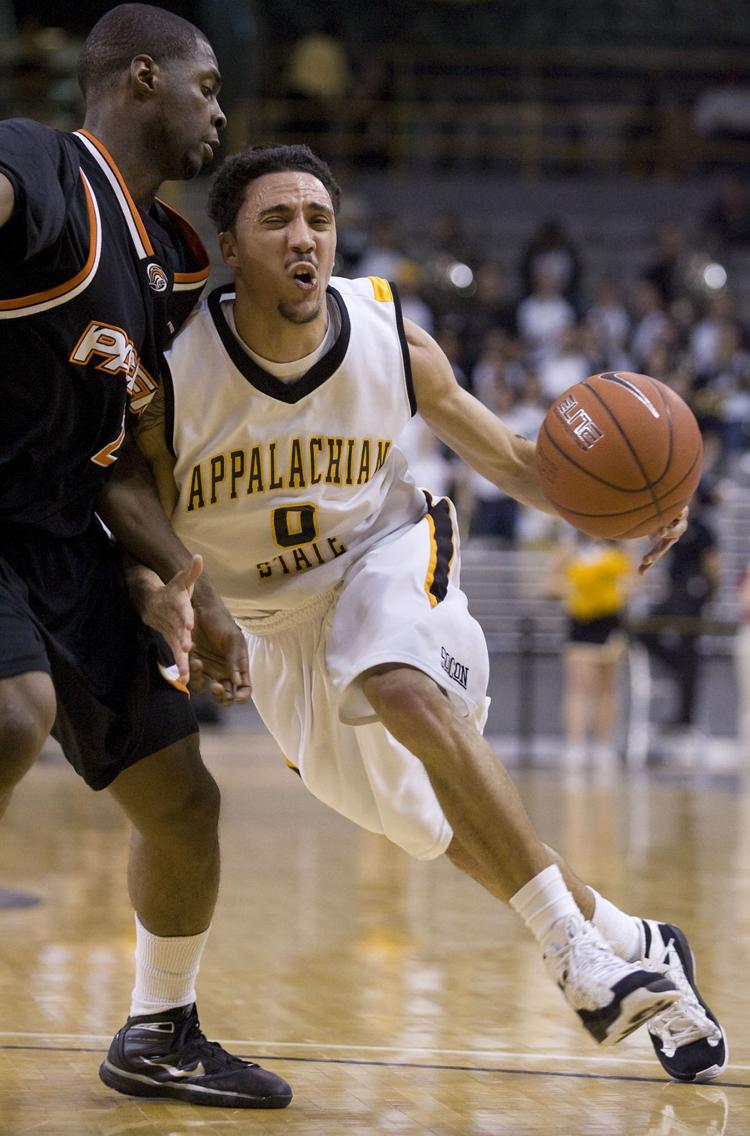 Donald Sims
App State's career scoring leader (2,185 points) and single-season scoring leader (754 points in 2009-10) … 2010 Southern Conference Player of the Year after averaging 20.4 points for a 24-13 team that won the SoCon North title by two games, reached the SoCon Tournament final and advanced to the CollegeInsider.com semifinals … Two-time first-team all-conference selection (2010, 2011) … Also App State's career leader in made 3-pointers (358), made free throws (545), and free-throw percentage (.892) … App State's single-season leader in made 3-pointers (123 in 2009-10) and free-throw percentage (.951 in 2009-10) … Averaged 16.8 points for his career, highlighted by a 21.0 average as a senior … Scored a career-high 44 points in a 78-68 win at Davidson in 2010 by going 13-for-19 from the field, including 5-for-7 on 3s, and 13-for-13 from the free-throw line … Led team in assists as a freshman, sophomore and senior … Led team in steals as a senior … Tied for third in App State history with nine made 3-pointers in one game (vs. Chattanooga in 2009) and shot 40.5 percent from 3-point range in his App State career … Gaffney, S.C., native made the all-freshman team in 2008 and was a member of the SoCon All-Tournament team as a sophomore … Played professionally last season for San Lorenzo of the Argentinian La Liga with previous pro stints in the NBA Development League, Venezuela, Latvia, Ukraine and Belgium.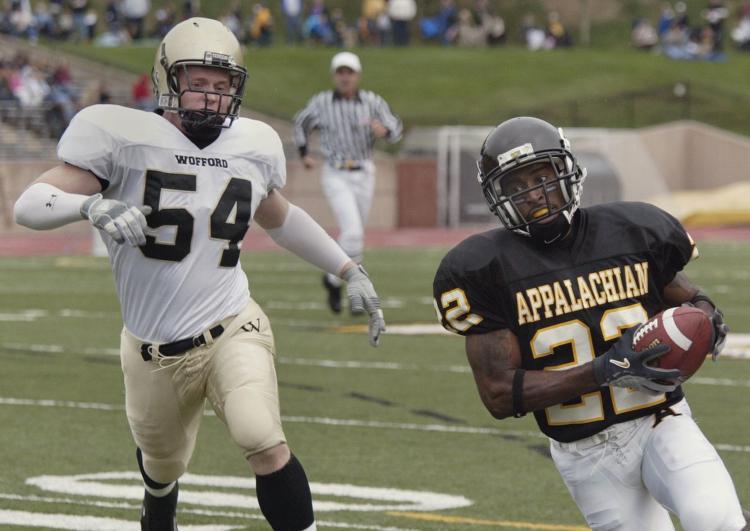 DaVon Fowlkes
Southern Conference Player of the Year and first-team All-American as a senior in 2004 before being named Southern Conference Male Athlete of the Year for 2004-05 … Three-time first-team all-conference (receiver in 2004 in addition to return specialist in 2002, 2003 and 2004) … Finished third in voting for the Walter Payton Award (FCS Player of the Year) in 2004, when he led FCS players in all-purpose yards, catches and receiving yards … Holds App State records for single-season receiving yards (1,618), single-season touchdown catches (14), single-season receptions (103), single-game catches (17), single-game receiving yards (280) and career punt return yards (1,276) … Second in Southern Conference single-season history with 2,313 all-purpose yards in 2004 and totaled 5,017 for his career … Ranks third in App State history in career receptions (200) and receiving yards (2,960) … Fourth in App State history with 22 career touchdown catches … Responsible for three of the five longest receptions in App State history … His 17 catches for 280 yards (both SoCon records) and three touchdowns occurred in a 48-7 home win against Elon in 2004 and were part of a record-setting three straight games with at least 200 receiving yards … Native of Fort Wayne, Ind., signed with the Indianapolis Colts following his college career.
Jim Whitmer
Wrestled for Hall of Fame coach Steve Gabriel at App State and was a two-time NAIA All-American at 137 pounds … Placed sixth nationally at 137 pounds in 1966 and fourth nationally at 137 pounds in 1967 … The Goldsboro native had an unbeaten record during the 1966 team's run to a 9-0 record that included wins against NC State, North Carolina and Georgia Tech ... Was a senior on an 8-1-1 team in 1967 … Is one of three two-time wrestling All-Americans from App State along with Bruce Schlegal (three-time) and Mark Fee … App State had two unbeaten seasons while going a combined 32-3-1 in his four years at Appalachian State … Majored in Biology and attended graduate school at Appalachian State … Founded the wrestling program at Enka High School in 1970 and was inducted into the National Wrestling Hall of Fame in Oklahoma in 2008 thanks to a 351-80 record as a coach … Received the Laurel Wreath Award, North Carolina's highest honor for athletic achievement, in 2018.
Bobby Barbera
Four-time national NAIA tournament participant helped App State win four Carolinas Conference and four National Association of Intercollegiate District 26 titles … Career regular-season winning percentage of .653 in singles and .733 in doubles … Native of Goldsboro, helped the Mountaineers place in the top 11 of the national tournament four times, highlighted by finishes of third and fourth place in Kansas City … Two-time Carolinas Conference singles champion and three-time finalist … Placed in the top 16 of the national tournament three times in singles … Three-time Carolinas Conference doubles champion and four-time finalist … Member of the District 26 championship doubles team as a senior and a top-16 doubles team at the national tournament as a junior … Team captain as a senior … Also played one year of men's soccer at App State ... Became a teacher, multi-sport coach and administrator at Oak Ridge Military Academy following his graduation from App State.
Be the first to know
Get local news delivered to your inbox!