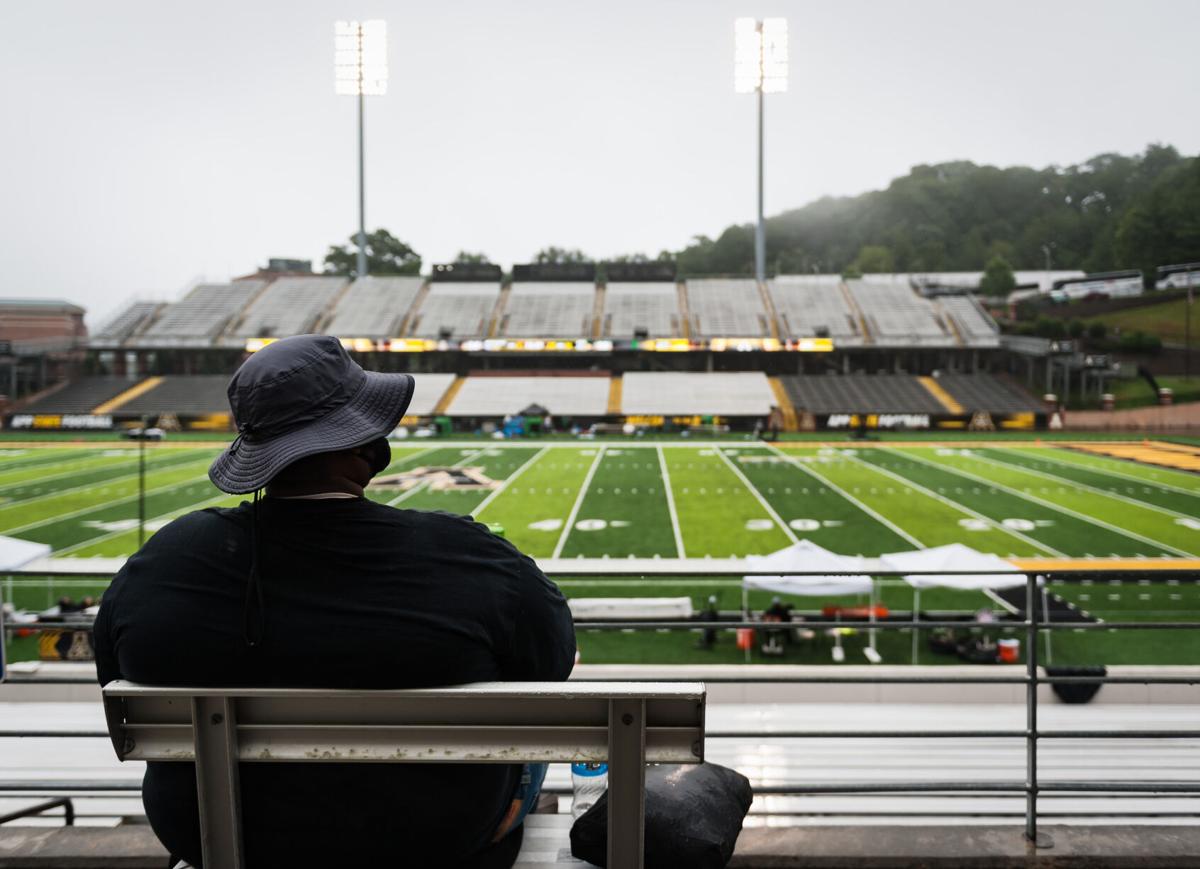 Today's football game is still on between Appalachian State and Campbell University, set for a noon kickoff in Boone. And that comes after a Friday featuring blow after blow from our COVID-19 reality.
It started about 24 hours from kickoff, with App State's chancellor saying the school's football program was battling cases of the novel coronavirus.
A decision from Campbell to halt in-person campus learning for two weeks because of a rise of positive cases followed, as well as an announcement from the Mountaineers' athletics department that three players were in isolation with active cases and another 18 were swept up in contact tracing.
Dr. Christopher Ohl, an infectious disease expert with Wake Forest Baptist Health, pointed to the whole situation as an example of college football's main hurdle while coping with rigid health policies.
"I think the Campbell-App thing is showing us how hard it can be and the logistics can be," Ohl said in a phone interview. "It's sometimes greater than what you would think."
Sheri Everts, App State's chancellor since 2014, mentioned the football program had three active cases as she spoke during a regularly scheduled meeting with the board of trustees on Friday. She said the team would be without some players and coaches for the game against Campbell, the Mountaineers' final opponent of their non-conference slate.
Her update was confirmed later by the athletics department: The three cases were in isolation, and that 18 other players were quarantined after contact tracing deemed that they were exposed to one of the cases. The Journal learned that App State's running back and tight end position groups might be the most altered in their personnel against the Camels.
"The Mountaineers continue to prepare for Saturday's football game vs. Campbell, which is set to kick off at noon," the release said. "Sun Belt Conference guidelines permit App State to play the game as long as it is able to continue to safely field a two-deep depth chart at every position group."
Ohl pointed out that in most cases, contact tracing is a blunt tool. It's based off the idea that exposure is within 6 feet for 15 minutes or more. That time limit becomes shorter with closer contact, such as in football.
App State athletics, like other universities, has instituted social distancing guidelines and mandatory mask policies in its facilities. But those measures don't exempt anyone from being swept up in a tracing exercise.
"So like if they're going through drills where they actually have contact with each other, that's kind of a slam dunk," Ohl said of transmission. "And wearing the mask, while it does help — it helps a lot, it makes a big difference — it really hasn't entered the algorithm for contact tracing."
Between App State's updates, Campbell announced it was pausing in-person classes on its campus for two weeks because of a surge of positive cases.
The university's decision also included the halt of athletic practices for the next two weeks. Campbell plays App State this week and Wake Forest next to finish its four-game fall season. But when asked about the upcoming game in respect to the school's announcement, Campbell athletics spokesman Jason Williams said via email, "football remains unaffected."
According to Campbell's COVID-19 dashboard, the school currently has 46 total cases between on-campus students, off-campus students and faculty/staff members. It has an enrollment of about 6,500. The fact that Campbell shifted to online instruction concerns Ohl.
"If they're doing that, I question the wisdom about having a football game," Ohl said. "I think if you're going to pause, you should pause. Because an event like that, there's a chance that transmission could occur.
"You don't want to torpedo your academic year because of a football game."
Ohl pointed out that a football team is composed of mostly young and healthy football players. The risk for them is small, but it's not zero, he said. And there is still concern for subclinical myocardial that could potentially follow a case of COVID-19, or lung damage. But frankly, he said it comes down to the deciding parties in the end.
COVID-19 has canceled or postponed 22 games so far this season. As of Friday night, App State-Campbell had not added to that total.
This battle will play out all season, which Ohl gives a 50-50 shot to make it all the way through.
"I'm telling you the same stuff I've been saying all along," Ohl said. "And I like a good football game — I'm a football fan. But you know, it's hard.
"The logistics are hard and it's not zero risk, people just have to understand that. But if it's a risk they think they can do, then go for it. But try everything they can to keep it down."