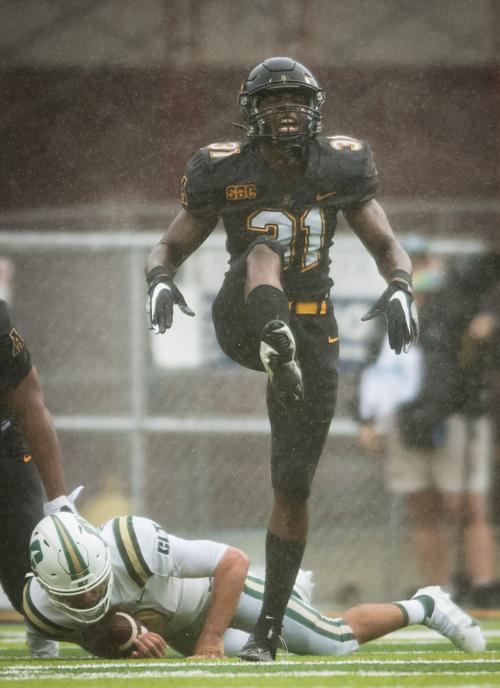 With two games down and a combined 37 points allowed, Appalachian State defensive coordinator Dale Jones has two thoughts.
He knows there are places to tighten up, but he also likes where things are trending for the unit.
"The bottom line is their defense held our offense, and we did hold their offense," Jones said of the performance against Marshall. "And in the game of football, it doesn't matter.
"You've got to play better."
In the 17-7 loss to Marshall, the defense faced the added pressure from low offensive output to keep the game close.
The game's opening drive became a Marshall touchdown, featuring a couple of explosive runs by Conference USA MVP Brenden Knox. And midway through the third quarter, Marshall delivered a crushing blow on a first down, a 67-yard pass, that set up another score.
Jones said those are teaching moments for a defense to stay disciplined.
"They were good, they are a good offensive team. There is no question," Jones said. "We made mistakes, we corrected them after the first drive. That's including me.
". . . And they caught us on a switch release. We worked it out wide, but for whatever reason, our safety didn't swap at all, and that's football. There's just a lot of ways to score. And you can't hold that against the kids. We've just got to do a better job coaching."
It's worth noting that App State is excelling in passing game coverage. The Mountaineers are holding opponents to a 40 percent completion rate, the lowest mark in the nation. That stat encapsulates battles with Charlotte quarterback Chris Reynolds, who threw four touchdowns against the Mountaineers in 2019, and Marshall quarterback Grant Wells, a promising redshirt freshman.
They're also tied for first in the nation with three total interceptions.
Ryan Huff produced one of those in the Marshall game, the first of his career for the junior safety. He said he believed the defense would be able to settle in even more and cause issues for opponents.
"It's just taking things to the next level," Huff said. "Just knowing where certain people on the field are going to be maybe sometimes without even saying it.
"I may know where somebody's going to fit just based on I know the call and he knows the call, and we just fill it out and we're on the same page automatically."
Jones added that it just takes time. The defense features many players who've gotten meaningful snaps, but they're getting their first extensive amount of playing time as a group.
Huff and Kaiden Smith are new starters at safety, as well as both outside starting linebackers, Brendan Harrington and Nick Hampton. The inside linebackers, D'Marco Jackson and Trey Cobb, split time alongside Jordan Fehr last season.
"It takes time for those guys to really – always communicating and not only that, but communicating the right thing," Jones said. "Overall we've played two good offenses, whether people believe it or not, they're decent offenses. So we did some good things. And again it's just keep timing together, and I'm pleased where we're heading."
Be the first to know
Get local news delivered to your inbox!