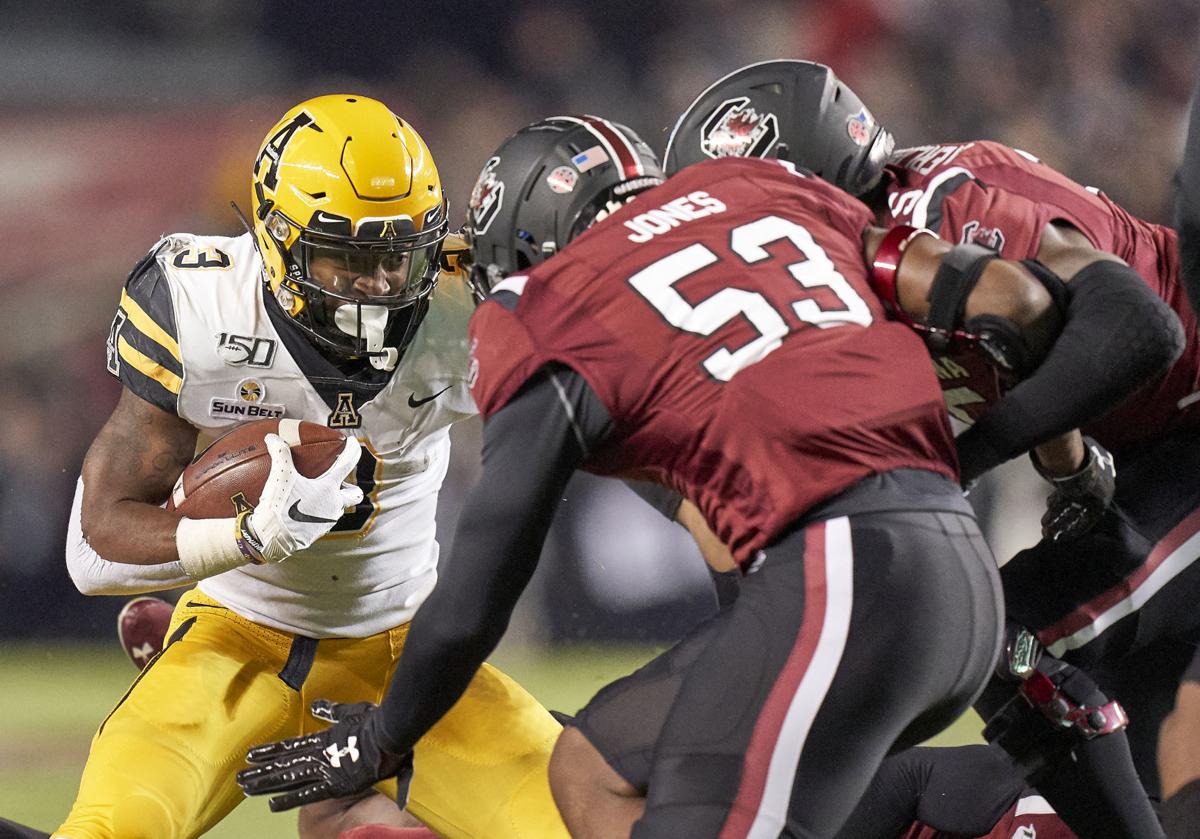 COLUMBIA, S.C. — Appalachian State demonstrated an interstate brand of dominance on Saturday night.
The Mountaineers (8-1) went into the Palmetto State and came out with its second Power-Five win of the season, beating South Carolina, 20-15.
App State scored on both offense and defense, holding South Carolina to only field goals and a late touchdown, and had Mountaineers fans chanting "A.S.U" throughout Williams-Brice Stadium. 
The Mountaineers offense was docile thanks to a stingy Gamecocks' defense, but they managed to cash in with a 1-yard touchdown run by quarterback Zac Thomas. That pushed App State into a comfortable lead that South Carolina couldn't overcome. 
Appalachian beat North Carolina in Chapel Hill on Sept. 21, a 34-31 win that was App State's first over a P5 opponent since its 34-32 win at Michigan in 2007.
The credit for App State's game belonged to its defense and early on, the leg of Chandler Staton. 
The Mountaineers held South Carolina to 148 first-half yards and manufactured the team's first touchdown. Freshman safety Nick Ross caught a tipped South Carolina pass and ran the interception back for a 20-yard score with 1 minute, 51 seconds left before halftime. 
South Carolina scored two field goals on its first two possessions (with drives of 52 yards and 60 yards, respectively). Their next five drives never went longer than 24 yards, and that included three three-and-outs. 
Staton — who missed a 29-yard field goal in App State's 24-21 loss to Georgia Southern on Oct. 31 — connected on attempts from 40 and 47 yards, respectively, to keep the Mountaineers hanging around until Ross' interception.
The matchup in Columbia was the fourth and final game of App State's non-conference schedule. Now, the Mountaineers re-enter Sun Belt play with an advantage again.
Georgia Southern's 49-28 loss to Troy and Georgia State's 45-31 loss to UL Monroe means App State is the only team in the East Division with one conference loss.
Appalachian and Louisiana (the West Division leader) have matching 4-1 records in the Sun Belt. The Mountaineers beat the Ragin' Cajuns, 17-7, on Oct. 9. Should those two teams win out their regular season schedules, it means the Sun Belt Conference championship game will be back in Boone.
App State plays at Georgia State on Nov. 16.
Be the first to know
Get local news delivered to your inbox!