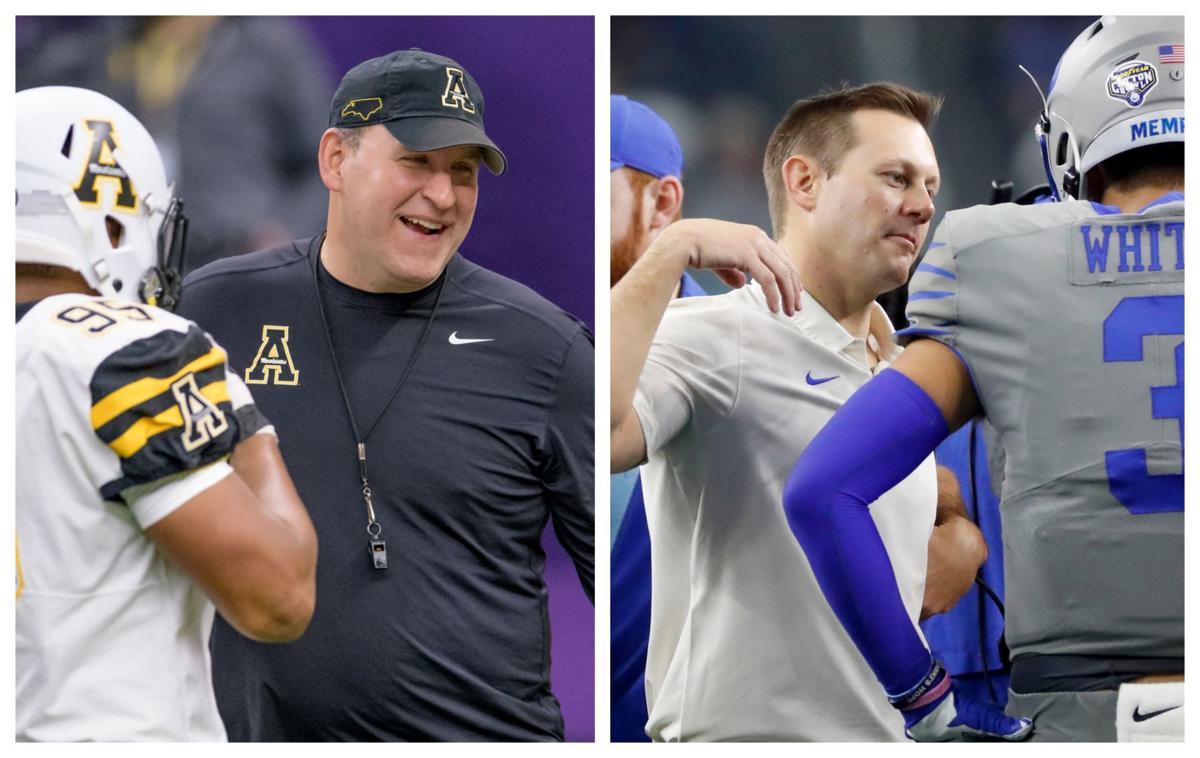 Two pieces of paper sum up the path Shawn Clark hoped to follow as a young football coach.
The first is a career checklist he wrote during a graduate school class, which hangs in the garage of his parents' Charleston, W.Va., home.
The second sits in an office he's still breaking in. He has put this sheet up around every desk since his first full-time job at Eastern Kentucky. It features a one-sentence quote attributed to Abraham Lincoln: "I will prepare and someday my chance will come."
It's early February, and Clark is still looking for the quote's next spot. The new workspace — the head coach's office at Appalachian State — is one he'd hoped to fill someday. But given his line of work, Clark sometimes wondered if he'd ever get the chance to lead a college program at all.
That's because Clark is an offensive line coach. It's what he's done since his career started. And it's what makes his December promotion at App State even more significant.
During the most recent hiring cycle, four O-line coaches were hired for FBS head coaching jobs, and three of them — Clark, Ryan Silverfield at Memphis and Sam Pittman at Arkansas — are first-time leaders. That total, among 24 openings in the 130-member Football Bowl Subdivision, matched the number of first-time head coaches with offensive line experience hired in the last six seasons combined.
So for coaches such as Clark and Silverfield, both of whom saw interim tags removed and held debut press conferences on the same day, this is a moment to capitalize for the good of their kind.
"When you talk about offensive line, sometimes you coach the lowest denominator of your football team," Clark said. "And you have to put those guys in position to be successful, and I think if you can do that, then once you get the really athletic kids, the skill positions, you have a better feel for what people can do and what people can do well.
"The offensive line coach has the feel for a whole team because those guys are always together."
Clark played at App State, going on to coach as an assistant at Eastern Kentucky (2003 to 2008), Purdue (2009 to 2012) and Kent State (2013 to 2015) before returning to Boone ahead of the 2016 season.
Now he and Silverfield are bannermen for the cause: to keep opportunities coming for his O-line brethren.
"I got quite a few texts messages, I'm sure just like every other coach, but the congratulatory ones were a lot from O-line guys, just saying that's a win for us," Silverfield said in a phone interview. "And people are just proud to see that it can happen, and I do think it puts in perspective — people understand that offensive line coaches do have to deal with quite a few number of people, and they can open up certain avenues that we probably didn't dream about 10 or 15 years ago."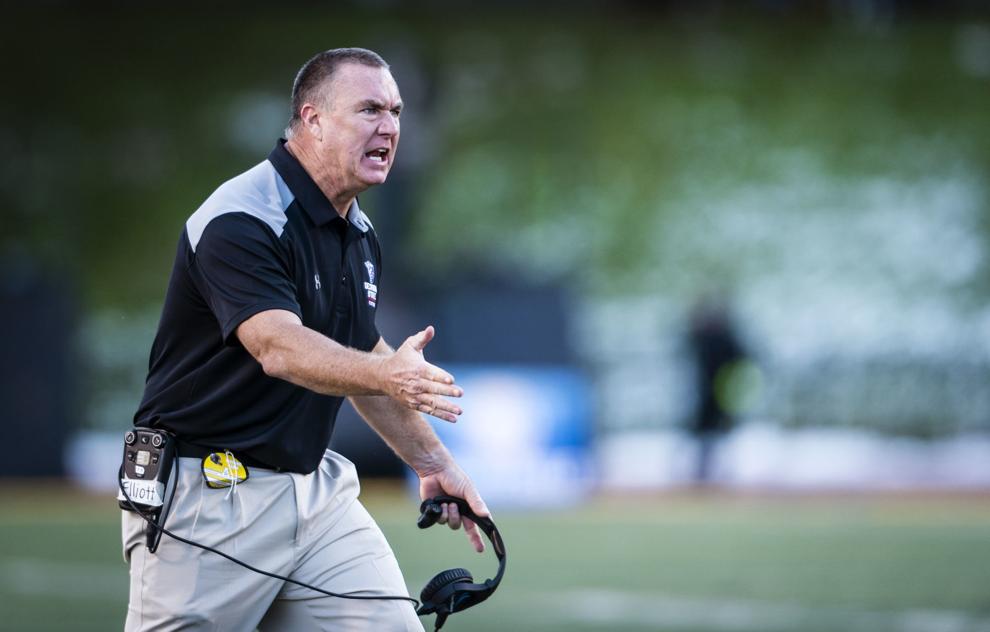 More opportunity with more responsibility
The Journal studied the last 10 hiring cycles before 2019-20, looking at coaches who were career O-line coaches or were making the transition from offensive line to head coach.
Over that span, only three former assistants who primarily coached offensive line have gotten multiple FBS head coaching jobs. Steve Addazio leads the group with three jobs. He coached at Temple from 2011 to 2012 and Boston College from 2013 to 2019. Addazio is now starting his first season at Colorado State.
The other two are Rod Carey (now at Temple, formerly at Northern Illinois) and Matt Campbell (now at Iowa State, formerly at Toledo). Of those 10 hiring seasons, that trio accounts for almost a third of head coaching opportunities (six of 18) given to former offensive line coaches among 240 FBS vacancies.
And even though there have been successes — Les Miles' rise to head coach of Oklahoma State and LSU, Kirk Ferentz's 20-year tenure at Iowa, Mario Cristobal putting Oregon in the mix for the College Football Playoff last season — for the most part, opportunities have been scarce. Only in the offseasons before the 2011, 2013 and 2018 seasons did three or more O-line coaches get hired. In 2010, 2014 and 2015, no offensive line coaches received opportunities as head coaches.
The figures run counter to a point Georgia State's Shawn Elliott made in November when asked what he'd learned in his three seasons as a head coach.
"I learned how to be a head coach by coaching the offensive line," said Elliott, a college teammate of Clark who oversaw offensive lines with App State (2001 to 2009) and South Carolina (2010 to 2015). "By coaching 15 to 20 guys, by having really a team within a team, I really molded it after how I coached the offensive line. I coached those guys to be tough, physical, and to not take crap off people. To really stand for something and to have a strong backbone right there. And that's what I really built it off of."
So what's causing the recent influx of O-line coach opportunities? Phillip Fulmer, one of the few modern-day O-line-coach-turned-head-coaches in the College Football Hall of Fame, said he never sensed a stigma against the offensive line coach. But he did think that, logically, hiring bodies focused on the central positions, both on the field and the guys who coached them.
"It was just more people kind of locked into their positions," Fulmer said. "It was kind of the common practice that the quarterback was the guy that had all the understanding, or maybe it was the linebackers on the defensive side, and they were the guys and everybody had their roles.
"And those roles went on to be, he can be the coordinator easier, he can be the head coach easier. I do think all that's changed professionally. It's not necessarily the case."
Clark and Silverfield, much like Fulmer before them, curbed any notion that they might not be ready for a head-coaching role by accruing more responsibility. 
Fulmer had coached linebackers and offensive line by the time he got to Tennessee in 1980. He was the Vols offensive line coach for 13 seasons, adding offensive coordinator duties in 1989. Fulmer also got a full season as interim head coach in 1992 in place of Johnny Majors, going 9-3.
Silverfield joined Memphis in 2016, tacking on the run-game coordinator title in 2017 and assistant head coach title in 2018. He became deputy head coach last season under Mike Norvell, who took the Florida State job ahead of the team's bowl game for the 2019 season.
Clark similarly started in 2016, serving as a co-offensive coordinator for the run game. When Eli Drinkwitz took over the program after the 2018 season, Clark was given the title of assistant head coach.
And both held the interim role during transitions.
The shift from Drinkwitz happened so fast, Clark said, he really wasn't sure how much that tag helped in his process. Silverfield, on the other hand, pointed to this year's College Football Playoff as proof that it was beneficial. All four teams were led by former interim head coaches — LSU's Ed Orgeron, Clemson's Dabo Swinney, Ohio State's Ryan Day and Oklahoma's Lincoln Riley.
"People are starting to realize if you have a good thing, do you really want to lose it?" Silverfield said.
Two paths, one main goal
Ryan Silverfield didn't start out as an offensive line coach. But he's been smitten with the job since 2011, when he was on the Minnesota Vikings staff.
Then-head coach Leslie Frazier, in his first year, asked Silverfield to move over after working with the defensive line the previous two seasons. Frazier thought it'd be a good development opportunity for his young staffer.
"Everyone that looks at me, the first thing they say is, 'Well you don't look like an offensive line coach,'" Silverfield said with a laugh. " . . . I like the position because it's unique. It's a position that involves five guys, and if one of them falters, you're not going to have success. It involves a team element itself."
From here on, Silverfield and Clark will be linked. They are both head coaches, hired at the same time, leading two of the best Group of Five programs going, despite having taken different paths.
Clark played the position and has been an O-line coach since he started. Silverfield didn't play in college, opting to coach at Hampden–Sydney while an undergrad. He has coached defensive line, tight ends, H-backs and quarterbacks. But both shared a concern: head coaching opportunities in their future might be limited.
"It does stick in your mind. You start seeing a lot of these young quarterback coaches and these young gurus, and sometimes it's like, 'Man, not all of us are going to get hired,'" Silverfield said.
So when Silverfield got his chance, he pounced. Memphis went into the American Athletic Conference title game against Cincinnati on Dec. 7 with rumors that Norvell was on the way to Florida State. The Tigers won the AAC championship anyway, 29-24.
Silverfield was asked to be the interim head coach after the game, accepting the offer on the spot. And when he got his interview, he went with a unique pitch.
"I said I don't want to be hired if you're going to hire me because the players and the fans want me," Silverfield said. "If that's the case, I'll gladly go to Florida State. And I think they were taken back by that, but I was very transparent and open.
"I wanted to be hired because I was the right guy for the job."
Doug Gillin, App State's athletics director, said the hiring situation for every school is different. But on top of Clark's obvious appeal as a candidate — a former Mountaineer who had public backing — his involvement in the offense, both under Scott Satterfield and Drinkwitz, plus his career experience in both the Power Five and Group of Five level, made Clark the ideal candidate for Gillin.
"Certainly there is the offensive line aspect of it, and knowing the offense, but also there's all those other intangibles that he brought to the table," Gillin said. "So I think you probably look at each situation in and of itself, but certainly knowing the offense, obviously a run-heavy offense, and we return our entire offense for next year, all of those things kind of add up for him being the right choice."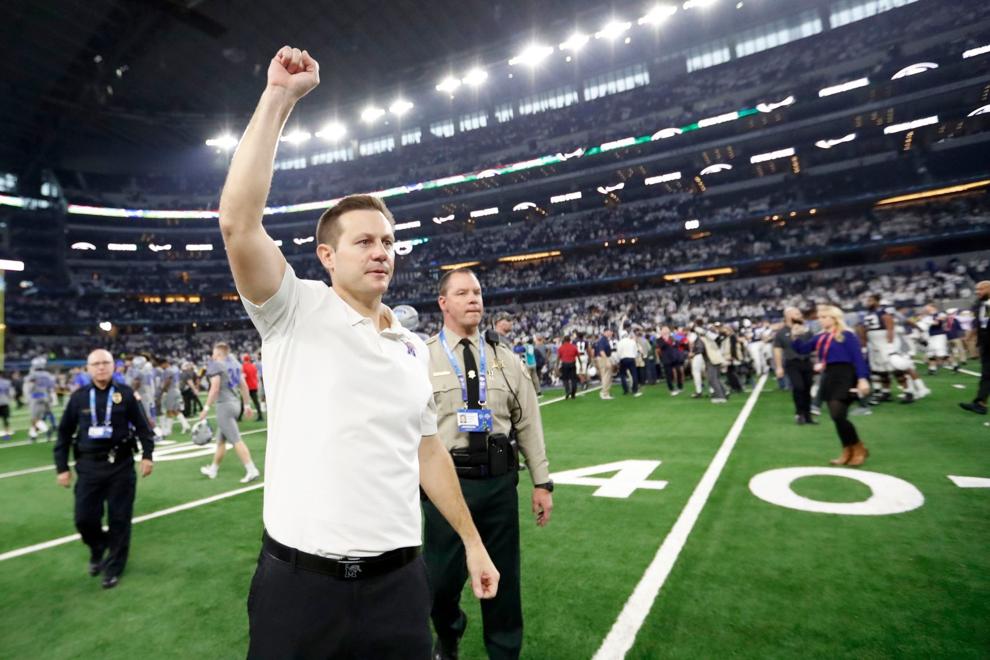 His chance is here 
Clark's aforementioned checklist is nearly 20 years old at this point.
During a graduate class at Louisville in the early 2000s, he and the rest of his classmates were told to write down their goals. Clark had four: earn his master's degree, get married, have children and be a Division I head football coach by the time he was 50.
The 44-year-old — who now has the master's degree, a wife and two children — has finally marked off everything he wanted. His chance is here.
Clark didn't realize that four offensive line coaches got head coaching jobs until he received a text from Eastern Kentucky coach Walt Wells, a longtime offensive line coach himself. It said "it is the year of the O-line coach." Clark said he's more than happy to be part of the small fraternity he joined unknowingly.
For someone Clark's age, he looked to examples such as Fulmer and former Purdue coaches Joe Tiller and Danny Hope, the latter a boss for Clark at Eastern Kentucky and Purdue. It was Hope who told Clark to be the best O-line coach he could be and the rest would fall into place. It led to Clark printing off the Lincoln quote and carrying it around the country.
He has learned a few lessons these last few weeks. For one, the inconspicuous nights out for dinner with his family in Boone are gone. Also, problem-solving is a non-stop thing for a head football coach.
"That's the hardest part of being a head coach is you have 10 coaches on staff with suggestions and then you have to narrow that down to make decisions," Clark said. "And that's when it really hits you. Hey, you're the head coach. You're the CEO of the program, you're the face of the program, and that's something I don't take lightly everyday because this means so much to me here."
Clark had other options. He said he received interest from Power Five programs as an offensive line coach and from FCS programs looking for a new head coach.
But as he has said often since taking over the Mountaineers, he wants to be with App State the next 20 years. He wants to retire there. And it's especially meaningful that his alma mater to take the first chance with him as a head coach.
No matter how his tenure turns out, Clark will always be an O-line coach. He hopes he can be successful for both his school and for others coaches like him.
"I want to make our group proud," Clark said.