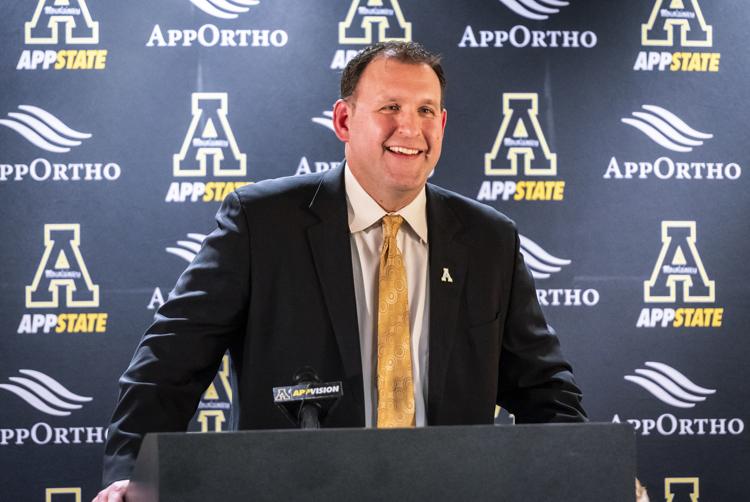 BOONE — Shawn Clark arrived in Boone as a long snapper in 1994. Jerry Moore, Appalachian State's legendary football coach for 23 years, watched Clark snap twice and offered him a scholarship on the spot.
Clark became much more during his time with the Mountaineers. A true freshman starter on the offensive line. A two-time All-American. He started his coaching career a few years after his graduation in 1998, eventually finding his way back to App State in 2016 as an assistant on Scott Satterfield's staff.
And now, 25 years after he first came at Appalachian, Clark takes over the program he's dedicated so much love and time. On Friday, Clark was approved and formally introduced as head football coach at App State.
"There's a foundation established here," Clark said before a crowded room in the athletics tower. "A foundation established by all who wore the Black and Gold. A foundation that spans generations.
"And I am proud and humble to be a part of the tradition that so many here today respect. But let's state the obvious, I've inherited a great program."
Clark rattled off names from the moment he stepped to the lectern. He thanked the school administrators first before turning to his left and addressing his family. That was the first of many emotional moments of his speech.
"2004, we laid in bed and talked about this," Clark said as he pointed toward his wife, Jonelle. "To be the head coach at Appalachian State, and it is here. I can't wait to be your coach."
He found Moore in the crowd, saying that he wouldn't be a coach without him. Clark  later named others who helped along his career: Former App State strength and conditioning coach Mike Kent, who helped get him into the profession; former Eastern Kentucky coach Danny Hope, who hired Clark for his first full-time coaching job in 2003. Satterfield, his old teammate, for bringing him back to Boone in the first place. And Eli Drinkwitz, his predecessor.
App State went 12-1 this season, winning the Sun Belt Conference championship on Dec. 7. The next day, news broke that Drinkwitz would be the next head coach at Missouri, sending Clark's week into warp speed.
Sunday night, Clark visited the home of  a recruit. Afterward, he drove down to Columbia, S.C. to prepare for another the next morning. He awoke to 800-plus text messages on his phone. He took a call from App State athletics director Doug Gillin to return to Boone. Driving on I-77 at what Clark called "a high rate of speed," he got a flat and scrambled to get it fixed.
Clark was named the interim Monday afternoon with the chance to interview for the head job. And soon after, App State players chimed in on his behalf.
The hashtag #Clark2020 took over Twitter, with many guys on the team issuing support for Clark's candidacy. By Wednesday, the job was unofficially his.
"We wanted to do an efficient search, we wanted to do a quick search, but we wanted to get the right person to lead this program," Gillin said before laying out the characteristics he needed to see in the next Mountaineers head coach.
Just before he introduced Clark, Gillin said, "We got the right guy at the right time to lead this great university."
Clark will be the Mountaineers third head coach in as many seasons. Satterfield left after six seasons at the helm for the same position at Louisville in 2019. Drinkwitz is now in the Southeastern Conference.
And Clark is right where he wants to be with no plans of a future besides one in Boone.
"When I got the call from Scott to come back to App, we didn't talk about money, we didn't talk about position. I said, 'I'm on my way.'" Clark said.
Reflecting on his time with Moore, Clark brought up a 1994 loss to Boise State in the I-AA playoffs. There, Clark watched Moore rally the team after a 17-14 loss. That moment, Clark said, made him want to coach.
For him, he said, coaching football isn't about Xs and Os. It's about changing lives. The fact that he now will get to do so as the head coach at his old schools intensifies the meaning for him.
Clark takes over a school that's won nine games in each of the last five years, including double-digit victory totals during the last two. App State, ranked 20th in the nation, will play its final game of the season on Dec. 21 against Alabama Birmingham in the New Orleans Bowl.
It's the start of a new coaching tenure for App State. And if Clark has any say about, it's one that will never end.
"When you coach at your alma mater, there's something special about it," Clark said. "And the extra hours you put in, you know you want to make your alums, your App teammates, everyone in App nation, you want to make them proud.
"And that's what's so gratifying to me. To make you guys proud."
Be the first to know
Get local news delivered to your inbox!