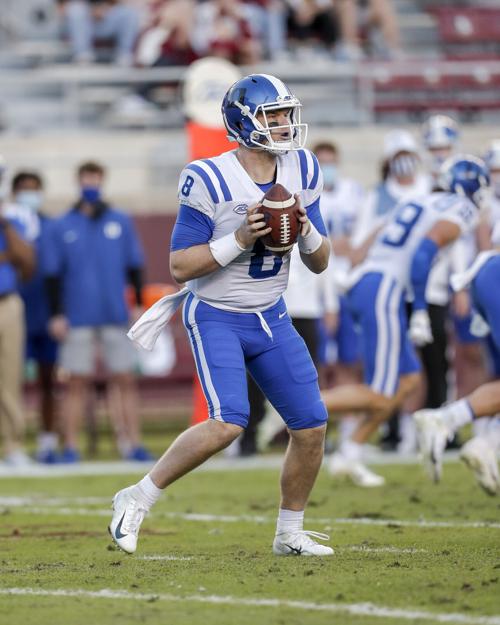 In his short amount of time in Boone, Chase Brice has noticed how fervent Appalachian State fans can be. But he's gone fairly unrecognized, the new Mountaineers quarterback said, with the only tell coming from the program gear he wears around town.
"I blend in pretty good, but I am a little bit bigger," Brice said. "Some people think I'm a baseball player or something like that. I get that a lot."
He's also realized just how much fun he's having this spring, acclimating himself to his second program in two seasons. Brice, formerly at Clemson and, most recently, Duke in 2020, compared the joy he's experienced now to the way he felt ahead of the 2018 season, his first where he could actually see playing time in a college game.
"That was kind of a stepping stone for me to get better," Brice said. "And when that spring came around and I was a redshirt freshman, I was really excited for football. I'd say I'm at that point. It's pretty equal.
"I know I'm going to make an impact on the field and have an opportunity. I'm really excited about that."
Sitting down last week, more than halfway through App State's 15 spring practices, Brice liked the way he was trending in a new offense that's mostly new to him and the others who joined the program ahead of the 2021 season: offensive coordinator/QB coach Frank Ponce, the passing game coordinator under Scott Satterfield from 2013 to 2018, coached most of the offense's upperclassmen when they were just joining the program.
Brice pointed toward two areas of improvement: being quick with his decisiveness and pushing to be more vocal. The former, he realizes, will just take time as he continues to acclimate to this system. The latter is something he's trying to improve right now.
That effort has been noticed by wide receiver Thomas Hennigan, who's now working with the third quarterback of his App State career — the first two being Taylor Lamb (2017) and Zac Thomas (2018-2020), respectively.
"Chase will tell you what he's thinking all of the time," Hennigan said. "He's very analytical in terms of what he saw pre-snap and what he thinks we should do. And it's really nice to hear where his head's at so we can just meet in the middle."
Part of that, Brice said, comes from his time with Clemson. He said those coaches instructed players to fix problems immediately if a play seemed off.
"When something's wrong or we messed up, go grab them now," Brice said of those practices. " … What was he thinking? What were you thinking? Kind of find a medium in there and solve it. And if you can't solve it, go to Coach, ask him what he wants."
That habit has been paramount for a player working with his third offense in three years. He's applying that to his wide receivers as they work to develop their rapport. Same with his offensive linemen, understanding how they will shift for different looks, and how that affects the running back with whom Brice might be in the backfield.
Every practice, he's going up against a defense growing stouter as it sees more and more of the same offense.
"I mean, 10 of 11 starters coming back," Brice said. "You know the defense is always going to be up to speed and a little bit better in practice, but there's times where we've really dominated and showed confidence."
On top of the high-speed submersion into App State football, he's getting the stuff he missed out on last year. Transferring from Clemson and into Duke, the pandemic affected his ability to get to know his Blue Devils teammates. This year's experience couldn't be anymore different, as he works his way forward to the team's season opener against East Carolina Sept. 2.
"I'm enrolled in class. I get spring ball. I get to develop relationships with my teammates," Brice said. "They get to meet me, and I get to meet them. They get comfortable about me. I enjoy that part of ball more than anything.