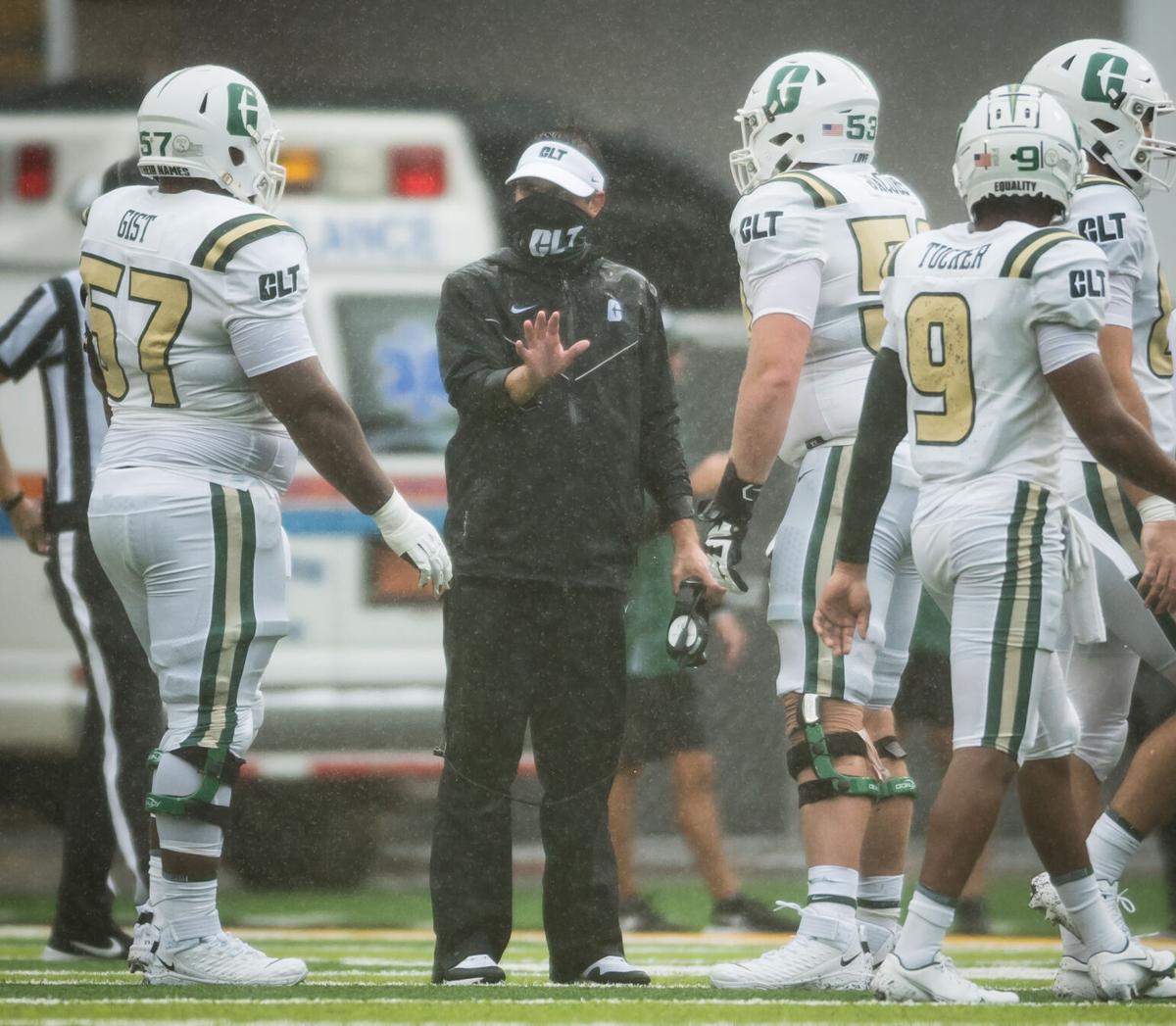 Appalachian State football coach Shawn Clark has apologized to Charlotte football coach Will Healy for a photo shared on social media after the game between the two programs, an App State athletics spokesman says.
Following the Mountaineers' 35-20 victory in Boone on Saturday, a photo appeared on the Instagram account of Mike Evans, a backup Mountaineers tight end, showing a group of players posing with Charlotte's "Club Lit" sign with their middle fingers extended and held to form a T shape.
The post was screenshot by 49ers wide receiver a Cameron Dollar and shared on Twitter.
Thankful for the opportunity to play this game. Came up short to a team that simply won the day, despite the rain a lack of fans. Good game App state. Hats off to the guys whose jerseys were wet from something other than the rain. 👏🏾 pic.twitter.com/9KjMsaBiZy

— Cameron Dollar (@camdollar3) September 12, 2020
"Coach Clark has reached out to Coach Healy to apologize for the picture that was taken in the locker room and circulated on social media last night," said Joey Jones, App State's senior associate AD for strategic communications.
The Club Lit sign is a staple of Charlotte victory celebrations, when the 49ers turn their locker room into a makeshift celebration space with smoke and flashing lights. Healy said last week that the team left the sign behind after last year's game, a 56-41 App State win.
The post from Evans pictured members of the tight end and the group's position coach, Justin Watts. Watts was making a peace sign.
The original picture has since been removed from Evans' page and replaced with a photo of the group holding up a their index fingers while standing around Charlotte's sign.
The T gesture is one the tight end group uses as a nod to its nickname, "The TError Squad." Pictures on Evans' account from spring practices and after the 2019 Sun Belt Conference championship game feature the same hand sign. 
When asked about potential punishment, Jones said that Clark would address that during his news conference Monday.
App State and Charlotte agreed to play again this season after both programs lost games because of schedule shuffling through college football. The two programs will play again in 2026, the first of five straight seasons in which they will meet.
Be the first to know
Get local news delivered to your inbox!