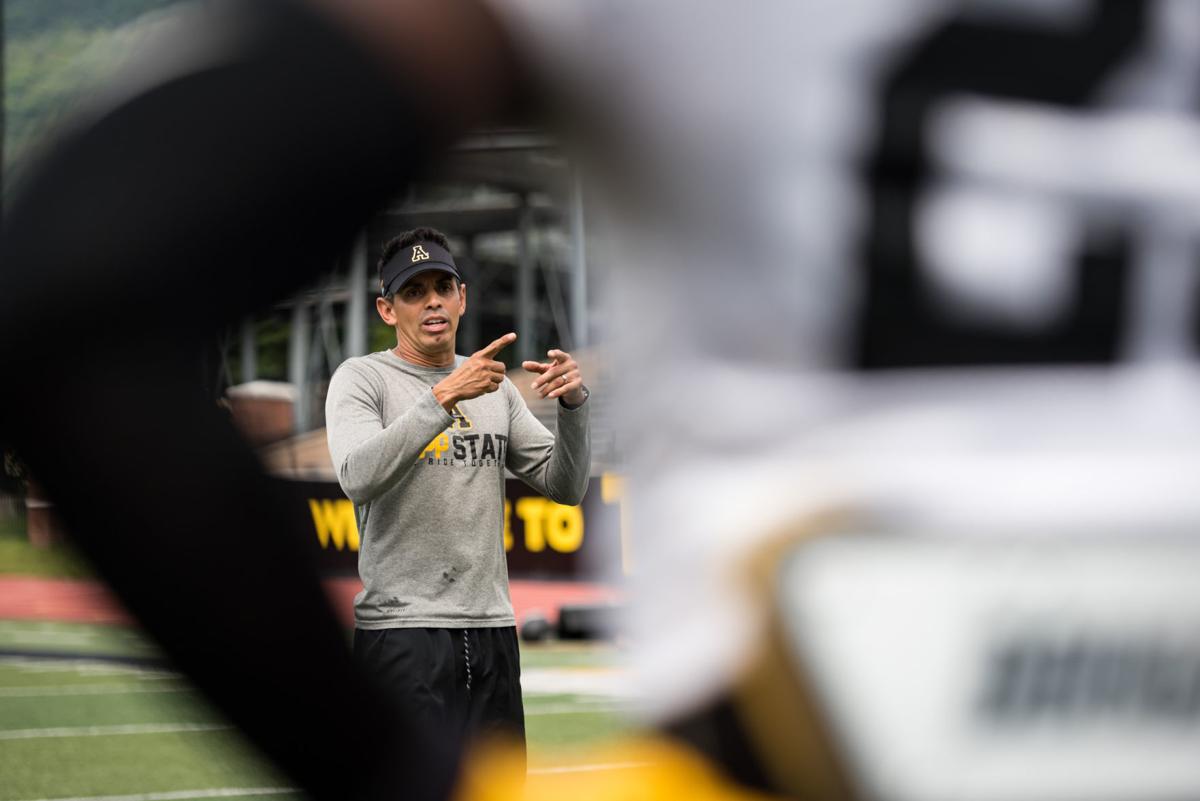 Appalachian State's next offensive coordinator is a person who's more than familiar with the program.
Frank Ponce has rejoined the Mountaineers and will work with the offense and quarterbacks. He spent the last two football seasons as the passing game coordinator/QB coach at Louisville under former App State coach Scott Satterfield.
The school officially announced the hire on Friday.
Ponce replaces Tony Petersen, who held the role in 2020 before taking a similar position at Illinois last month. Ponce's return brings in a play-caller with an already baked-in knowledge of App State's offensive schemes and goals.
Ponce worked at App State from 2013 through 2018 as the co-offensive coordinator and quarterbacks coach. The last two seasons, he served as the passing game coordinator with current head coach Shawn Clark, who at that time was the run-game coordinator and offensive line coach.
"I am thrilled to be returning to a place that is filled with traditional values, a wonderful coaching staff and the greatest fans in college football," Ponce said in a school-issued release. "I am humbled that Coach Clark would entrust me with this wonderful opportunity to lead the team as the Offensive Coordinator and can't wait to experience this season with the Mountaineers."
After overlapping with Satterfield at Florida International in 2010 and 2011, he joined the Mountaineers in 2013 after Satterfield became head coach at his alma mater.
Ponce was part of an App State program that won at least nine games from 2015 to 2018 and helped start the program's current bowl winning streak of six games, the latest being Appalachian's 56-28 win against North Texas in the Myrtle Beach Bowl last month.
He oversaw the career of former App State quarterback Taylor Lamb, who set the Sun Belt Conference record with 90 career touchdown passes. His four years as a starter resulted in more than 9,000 passing yards and 2,000 rushing yards.
Ponce also worked with Zac Thomas in his first year as a starter, which began with a near upset at Penn State and ended with Thomas as the 2018 Sun Belt Conference offensive player of the year. That season, Thomas accounted for 31 total touchdowns (21 passing and 10 rushing) for the Mountaineers (11-2).
Ponce is the third assistant to return to the App State staff after initially following Satterfield to Louisville. Dale Jones, now the Mountaineers' defensive coordinator, was the Cardinals' inside linebackers coach for the 2019 season before he rejoined App State. Nic Cardwell, App State's offensive line coach, was a quality control coach in 2019 at Louisville. He spent 2018 as the Mountaineers tight ends coach after the NCAA allowed FBS programs to add a 10th on-field assistant. 
Jones has 24 seasons coaching at App State. Cardwell played from 2004 to 2007 and worked in and around the App State football team for a bulk of the 2010s. Clark brought both back for his first coaching staff, which guided App State to a 9-3 record.
"I'm very excited to welcome Frank back to our coaching staff and give him control of our offense," Clark said in the release. "He is an amazing teacher of quarterbacks, a great recruiter, and most importantly, a good role model and mentor for young people. He loves App State, and we're glad to welcome he and his wife, Christine, back to the mountain."
Ponce's re-addition will also be a benefit on the recruiting trail, with his deep Florida connections helping the Mountaineers establish pipelines during his first stint with the program.