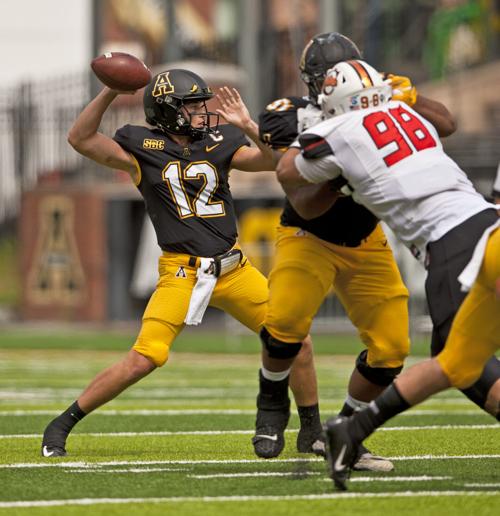 After a program shutdown and two postponed games, Appalachian State football coach Shawn Clark found hope in his Monday press conference, relief to be back in game week again with no COVID-19 issues.
"We're working it, day by day," Clark said. "It's the first time that we've had zero positives, zero people in quarantine, and again we test this afternoon after practice."
The Mountaineers are set to play host to Arkansas State on Thursday night.
App State is 2-1, last playing on Sept. 26 in a 52-21 win against Campbell.
Among the topics covered by Clark, senior quarterback Zac Thomas and junior cornerback Shaun Jolly:
On the return of fans
Thomas mentioned that after a long layoff, App State is eager to play in front of fans.
The athletics department announced on Friday that 2,100 would be allowed to attend the game, the first spectators inside Kidd Brewer Stadium for the 2020 season. This follows Gov. Roy Cooper's decision to allow outdoor venues with 10,000 capacity to start hosting fans at 7%capacity starting Oct. 2.
Originally, the first game at which App State could have hosted fans was Oct. 7 against Louisiana, a game that has been shifted to Dec. 4 or 5.
"As a college football player, you come to a university to play in front of big crowds and get that crowd atmosphere going," Thomas said. "I mean, the first couple of games were not ideal. You didn't get to play in front of fans.
"Marshall was awesome just because they allowed fans and you got to play in front of those fans. Even if they were booing you, it was still somebody saying something to you."
Clark on Arkansas State's defensive changes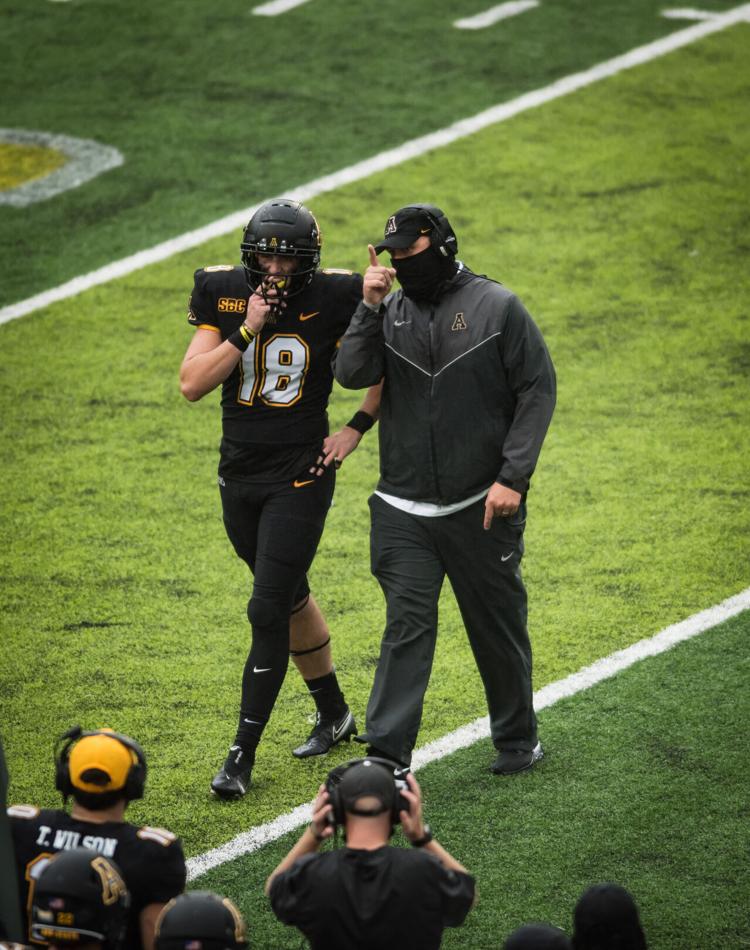 After his team allowed 52 points in a win versus Georgia State, Arkansas State head coach Blake Anderson fired two defensive assistants: Coordinator David Duggan and defensive pass game coordinator Ed Pinkham.
Clark said a midseason change is never ideal, but the Mountaineers would prepare for virtually the same Red Wolves defense.
"Coach Anderson's trying to do what was best for this program," Clark said. "I don't feel that they're going to be a total of fundamental change of who they are in less than a week.
"So we're gonna prepare like it's the same defense, the same play-caller. And again, we have to be prepared for something, the unexpected."
Ready for a showdown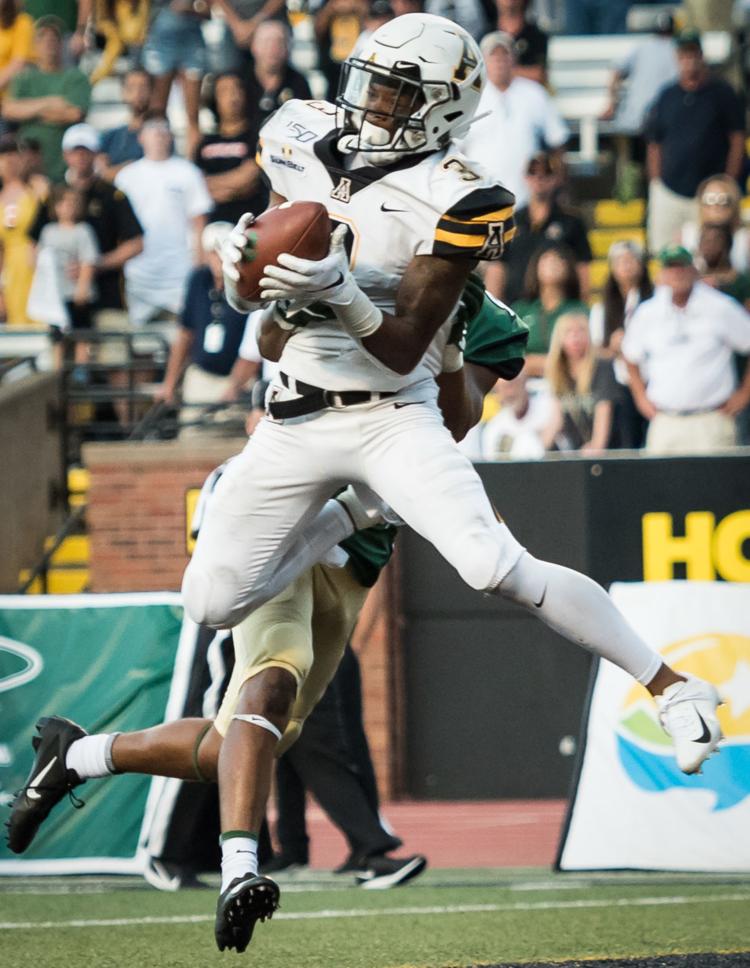 No matter how many games they've played this season, the defensive back combination of Jolly and senior Shemar Jean-Charles are a stout combo for opposing passing games.
And they'll get a test for their on-field return.
The two will face a high-flying offense featuring wide receivers Jonathan Adams (41 receptions, 539 yards, seven touchdowns) and Dahu Green (25 receptions, 419 yards, five touchdowns), the two leading receivers in the Sun Belt Conference.
Adams was named the conference's offensive player of the week after a 177-yard, two-touchdown performance in a 59-52 victory against Georgia State. 
"Oh we're loving it," Jolly said. "We can't wait. That's what we look football for, a challenge. They've got a good receiver corps, big receivers, they're going to go up and attack the ball. Me and Sherm, I feel like we're ready. The whole secondary, I feel like we're ready."
Team health
The App State depth chart looks normal again. After missing roughly 20 players a month ago – causing younger members of the team to step up in the wide receiver group, tight end group and running backs group – all normal starters are again listed for the Mountaineers.
Henry Pearson, App State's starting tight end to begin 2020, was the only notable absent name while still dealing with a shoulder injury sustained in the season opener against Charlotte. Clark said that Pearson is probable to appear in the game, though it would be light work.
"He's practicing right now," Clark said. "He came back off a shoulder injury that we weren't sure how it was going to take. ... Henry's a tough kid. And if he does play it will be on a limited rep count, but he is practicing full speed with the team right now."
Be the first to know
Get local news delivered to your inbox!