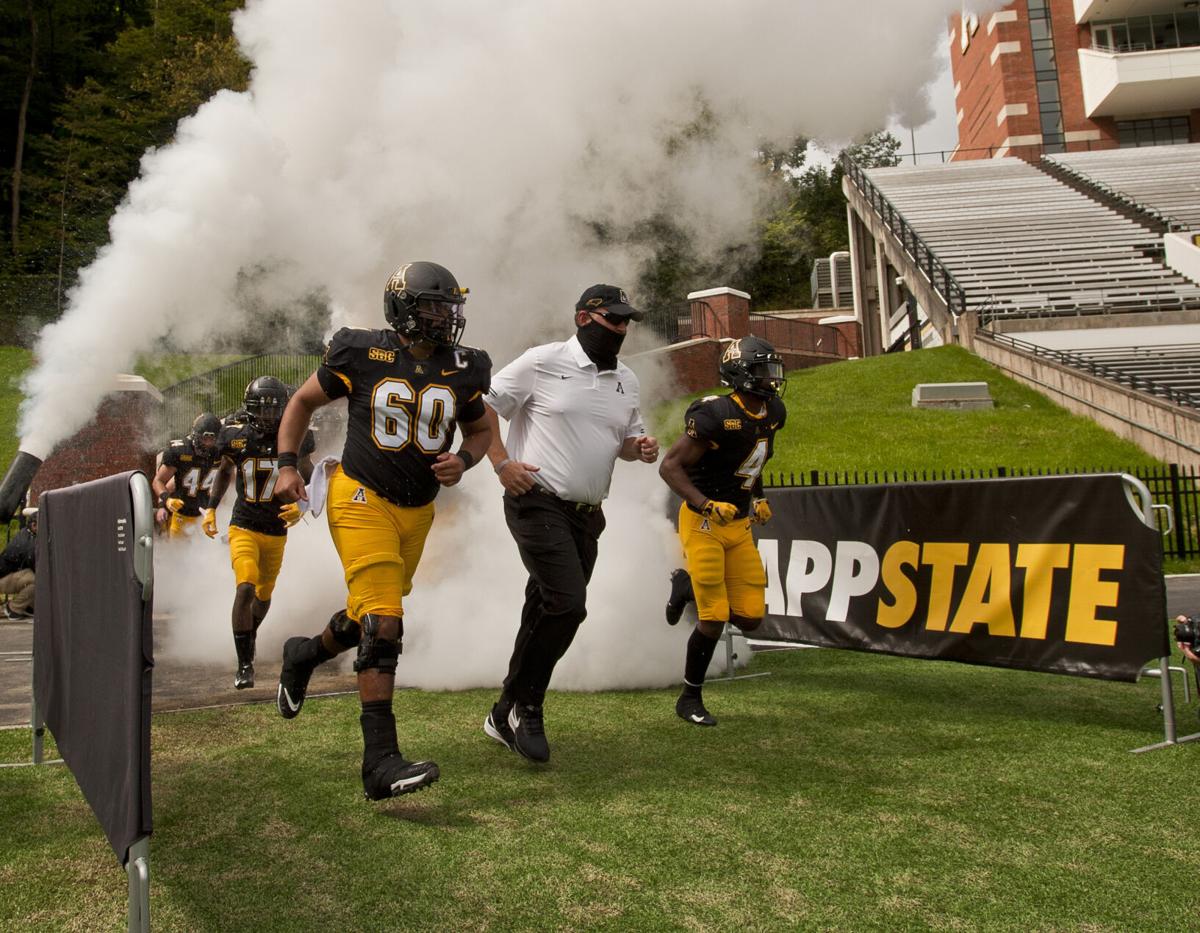 COVID-19 and the calendar appear to be working against the Appalachian State football team's next scheduled game.
The team isn't practicing, its game against Louisiana scheduled for Wednesday has already been moved to December, and next up is a date at Georgia Southern on Oct. 14.
"By the end of this week it'll have been two weeks (since the football team has practiced)," athletics director Doug Gillin said Monday. "So a lot of conversations to be had, but we're trying to make that decision quickly, in consultation with everybody ... make sure that we're all looped in together."
Coach Shawn Clark said earlier in the day that he would be discussing the game with Gillin on Monday.
"We have to do what's best for our players and coaches," Clark said. "Their health and safety is first and foremost for us."
Last week, Appalachian State University announced 19 active COVID-19 cases inside the football program — 11 students (10 of whom were athletes) and eight staff members. The cases led to the postponement of the Louisiana game in Boone.
That timeline is not conducive to App State-Georgia Southern staying on its current date. App State announced the new positive cases on Thursday based off tests from the day before.
Those who test positive have to be isolated for 10 days, while those subject to contact tracing must be quarantined for 14 days. Although the active cases should be out of protocol by Oct. 14, those in contact tracing will be on their final day of quarantine.
At the time of the announcement, the school did not announce how many people were in contact tracing protocol. Gillin said that he, along with university leadership, the local health department and the Sun Belt Conference are trying to determine if it'd even be safe to play.
Clark said the program is on pause. The team is not practicing, and coaches are working from home. Players are staying out of the locker room, Clark said, and some will be able to start working out on Tuesday in groups of up to five.
"I talk to Zach (Parker), our trainer, on a daily basis, and he gives up an update of where we are as far as quarantine, contact tracing, who's positive," Clark said. "But right now, that's all the information I have for you."
Eighteen players and three full-time coaches were unavailable for App State's game against Campbell on Sept. 26 because of contact tracing, a situation stemming from a positive case ending up on a team bus.
As of Monday, the university reported that 191 students and 11 employees make up the active cases, down from 218 students and 11 employees Sunday. But the school still has 14 active clusters on campus, including seven that were announced last week. Clusters in the football and volleyball programs are among those announced last week.
The seven-day average number of cases on campus has been rising since Sept. 14, and the university has had at least 100 cases every day since Sept. 25.
Earlier Monday, the Sun Belt Conference announced it was moving its original football title game date from Dec. 5 to Dec. 19, giving a couple more weekends of cushion for rescheduling.
The Louisiana-App State game is expected to be played Dec. 4 or Dec. 5. The changing parts continue to swirl for Clark and the rest of college football.
"It's exhausting," said Clark, a first-year coach at his alma mater. "From minute to minute, every day you don't know what's going to happen. ". . . Everybody's susceptible to it and we've just got to make sure we do our part to flatten this curve."
Be the first to know
Get local news delivered to your inbox!