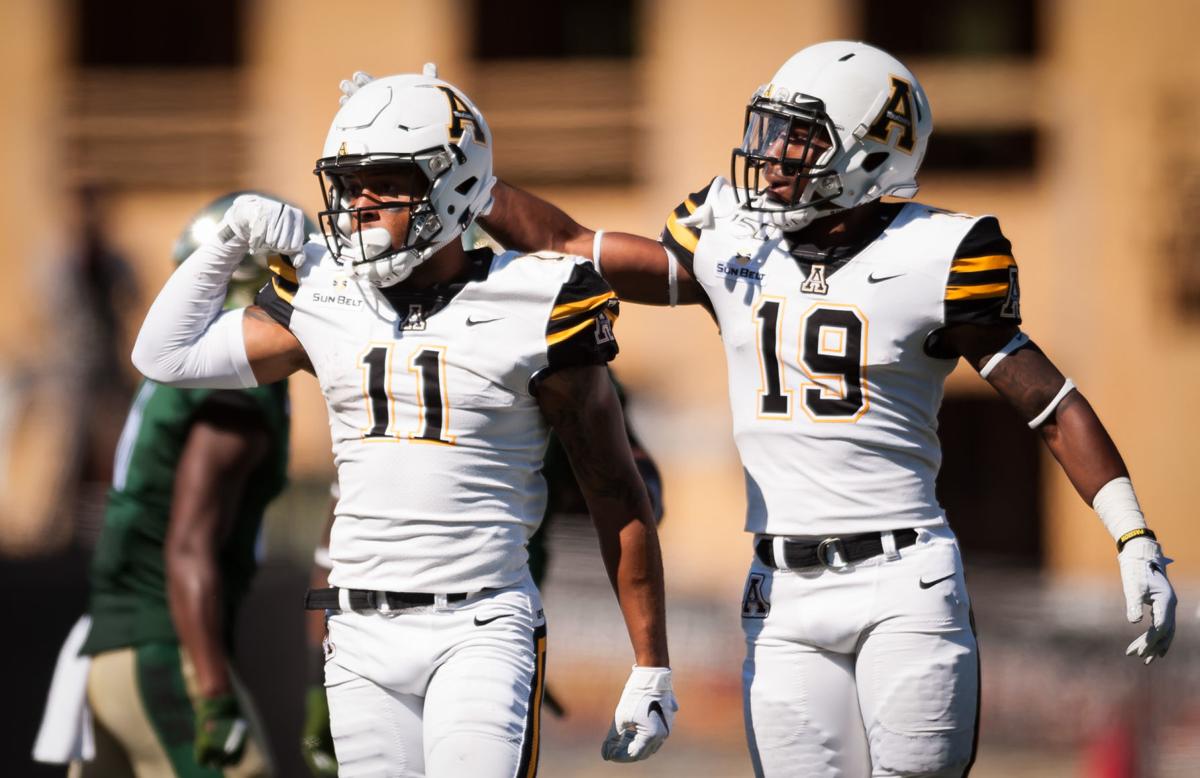 Shawn Clark is devoted to the running game. There's no doubt about it.
The Appalachian State football coach says so often, and the team has shown it through the first two games of his head coaching tenure going into Saturday's game against Campbell. It's been the staple of the program, especially in Appalachian's still-short FBS life.
But the need for balance exists, and Clark has mentioned that App State has to get its passing game more involved to keep running lanes open.
"When they put nine guys in the box, we have to win our one-on-one battles at receiver," Clark said. "And right now, No. 5 (Thomas Hennigan) is making plays, and we have to find more people to help us."
It wasn't a big issue against Charlotte, where App State ran for 308 yards in a 35-20 season-opening win. But it was a glaring one when traction was fleeting against Marshall, and the Mountaineers were held to one of their worst rushing performances in the last five years with 97 yards.
Hennigan has shined. He totaled 120 yards on five receptions and a touchdown against the 49ers. Against Marshall, he added 88 more on five catches, one of which was a one-handed grab down the sideline similar to the play he made as a freshman against Wake Forest in 2017.
Without the deep threat of Corey Sutton, who opted out of the 2020 season, there's space for someone else to step forward and take ownership of playmaking responsibility.
"Malik Williams, we have to get him more involved, and Jalen Virgil needs to play more," Clark said. "And Jalen was nagged by a few injuries, but he's a guy we have to have to be successful."
Williams and Virgil had moments of success against Marshall. Williams chipped in five catches for 54 yards. That paired with a drop of a potential score that bounced off his outstretched hand.
And Virgil made an incredible grab on a touchdown, falling out of the left end zone while corralling a ball over his shoulder. He also converted two first downs in the first half, taking some short plays and getting stretched.
Virgil's speed has always been an asset, and he's also been an interesting study in the group. Virgil went to App State with limited experience catching the football because of his high school's offense but has become a threat with his speed.
"Whenever I was exposed to the JUGS machine and just realizing my flaws with my pass catching, I got an opportunity to work on it," Virgil said. "I've just consistently worked on it, got on the JUGS machine and caught as many balls as I could over quarantine, doing all that stuff.
"That catch I made, there's no way I would've made that a couple years ago, just because the amount of time I've spent working on it."
App State gets a chance to fine-tune against Campbell, which has lost 27-26 to Georgia Southern and 43-21 to Coastal Carolina, before it starts Sun Belt Conference play against Louisiana on Oct. 7.
The wide receivers are getting more responsibility thrown their way from their head coach. And Virgil is confident that they can take those steps to give the offense a needed dynamic to keep getting first downs and touchdowns.
"Obviously Thomas is an exceptional player," Virgil said. "Everybody else in the receiver room is good, too, we just have to go out there and be ourselves.
"We're going to have more opportunities in the future, so we've just got to keep working throughout practice and just go out there and everybody be the best they can be personally."
Be the first to know
Get local news delivered to your inbox!