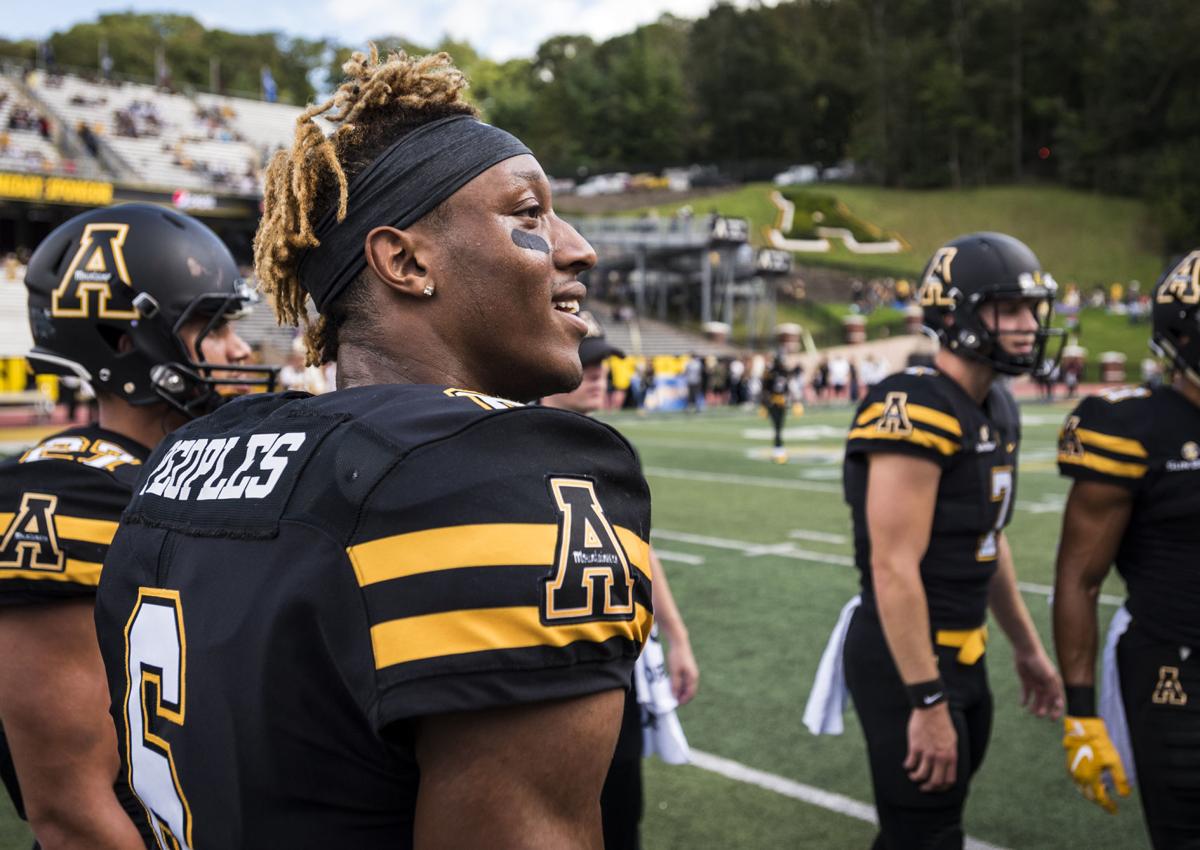 Appalachian State's Cam Peoples doesn't want to make obscurity normal.
He dealt with that enough as a high school football player, and he's not going to let it creep into a college career that's just starting to launch.
So consider Saturday against Charlotte a first step forward on a healthy leg for Peoples, who missed last year due to an ACL tear in the season opener. Just getting into the uniform and shoulder pads would've been enough, but 102 rushing yards and a touchdown didn't hurt, either.
"The moment I stepped out there, it was just like, 'Dang, he snaps this ball and it's on. I'm back," Peoples said Monday.
Coaches beamed about his talent the moment Peoples arrived on campus. But that excitement turned into two years of waiting for the redshirt sophomore.
As a true freshman on the 2018 team, he appeared in only three games to preserve his redshirt. Then 2019 was lost during a chase-down tackle from an East Tennessee State tackle.
Scott Satterfield, former of App State but now at Louisville, mentioned his excitement regarding Peoples during the football team's media day in 2018. That excitement has bubbled under the surface for the running back.
"I took it as don't let it get to you because no matter what anybody else is saying out here, I still have a lot to prove," Peoples said. "I still haven't got out here and showed them what I actually can do.
"So I took it as a challenge to meet the expectations and then beat the expectations. It gave me something to play for, it gave me a reason to go harder than I could go."
The season still has a long way to go, but Saturday was a good start. Peoples was one of three running backs featured in the 35-20 victory against Charlotte. But from the moment he touched the ball, on the Mountaineers' third offensive series, his carries were electric. He scored his touchdown and had five carries on the drive — three that were 10 yards or longer.
He was the first running back to break the order, his number called again for the next series. He'd get two carries and get dinged up, heading to the locker room. He returned for more action in the second half.
" I guess I'm the hot hand," Peoples remembered before cracking a joke. " . . . I was like wow hold up now, I gotta catch my breath."
App State coach Shawn Clark said during his weekly press conference that Peoples would continue to be evaluated throughout the week. 
While Peoples spoke on Monday, an unexpected figure crashed his interview. Nic Cardwell, App State's offensive line coach, busted in to shout a few sentences.
"He's thinking he's going to take it to the house," Cardwell shouted. "He's going all the way, as soon as he touches the rock, baby."
And as Peoples reflected on his path from Lineville, Ala., to Boone, he hopes that will be the first of many more touchdowns.
"I feel like I've always been kind of overlooked, and I feel like a lot of guys here can relate to that, which I think that's what makes this team so special," Peoples said. "It's that we all play with a chip on our shoulder. We all play like we got something to prove."