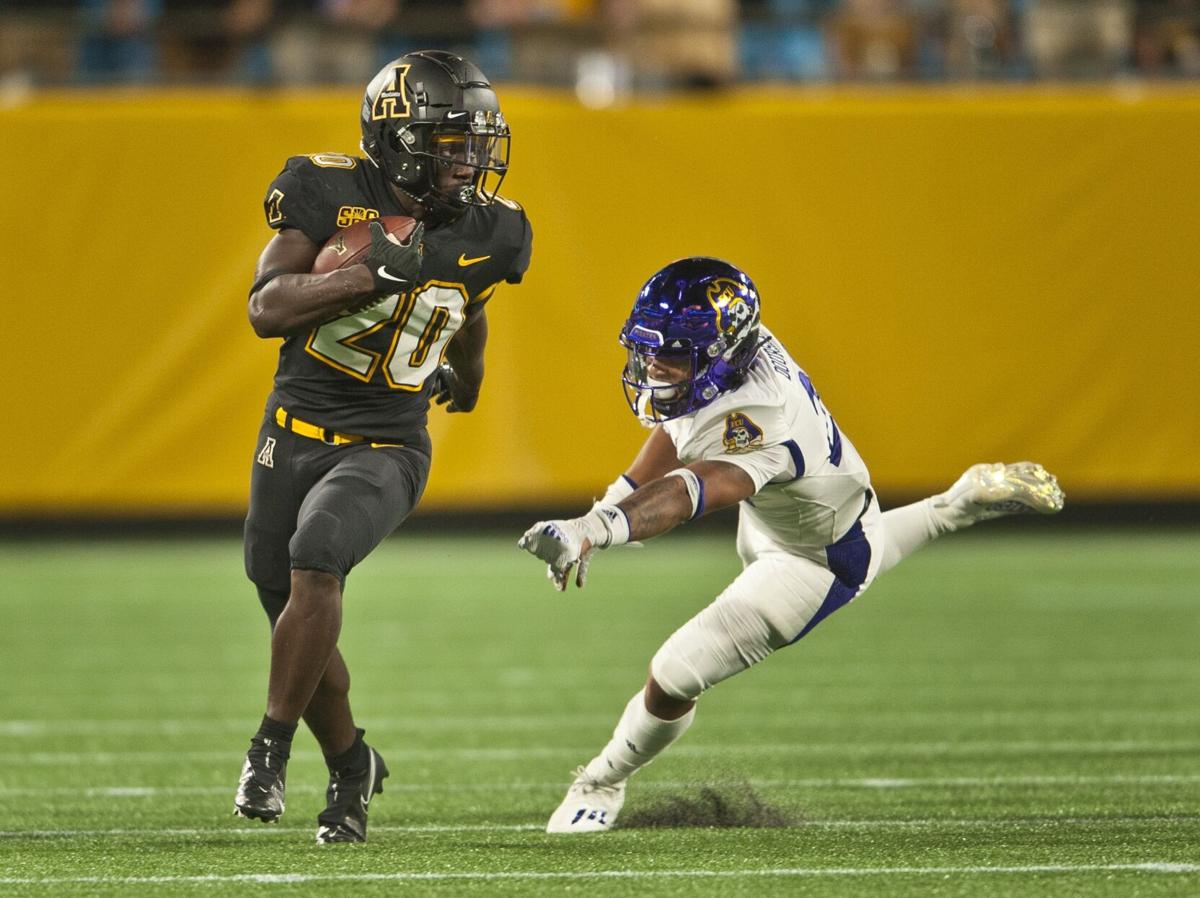 BOONE — At this point, there's no doubting the recruiting importance of Florida for the Appalachian State football program.
Its roster, 118 members, features 20 players from the Sunshine State. The trip to No. 22 Miami for a 7 p.m. Saturday kickoff (ESPNU) is not only a chance at victory, but also a quick way to swing through and recruit future Mountaineers.
Even more telling, though, is where App State is getting the players. The two sidelines on Saturday will have nearly identical representation from one of the state's public school powers. Four former Miami Northwestern High School players will be on The U's side. But three — two of which are defensive end Demetrius Taylor and running back Nate Noel — are dressing for App State.
"It says that we've got kids that can play football," said Miami Northwestern coach Max Edwards. "It says that we've got kids that want to be student-athletes first and pursue that while they play this great game of football.
"And we've got kids that have good character."
Edwards took over the Bulls' program ahead of the 2015 season, winning three straight state titles from 2017 to 2019. His Fridays are spent trying to win games. His Saturdays become attempts to watch as many former players as possible. He tries to get around the state, but he said his best bet is staying home and bouncing between games on TV. He'll be at Hard Rock Stadium in Miami Gardens on Saturday, though, to see some of his former players live.
When Edwards took over at Miami Northwestern, Taylor was a junior on the team. Edwards said Taylor promised to do anything, and he delivered, too. During Edwards' first season, Taylor played two ways — offensive tackle and defensive line — before eventually moving over to defense-only in 2016.
"He made no if, ands or buts about it," Edwards said. "He said, 'I'll do it, Coach,' and he did it with a smile."
Taylor moved on to App State, playing almost immediately. He has appeared in 52 games, starting for the last two seasons and establishing himself as one of the Sun Belt Conference's best pass rushers. He has been followed to Boone by Noel, who joined the program ahead of the 2020 season, and defensive back Travis McNichols Jr., a freshman.
Growing up about five minutes from Miami's football stadium, Noel said, he was around Miami games all the time. Hurricanes coaches were frequent visitors to his high school. He watched teammates get scholarship offers around him, waiting for his turn while also starting on the Bulls' most recent championship team.
"It can be hard," Noel said. "Everybody around you is getting scholarships and you feel like, 'Dang, I feel like I'm good too. I feel like I should get some scholarships too. But as long as you keep your head straight, it's going to come.
"... I'm here now, and I'm in the best situation I can be in."
He eventually found App State after watching the 2019 New Orleans Bowl, and as a true freshman last season, saw significant playing time almost immediately. He trades running back duties with Cam Peoples, the two combining for 226 total yards in the season opener.
For fourth-year defensive lineman Hansky Paillant, another Miami native who spent time at Miramar and McArthur high schools, this will be the biggest personal turnout he's seen at one of his college games. For home games, Paillant has four tickets to give out. He said he will have 12 family members at this Miami game, along with some coaches and two of his hometown friends.
Paillant said his mother is a nurse and doesn't get much time away from work to see him play. She'll get to be there, too.
"Pretty much all my family members, friends and coaches, anybody who supported me and got me here get to watch me do what I do," Paillant said, smiling.
Edwards credited his school's connection to App State, and the school's better recruiting effort in Florida overall, to current offensive coordinator Frank Ponce. Ponce grew up in Miami, becoming a key recruiting figure in the state for the Mountaineers originally in 2013.
Ponce and Edwards coached in the high school ranks together. Now, with multiple players having gone on to find success in Boone, Edwards said he's more inclined to send recruits in the school's direction.
"When we've got guys that have success at a college, you let them know, 'Hey we've got guys that have been there before you, that walked them halls before you, and if they can have success there, so can you,'" Edwards said about helping players make college choices. "We try to get our guys to follow each other because we know if they follow each other, they're going to help each other out."