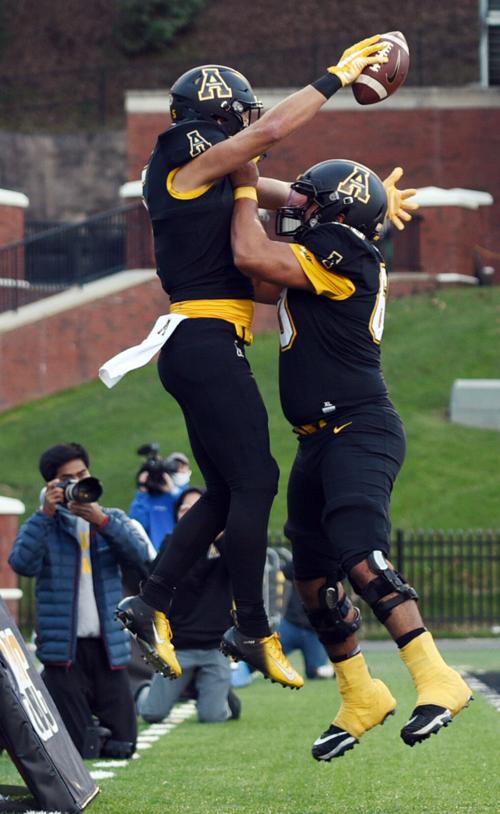 Taylor Lamb warned of this moment.
When the former Appalachian State quarterback delivered his senior talk ahead of the 2017 season, he took a moment to remind the freshmen sprinkled throughout the room to enjoy it. The moments, the games and the careers, he mentioned, go by quickly.
Two of the freshmen in the room that day were Noah Hannon and Thomas Hennigan. At the time, Hennigan chuckled, brushed it off.
"I'm a freshman in the middle of camp thinking there's no way this flies by," Hennigan said. "But he was right, of course. I'm not really in a mind frame to reflect on everything right now. I'm sure that time will come. But it's just unbelievable."
Senior days come and senior days go, and it will be no different when App State plays host to No. 25 Louisiana on Friday night. But in a successful group of seniors – nine victories have been the lowest season-win total for these fourth- and fifth-year players – Hannon and Hennigan have been staples from the start.
The starting center and a starting wide receiver, respectively, have held those positions throughout, playing in every career game from the 2017 season opener at Georgia until now. Hannon has started all 49 of them, too, with Hennigan a game behind at 48 after missing the first start of his career this season because of a nagging injury.
And to add the weird 2020 spin to it: Those careers might carry on another season or be over in three games, depending on what Hannon and Hennigan choose.
The NCAA's decision to grant an extra year of eligibility for fall sport athletes placed this future crossroad in front of all athletes and the programs. The senior-laden Mountaineers, who won shares of conference titles in 2016 and 2017 and back-to-back championship games in 2018 and 2019, are no different.
Those conversations and decisions will come after the season ends, according to App State coach Shawn Clark. And some of those chats could be difficult as App State tries to determine how many of those extra scholarship players it can afford.
"I want those guys to finish out their senior season, to really enjoy it," Clark said this week. "And then when the time comes, we'll sit down and have a workup from all the NFL teams from what their draft status would be if there would be a draft status, and if it's not what they want, they can come back and go to graduate school. That'd be a great situation for a lot of guys."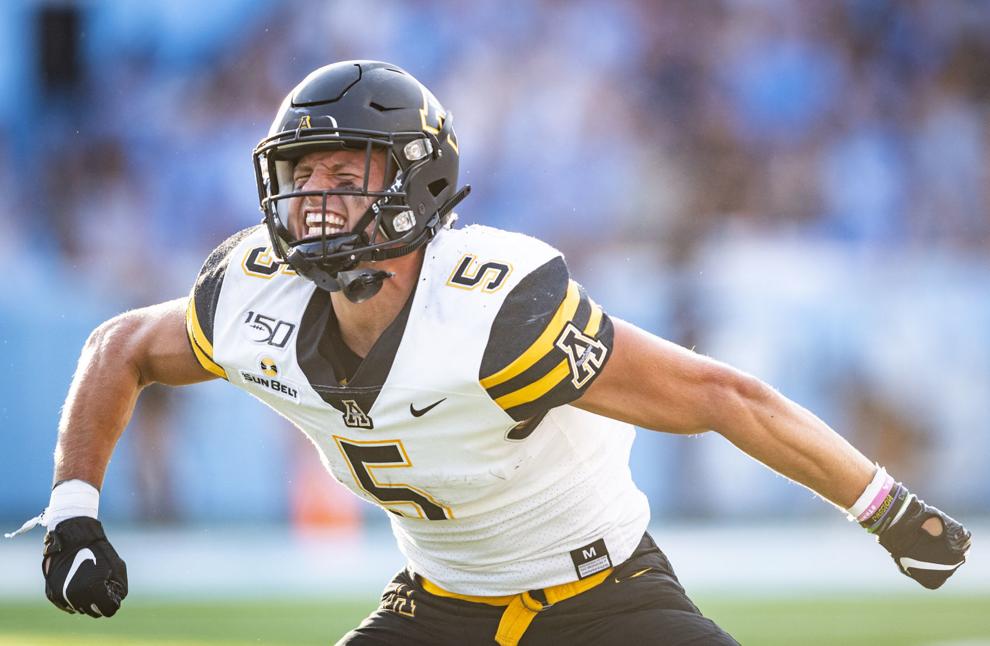 Hannon and Hennigan's return for a fifth year would be welcomed should they choose it. Hennigan, from Northwest Guilford High School and Greensboro, barreled onto the field as a sure-handed option for Lamb and, later, Zac Thomas. He ranks fourth all-time at App State with 2,148 reception yards and fifth with 168 receptions.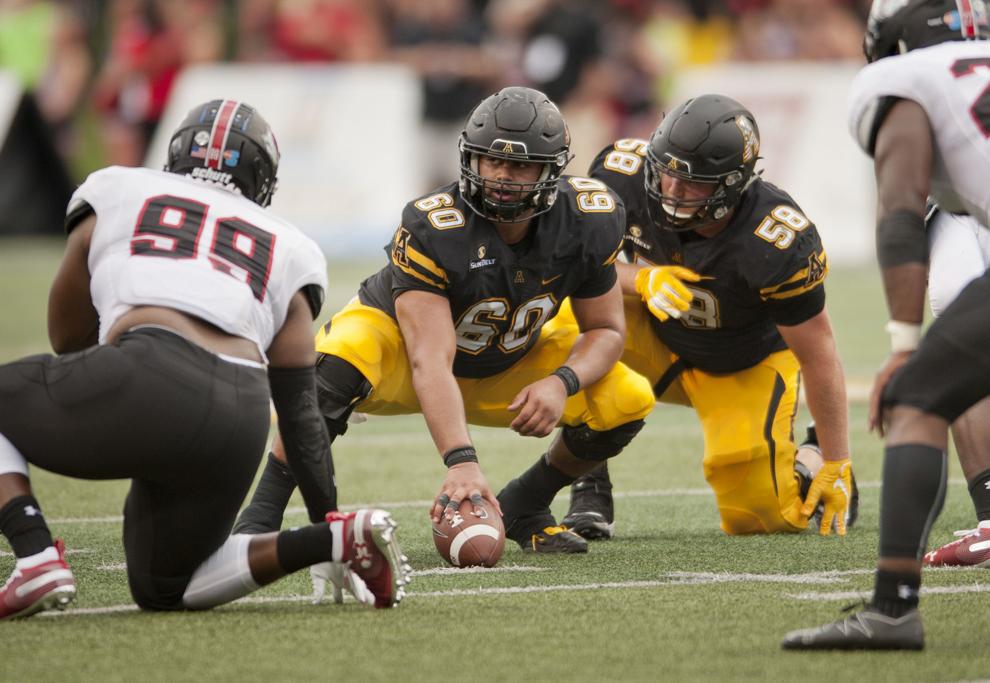 And Hannon, from Greer, S.C., has been a stalwart on an offensive line that is ranked in the top 25 nationally for rushing yards per game and sacks allowed. Hannon was quick to point out this week that the upcoming decision is much more complex than just continuing to play or not.
"You've got to think about your life, the lifestyle you want to lead, where your opportunities stand currently," Hannon said. " … At the end of the day, I'm somebody that likes to do things for other people, and the hardest thing for me is choosing something for myself.
"And so when I started thinking about this decision, whether I stay or go, I thought about everybody else. You know, 'What is this person going to think? What is that person going to think? How's it going to affect them?' And I never thought about how it's going to affect me personally. And so I've tried to flip my mindset to 'Noah, this is your life, this is a decision that's going to directly impact what you do in the next five, 10 years, whatever and the trajectory of how that looks.'"
Both Hannon and Hennigan said they've yet to make final decisions. Hannon said he knows where he stands but that nothing is done until the final snap. Hennigan told people throughout the season that it will come down to how it feels in the end.
"I told my family, I told my friends, my teammates – everyone who was asking me, 'Hey, what are you going to do?' – I said I won't make my decision until that last time I walk off the field," Hennigan said. "And I still think that holds true for me. Obviously this year dealing with a few injuries that I normally haven't had to in the past. That definitely kind of weighed on my decision."
The two met at the Shrine Bowl of the Carolinas, connecting as App State recruits and future roommates. They had some important conversations in those brief encounters – determining who would bring a TV and who would bring snacks to their dorm room in White Hall. They stayed on the same trajectory from there on out.
"You know, we really didn't even think about that until probably the first three years," Hennigan said. "And then senior year gets here, you kind of take a step back – especially in quarantine when you're not doing any football – I think him and I both just kind of took a step back and kind of reflected on everything that we've gone through and done."
Hannon lives in a house with four other seniors who have to make a similar decision – quarterbacks Zac Thomas and Jacob Huesman, wide receiver Jalen Virgil and safety Kaiden Smith. Hennigan is also part of that tight group. They've had conversations about playing that fifth season with each other.
Hannon and Hennigan both mentioned how those friendships will remain strong, regardless of what they all choose to do. And that's something that Hannon has stressed to them in the moments where continuing their careers have come up.
"At the end of the day, I think everybody's in a unique situation," Hannon said. "All five of us have the same opportunity, all five of us have had a different journey to get here. Thomas and I have probably had the most similar journey just with how we've done things. And everybody's got a future ahead of them that's different, too."
Hannon and Hennigan pointed out the obvious challenges of the year, from the uncertainty of football season to the COVID-19 outbreak that caused a halt in the Mountaineers program for a month to the rescheduling of two games, including this one. Hannon also mentioned the less obvious ones to football players, like missing the fans and that big-play roar.
Surely nothing that Lamb said in the fall of 2017 came close to prepping them for this. But Hannon said regardless of how wild the year has been, he's grateful for the opportunity the program gave him.
"To be honest with you, that is a thought that's been running through my mind all week, and really since last Saturday," Hannon said of a potential final home game. "It's kind of crazy to think that just because I mean it feels like it's kind of flown by in a sense.
" … It's more than just playing a last football game at a place in a great place to play college football, which is The Rock. It means more about the last time that you get to be in front of any type of fans here, which in my opinion are the best ones in the nation. It'll be the last my family will get to travel up here not just to tailgate and watch a football game, more just to come up here and watch me play a football game. But it's all just happy thoughts about everything this place has given to me."