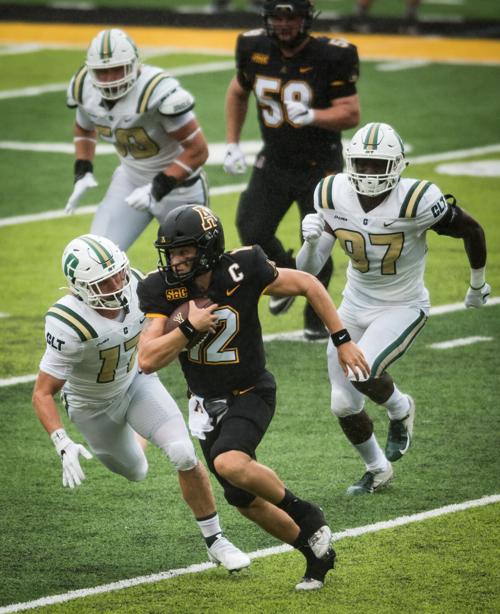 No. 12 North Carolina's football game against Charlotte on Saturday won't be played because of COVID-19, contact tracing and quarantining in the 49ers' program.
Charlotte played Appalachian State in Boone on Saturday, losing 35-20. According to the 49ers athletic department, several members of the offensive line group were placed into quarantine after the university's COVID-19 contact tracing protocol.
"We're extremely disappointed to have to cancel our game at North Carolina. While I know our team is heartbroken, due to the number of players in quarantine, we could not safely play," Charlotte athletics director Mike Hill said. "We very much appreciate the University of North Carolina working with us to schedule this game."
According to the program, three football student-athletes have tested positive in the last two weeks. On Monday, Charlotte administered 200 tests, resulting in one positive.
App State, meanwhile, said its nationally televised matchup against Marshall on Saturday hasn't been affected.
"App State Director of Athletics Doug Gillin and Marshall Director of Athletics Mike Hamrick have spoken and both feel confident in our testing protocols ahead of Saturday's game," the statement read. "App State football student-athletes and coaches have been tested twice this week with zero positive results. The team will be tested one more time tonight.
"Per Sun Belt and Conference USA policies, neither team will allow anyone to participate in the game who tests positive for COVID-19 or who is quarantined for contact tracing."
In result of the cancellation with Charlotte, UNC announced it is trying to add a game to its schedule on Sept. 26. The Tar Heels' next scheduled game would be Oct. 3 at Boston College.
"This certainly is disappointing, especially for the student-athletes on both teams who had prepared hard for this game and were really looking forward to this matchup," UNC athletics director Bubba Cunningham said in a statement. "We knew when we decided to play football in this environment that cancellations would be a possibility, because the health and safety of our teams and community is our priority."
Be the first to know
Get local news delivered to your inbox!