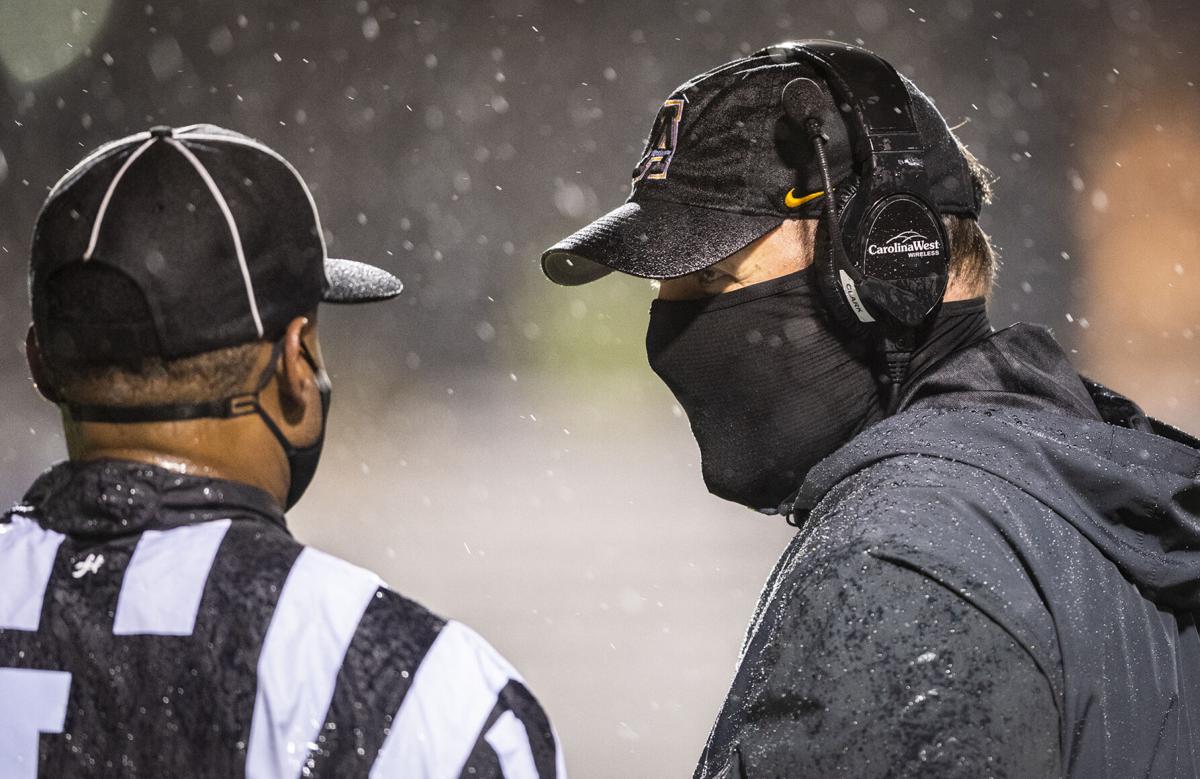 A football season with plenty of challenges — equal parts on- and off-field — will come to an end for Appalachian State on Monday.
The Mountaineers, set to take on North Texas in the Myrtle Beach Bowl, will try to register their sixth consecutive bowl win as a program after an 8-3 regular season.
Some bowl games have been canceled. Some teams have opted not to play in them this season. App State coach Shawn Clark said there was never a doubt what the team would do if it received a bid.
"Zero chance for our program ... we were full go the whole time," Clark said. "And again, this crazy year and the pandemic, everything that's gone on, it's a way to send our seniors out on the right note."
Clark said that after talking with athletics director Doug Gillin on Friday afternoon, the Mountaineers had two potential destinations for bowl games. One of those options was Myrtle Beach, which announced the App State-North Texas pairing on Sunday.
The bowl experience, not surprisingly, will be different for coaches and players. Typically teams will stay in the host city for a chunk of the week leading up to game day. 
For example, when App State went to the Dollar General Bowl in Mobile, Ala., after the 2017 regular season, the team visited Battleship Memorial Park and toured the U.S.S. Alabama, ​a retired battleship from World War II. Another day, they marched in a Mardi Gras-themed parade. At the New Orleans Bowl, the team participated in community service days each year and had luncheons featuring speakers such as former Heisman Trophy winner Charlie Ward in 2018 and former Pittsburgh Steelers safety Ryan Clark in 2019.
Clark said App State will stay for two nights ahead of the game, which has a 2:30 p.m. kickoff on Monday.
While it won't fall in the norm — much like the entirety of this year and football season — Clark mentioned it did come with the benefit of playing early so players and coaches could get to their families for the holidays.
"Anytime you get a chance to play that early bowl game and stay at your house for Christmas, it's great," Clark said. "I know with two young kids, we've had Christmas in hotels before.
"Not the best thing you want to do, but Santa Claus always comes."
Game week will technically start on Wednesday, acting as the day-after game-day routine for the final time this season.
App State's season saw a non-conference schedule wiped out and built back with a new one. The Mountaineers faced a COVID-19 shutdown after a matchup at Marshall, which caused the Mountaineers to play undermanned against Campbell before going nearly a month without a game.
Clark said the football program has gone more than 75 days without a positive test. The season's been grueling and tough on the first-year head coach, his staff and his players. To end with a win over a rival, 34-26 against Georgia Southern, on Saturday and another bowl win would be a strong reward for a challenging year.
"A lot of people don't know it from the outside just looking in, but as far as coaches go, we don't know until Wednesday who's going to be able to play, when the game plan is going to be finalized, and it's hard on our players," Clark said. "There's not much of a college experience right now on campus. I give our kids credit.
"They're the ones that have done it. They come to practice, they go home and try to do the right things. We're not perfect; no one is. We've had our issues here with COVID. But it's just an awesome experience to be able to play in a bowl game."