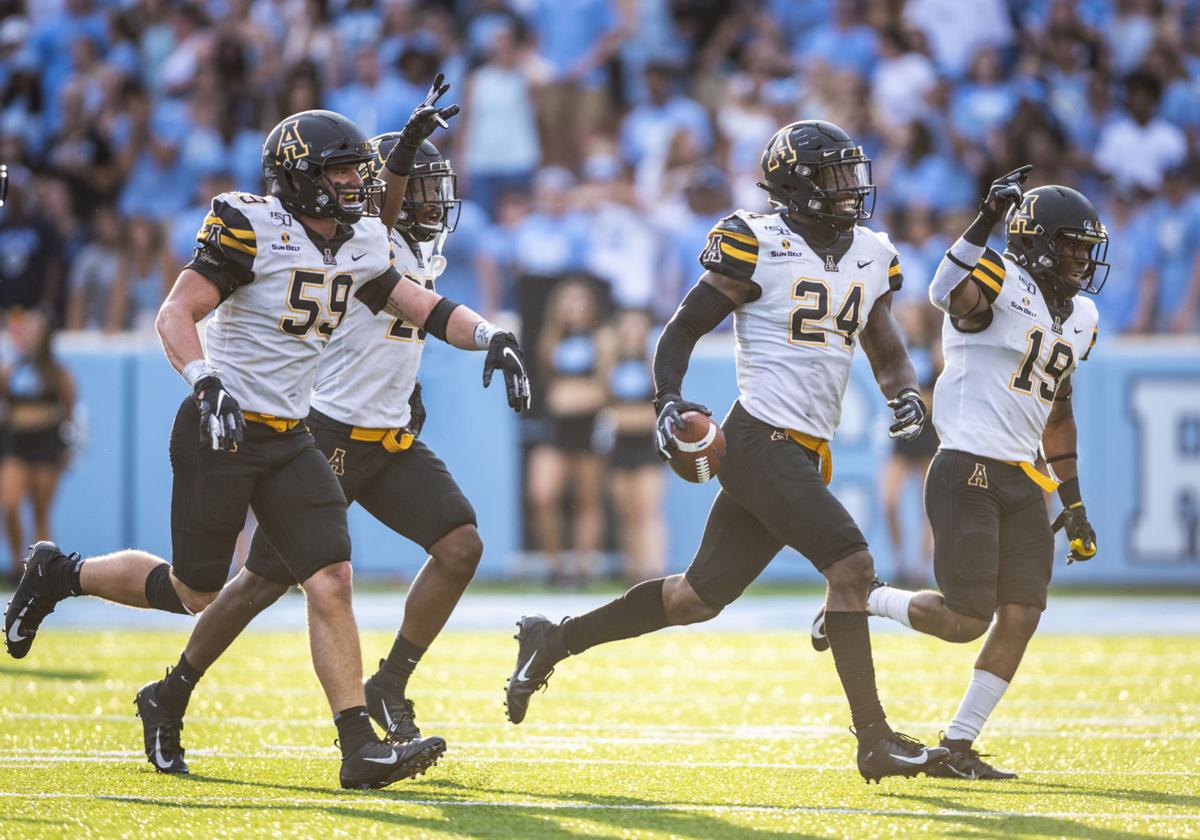 Appalachian State already has one Power-Five win this football season. Now it's time to take a shot at a second.
The Mountaineers (7-1, 4-1 Sun Belt) will play their final nonconference game of the season Saturday, taking on South Carolina.
Earlier this season, App State beat North Carolina, 34-31, the program's first Power 5 win since beating Michigan in 2007.
The Mountaineers are coming off their first loss of the season, falling to Georgia State 24-21 on Oct. 31 and subsequently tumbling out of The Associated Press and Amway Coaches polls.
Now the Mountaineers look to get back on track this week before diving back into conference competition.
Here are five things to know about the matchup against South Carolina in Columbia, S.C.:
App State connections
First off, consider the amount of connections between the two programs.
Two of the better quarterbacks in Mountaineers history are serving as graduate assistants at South Carolina: Taylor Lamb and Jamal Landry-Jackson. Lamb graduated in 2017 as the program's all-time passing touchdowns leader (90). Landry-Jackson, whose last season in Boone was 2013, registered the second-best passing season in program history in 2012 when he finished with 3,278 passing yards. Both are in the school's top five for career passing yards.
South Carolina's strength and conditioning coach is Jeff Dillman, an App State graduate who held the same position in Boone for two of the three Division I-AA national championships.
Max Durschlag, a redshirt freshman long snapper at South Carolina, transferred there from App State.
App State wide receivers Coach Pat Washington's last job was at South Carolina, where he coached the same position group from 2016 to 2018.
The lone win in the series
The programs have played nine times, with the Gamecocks winning eight. But App State pulled off an upset in Columbia in 1975.
The Mountaineers went to Williams-Brice Stadium and secured one of the program's most significant wins at the time. Trailing in the fourth quarter, Mountaineers quarterback Robby Price found wide receiver Donnie Holt to take a 36-34 lead.
App State intercepted a South Carolina pass in the next series and tacked on a field goal to secure the 39-34 win.
South Carolina guys
App State has 10 players from South Carolina on its roster: Nick Hampton from Anderson, KeSean Brown from Bamberg, Collin Reed from Boiling Springs, Richard Tucker from Campobello, Malik Williams from Chester, Zareon Hayes from Dillon, Joe Hartung from Greenwood, Noah Hannon from Greer, Vic Johnson from North Augusta and D'Marco Jackson from Spartanburg.
Reed, Williams, Hannon, Johnson and Jackson have all become important contributors for the Mountaineers. Johnson and Reed have regularly played since 2016, with Johnson becoming the starting left tackle that season. Hannon and Williams have been leaned on since their true freshmen year in 2017. And Jackson frequently has mixed in at inside linebacker over the last two seasons.
Hannon (Greer High School) and Jackson (Broome High School) were both finalists for the South Carolina Mr. Football award. Gage Moloney from Northwestern High School in Rock Hill ended up with the award. He plays quarterback at James Madison.
Back to the heavy run?
The Georgia Southern game was the first time this season App State threw the ball more than it ran it.
The Mountaineers attempted 51 passes and rushed 30 times. In its previous four games against Sun Belt opponents, Appalachian attempted to rush at least 16 more times than it attempted to pass.
Some of that was a product of the situation created by the Eagles. Being down 17 points early in the third quarter pushed the Mountaineers into situations where they needed to start moving up the field quickly. App State scored two fourth-quarter touchdowns, both on passes from quarterback Zac Thomas to receiver Corey Sutton, but could not overcome the deficit.
App State running back Darrynton Evans has been bottled up the past two games, rushing for 46 yards against South Alabama and 76 yards against Georgia Southern.
The Sun Belt standings
App State gets to step out of conference competition this weekend and will step back in next week with a clearer conference picture.
As it sits right now in the East Division, App State, Georgia Southern and Georgia State all have one conference loss. The Panthers (6-2, 3-1 Sun Belt) and Eagles (5-3, 3-1) are also on the road this week; Georgia State goes to UL Monroe, and Georgia Southern heads to Troy.
App State will finish its conference schedule with an away game against Georgia State (Nov. 16), a home game against Texas State (Nov. 23) and a Friday night trip to Troy (Nov. 29).
The Mountaineers are still very much in the hunt to play host to the Sun Belt title game and defend their conference title from last season.
Be the first to know
Get local news delivered to your inbox!