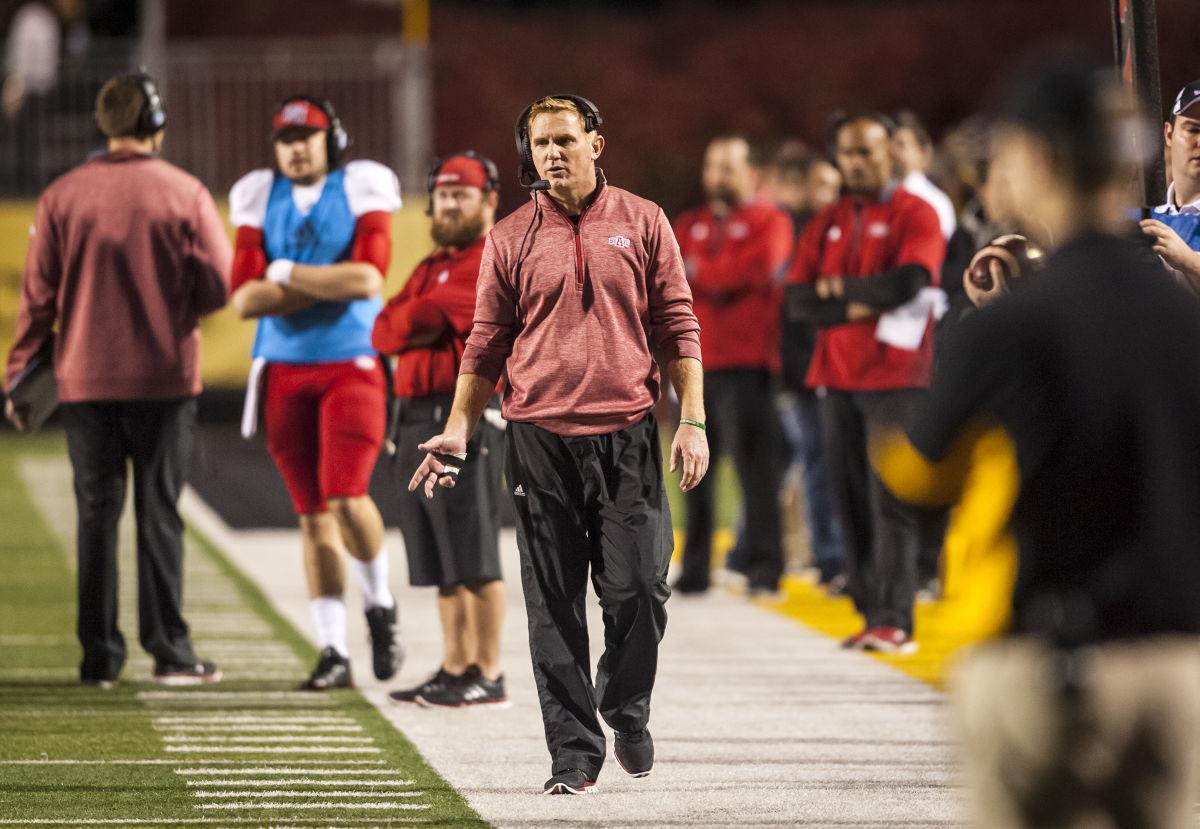 Appalachian State will get its 2020 football season restarted Thursday.
The Mountaineers welcome Arkansas State to Boone for the away team's first visit since 2015.
Five things to know about the Red Wolves, who are 1-1 in the Sun Belt Conference and 3-2 overall.
Double-barreled QBs
Arkansas State rotates two quarterbacks, and neither has an issue moving the team.
Junior Logan Bonner and sophomore Layne Hatcher have almost identical pass completion percentages (63.9 percent and 63.3 percent) and touchdown pass totals (11 and 10, respectively).
Both entered the season with starting experience: Bonner started the first four games in 2019, and Hatcher started the last nine. Both have been able to exist in the offense together on lower numbers of pass attempts. They combine to throw for about 360 yards per game. 
Defensive struggles
The Red Wolves have given up at least 50 points in their two conference games.
Coastal Carolina blew out Arkansas State 52-23 on Oct. 3. Then Arkansas State beat Georgia State 59-52 last week.
That last game resulted in the firing of Red Wolves defensive coordinator David Duggan and defensive pass game coordinator Ed Pinkham by head coach Blake Anderson.
Jogging your memory
It feels like forever ago, but Arkansas State scored an early-season win against a Power Five opponent.
The Red Wolves won 35-31 at Kansas State on Sept. 12, a day that featured two Sun Belt wins over the Big 12. Louisiana earned a 34-14 win at Iowa State, which was ranked No. 23 at the time and is ranked No. 17 in the latest Associated Press poll.
Firefight potential
Arkansas State's full-on aerial assault gets a boost from Jonathan Adams, the team's senior receiver whose seven touchdown catches are tied for second-most in the nation.
The Red Wolves lead the Sun Belt in total offense and are last in the conference in total defense.
That pairs with an App State team that has had a month off and showed destructive ability on the run but had a muted performance in its last FBS game against Marshall, a 17-7 loss on Sept. 19. The Mountaineers ran for 96 yards as their passing game struggled to stretch the field.
The series
Will the Sun Belt ever let these teams become yearly opponents? Because when they play, there's always intrigue.
In 2014, App State beat Arkansas State, 37-32, in their stretch of six consecutive wins to finish their first FBS season 7-5. The next year, the Red Wolves beat the Mountaineers in a game that essentially decided the 2015 Sun Belt championship. Arkansas State claimed first place that season, holding the game advantage over App State.
The two last played in 2018, a dominant showing for App State in a 35-9 victory in Jonesboro. That game featured Darrynton Evans' shift into lead-back responsibilities because of Jalin Moore's career-ending injury in the first half. Evans is now a running back for the Tennessee Titans, a third-round pick in the 2020 NFL Draft.
Be the first to know
Get local news delivered to your inbox!