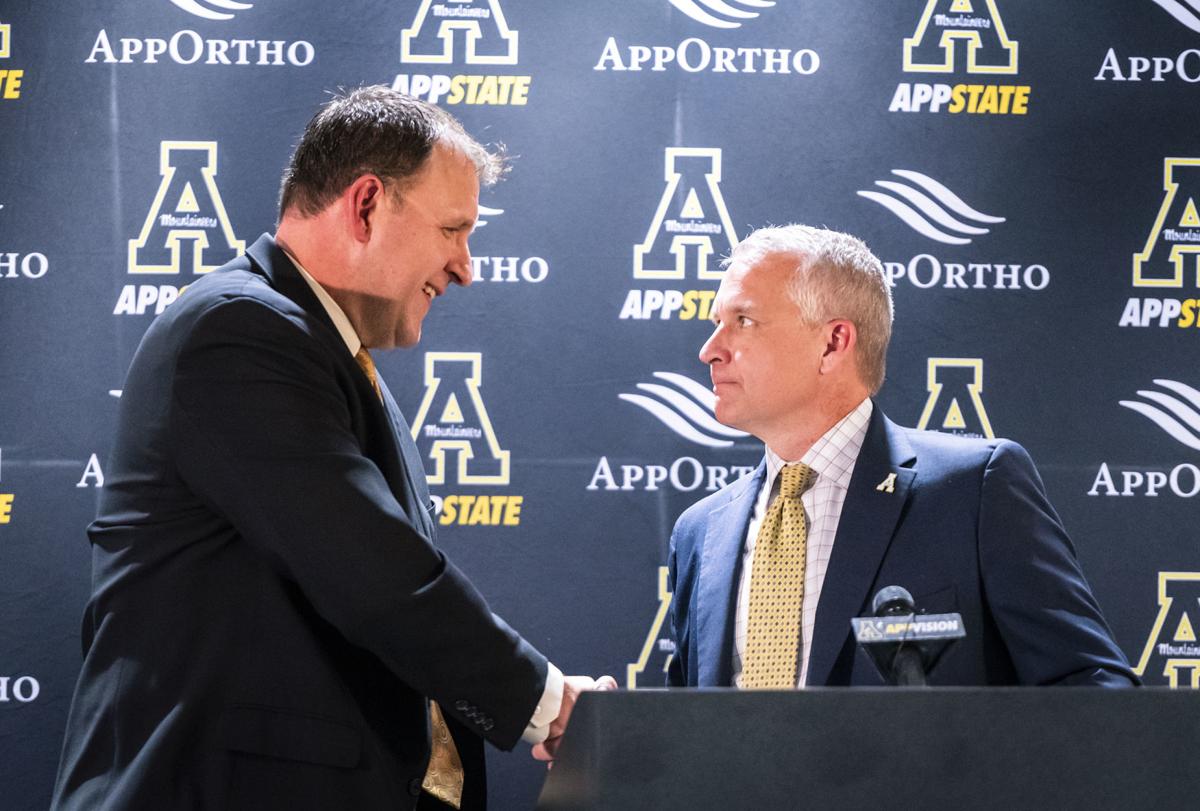 Sept. 23, as it turns out, was a preview.
When Marshall's football team traveled to Boone for a matchup with Appalachian State, the two schools rekindled old magic. Doug Gillin saw it, as did Sun Belt commissioner Keith Gill, who was in attendance that night along with almost 29,000 people. After the Mountaineers' 31-30 win, Coach Shawn Clark issued a plea that the game between the former Southern Conference schools should be a constant again.
He was about to get his wish.
A little more than a month has passed, and a new Sun Belt has emerged. The addition of four teams — with Marshall, Southern Miss and Old Dominion official and a fourth, James Madison, in the midst of outlining its shift from FCS to FBS — has allowed App State to become insulated by a conference where it once served as the northern-most member.
"Certainly knowing the passion of the two fan bases and for what used to be, when Marshall and App were playing on a regular basis," said Gillin, App State's athletics director. " … I don't know if that was fortuitous or not, but you could definitely see that, hey, these are two really passionate football fan bases that currently are different conferences, that are only four hours apart."
When all is said and done, the Sun Belt will be up to 14 football-playing members with a pair of seven-team divisions that will be much more economic for all members.
The additions ring similarly to the Sun Belt's survival through the last conference realignment about decade ago. While Conference USA attempted to bank on TV markets, then-Sun Belt commissioner Karl Benson didn't have that luxury. The situation, with the Sun Belt teetering with a threat of collapse, led to him tapping two FCS schools with national championships football standards and loyal football fan bases, App State and Georgia Southern. Coastal Carolina came soon after.
Turns out, the luxury became programs with established traditions, most notably Appalachian. The Mountaineers won the conference's first two championship games in 2018 and 2019, helping to keep the Sun Belt in larger Group of Five conversations during that stretch. The rise of Louisiana under Billy Napier and the rocket success of Coastal Carolina last season built on that.
Now, with the American Athletic Conference leaning on major markets — poaching Florida Atlantic, Charlotte, North Texas, Texas-San Antonio, Rice and Ala.-Birmingham from Conference USA after the announced departures of Cincinnati, Central and Houston to the Big 12 — the Sun Belt has again attempted to add programs with loyal fan bases. C-USA, meanwhile, is approaching a scenario in which it is down to three members.
Gillin said that often the immediate question pertains to the conference TV contract. And that's an important factor. He also pointed out that the money from the ticket gate, concessions, merchandising, and licensing is just as much a major revenue source.
"For us, value is defined as a couple things," Gillin said. "One is the travel expense in terms of can we drive, and now if you look at what is going to become the new Sun Belt, it's all drivable trips on the east, and then you're only going to have to play two teams on the West. One's going to be a flight, and one's going to be home.
"So the numbers are hundreds of thousands of dollars we just saved in travel expenses."
On top of that, there's the added benefit of less demand now for the student-athletes when it comes to the time spent in transit. Those short trips, Gillin said, will also equate to higher revenue with the fan bases' ability to travel through a region instead of travel through time zones. That equals more sellout potential throughout the conference.
App State was already in the Sun Belt when Gillin joined in 2015. The conference and the school took a gamble on each other. Now, the Sun Belt is in a more dominant position.
"The answer has always been App wants to do our part to make Sun Belt the best conference it can be, and we absolutely did and the Sun Belt has as well," Gillin said.
Clark joked Monday about his request to play Marshall more. The schools already had a two-game contract in place, featuring this year's matchup and next season at Marshall, before they announced two more games last season: one for 2020 when COVID-19 caused the Mountaineers program to deal with a late scheduling frenzy, and another in 2029.
Now, no later than 2023, App State will be almost dead center of a new division, welcoming experiences like Marshall-App State on a more frequent basis.
"I'm happy that Commissioner Gill and Doug finally listened to me, that we need this game all the time," said Clark, a West Virginia native. "I just think regional football is great for college football. You look at the teams coming into our league, and what they say is gonna be on the east side, that's all within four hours' driving distance.
"I think it sells out stadiums and makes it a little bit more interesting, instead of traveling out west somewhere we don't have a big fan base, that we can get the games. I'm just happy they're here. And I can't wait to get started work with Marshall."