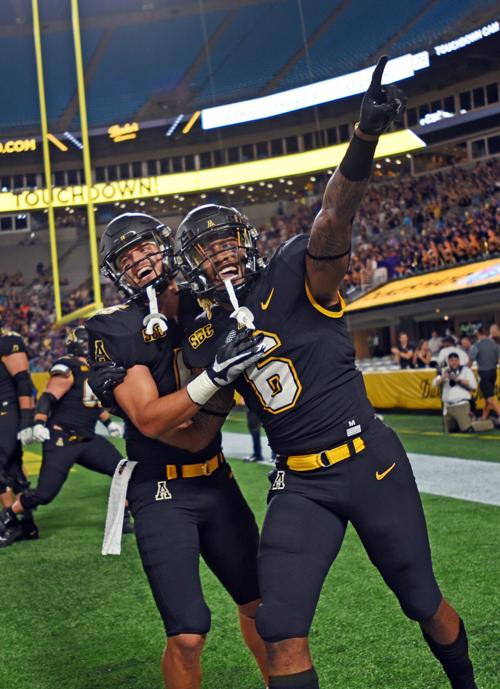 Camerun Peoples didn't dwell. He just told the truth.
When Appalachian State's football ran out of the tunnel on Thursday night, into a roaring crowd at Charlotte's Bank of America Stadium larger than any the team saw in the last year, the frustrations of 2020 were nowhere to be found.
College football was back. Peoples and the rest of the Mountaineers hope to be back where they expect, too.
"This is a new year with new opportunities," Peoples said.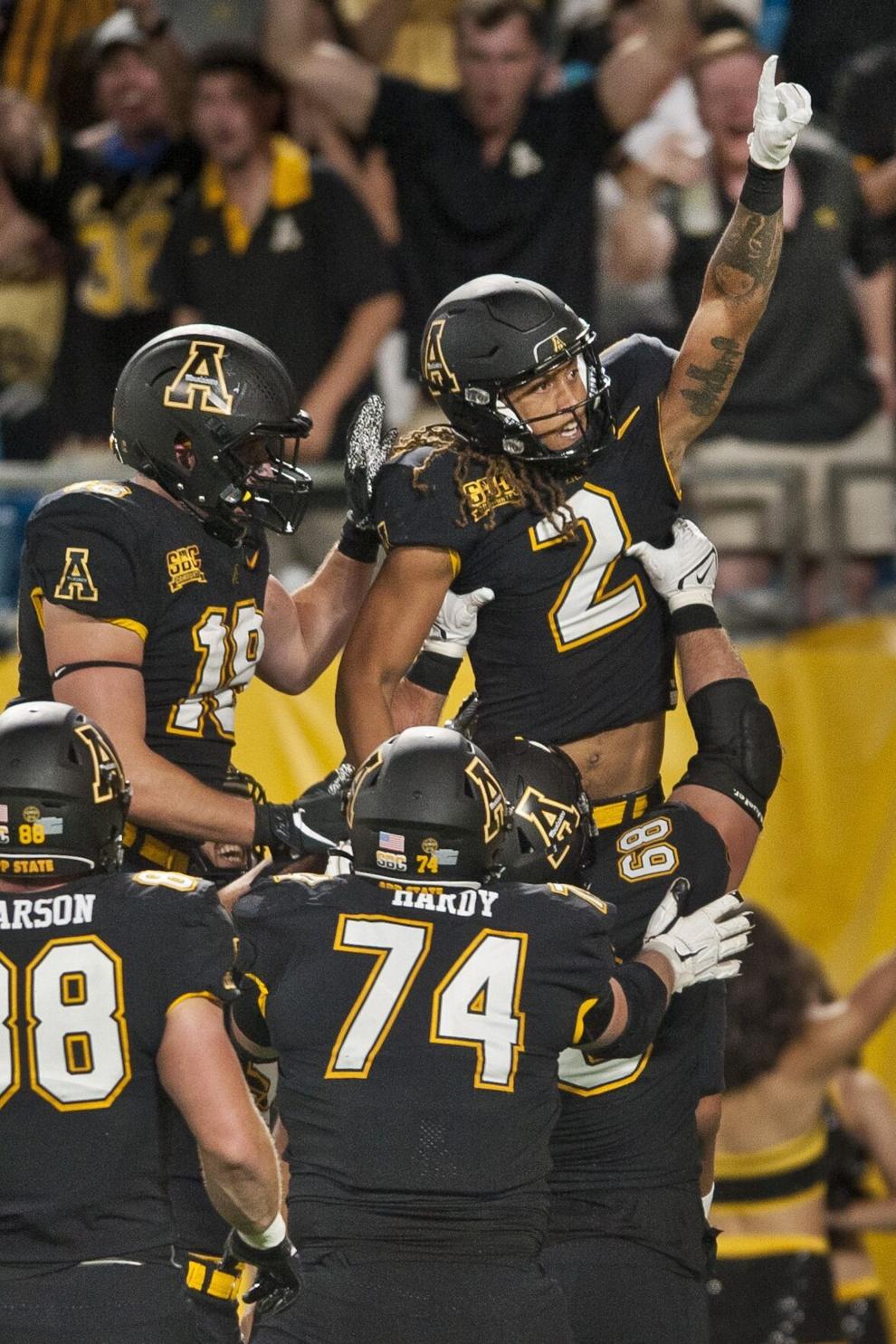 App State didn't need a statement to start the 2021 season. It did, however, fire a warning shot of what could be in a 33-19 win against East Carolina.
The offense rolled. The defense constricted, with a few late Pirates scores creating a margin that seemed closer. Those signaled the start of a pivot away from last year's character flaws.
Take the run game's success against the Pirates, for example. Early into App State's 2020 season, team challenged the Mountaineers to pass. Without Corey Sutton, who opted out for the season, and injuries throughout the wide receiver group, running space became harder to find. App State still ran the ball – the team was sixth in the nation last season in rushing offense – but those efforts were brutish in some matchups.
The field stretched on Thursday thanks to the arm of Chase Brice and a bevy of weapons. The Mountaineers executed nine passing plays that went for 10 yards or longer. That included a 34-yard touchdown pass to Thomas Hennigan, as well as a 68-yard pass to Hennigan that set up an 18-yard Corey Sutton touchdown reception a play later.
The aerial threat helped Peoples, who had 100 yards and two touchdowns, and Nate Noel, who chipped in 126 yards, gash.
"The first play of the game, we matched up and went deep and under threw Corey a little bit to get those safeties out," App State head coach Shawn Clark said. "There and then once they started backing them up a run game opened up."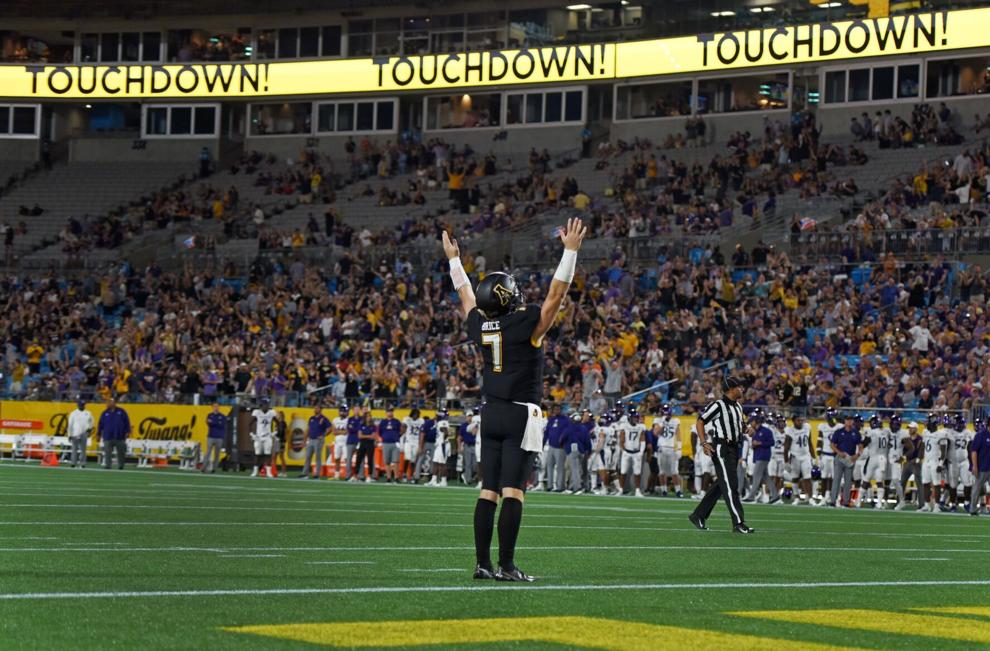 Brice, who transferred into App State after a difficult season at Duke, found rhythm quickly. He worked the sidelines before the offense took more shots toward the middle, starting most notably with Hennigan's over-the-shoulder touchdown for the Mountaineers' first score.
He wasn't lingering in 2020, either, where he battled turnovers as a starter in the ACC.
"Last year is last year, and I moved on from that pretty quickly," Brice said. "So when I got here in January, I really just put my head down and focused on how I can better myself as a quarterback here at App, and how we can win football games and keep the winning mentality and tradition alive.
"I worked really hard this offseason to better my body, getting back into shape and connecting with my receiver in the summer. And a lot of that lonely work, a lot of that extra time really showed tonight."
Clark mentioned that when App State arrived at its team hotel on Wednesday night, he saw a tangible focus in his players, an engagement in meetings. Excitement ran high. A night later, the energy in the stadium did, too.
"East Carolina ran out there, and the fans got loud," Clark said. "And when the App State Mountaineers ran out, that place erupted and I had chills all over my body. Our players fed off that."
D'Marco Jackson, an inside linebacker who led the team with eight total tackles, said the big-crowd potential came up at a recent lunch with teammates. He said he joked that he felt like they hadn't played in almost two years, just because the lack of surrounding noise took away so much.
The defense thrived off the crowd, forcing East Carolina quarterback Holton Ahlers to scramble. His passing options limited, Ahlers ran often. He found his successes, but App State kept him corraled for the better part of 60 minutes.
"You've just got guys who are just dog," Jackson said. "I mean, they're going to get their nose to the ball. When you've got that going on, it is great."
In the season opener, App State's attack came together in a solid first showing. Eyes are looking forward, away from disappointment and even now, away from this first win. Thursday might be the first of many reminders that a season without a Sun Belt Conference championship turned into hunger for more.
"We want to kind of just use last season as an example of what App State's brand of football is not, as far as the record goes," Peoples said. "You know, 9-3, any other team will look at that and say, 'Oh, that's pretty good.' But we want to win conference championships. We want to win bowl games.
"So that's our brand of football. We want to win every time we step on that field, no matter who's the opponent."