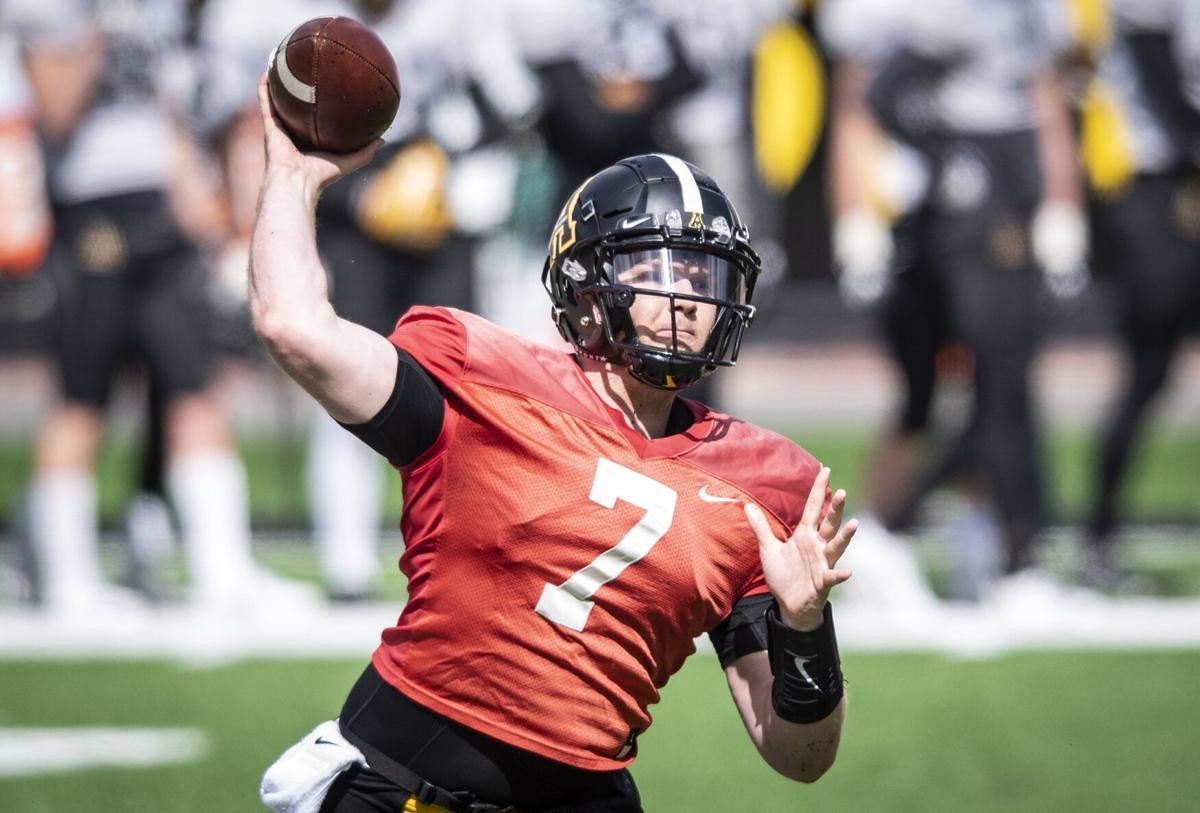 Appalachian State will open football practice on Wednesday.
The Mountaineers went 9-3 in 2020 in Shawn Clark's debut season as head coach.
Here's a quick refresher as App State readies for its season opener against East Carolina on Sept. 2 in Charlotte.
Chasing a championship level again
For the first time in five years, the Mountaineers enter a season where they're not the reigning conference champions.
Appalachian lost games to three ranked opponents: Marshall, Coastal Carolina and Louisiana.
If there is a group to return a Sun Belt Conference championship to Boone, it's this one. Seventeen starters return from last year, and the roster includes 14 players who opted for a super-senior year after the NCAA granted extra eligibility.
App State was picked as the co-favorite to win the East Division along with Coastal Carolina. Those two teams will play a game of heavy conference consequence on Oct. 20 in Kidd Brewer Stadium.
Corey Sutton returns
Between an ACL tear near the end of the 2019 season and opting out in 2020, Corey Sutton hasn't played for App State in almost two years.
Healthy and ready, the super-senior wide receiver will bring a lethal component back to the field. Sutton is fifth in App State history with 17 receiving touchdowns, a feat he has accomplished in just 22 games.
Eight touchdown receptions this season would tie him for second with Bob Agle (who played from 1965 to 1968) at 25. Brian Quick holds the all-time career record with 31.
A new quarterback
The favorite to replace Zac Thomas at quarterback is Chase Brice, formerly of Clemson and Duke.
Brice looks to shake off a year with the Blue Devils that featured frequent turnovers, and start anew with a team that gives him talent to work with at every offensive position.
"Will he be a starter? Time will tell," Clark said at the Sun Belt's media day. "Right now going into camp he will be our starter."
To add more depth to the room and provide push, Jacob Huesman has returned for a sixth year with the program.
Trying to handle COVID-19
The Mountaineers dealt with nearly a monthlong break between games because of a COVID-19 pause.
Clark said the staff has done its best to educate players on the vaccine as the Delta variant causes an uptick in positive cases again.
"The vast majority of our players have the vaccine. I won't get into specific numbers right now," Clark said. "But I think we've done a great job of educating our players. And we'll follow all the protocols from our university and from the Sun Belt Conference."
Benefit of summer workouts
Last year, the program missed out on the summer strength and conditioning programs because of COVID-19. This year, the players got a full schedule with strength and conditioning coach Brad Bielaniec and it's showing up already.
Clark pointed out super-senior defensive lineman Demetrius Taylor, specifically. The disruptive rusher played around 305 pounds last season. Clark said he's now 286.
Playing at last year's weight didn't seem to be a problem for the Miami native: He had 40 tackles (13.0 tackles for loss), 6 sacks and two forced fumbles.