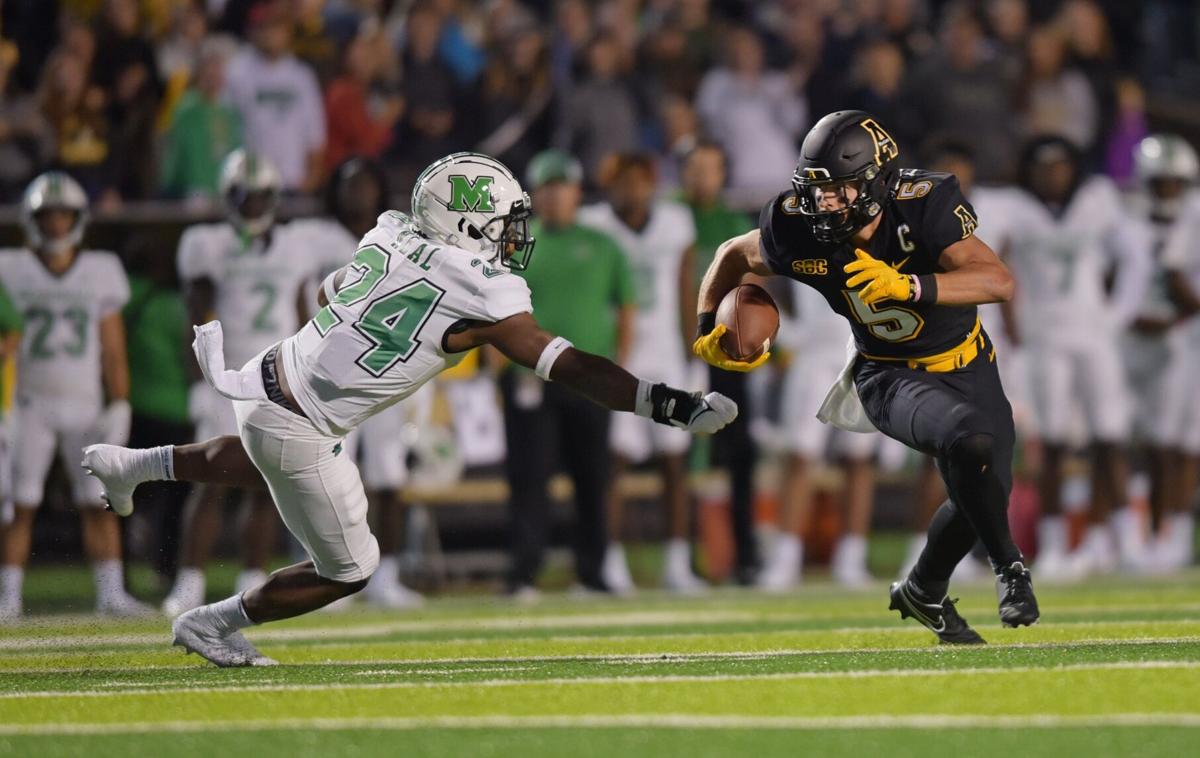 More than halfway through the football season now, Thomas Hennigan has seen plenty of validation for returning to Appalachian State for one more season.
There have been small indicators, the ones no one else outside of the team sees, and the crescendos, most recently the win against then-No. 14 Coastal Carolina on Wednesday.
To hear him talk on Monday, the reaction by the Mountaineers (2-1 Sun Belt Conference, 5-2 overall) in just over a week's time from a 41-13 loss to Louisiana to now, the leaders of the East Division, seems to be on that list, too.
"I don't know if we necessarily need to be beat like that, but, you know, there's always a plus side to losing and a plus side to winning, obviously," said Hennigan, a super senior wide receiver from Greensboro. "The plus side of losing is you're humbled fast. And then to lose like that? We really got humbled.
"So it was great to have a mature group of guys that is confident in what we do and how we do it. To know that we didn't have to scratch everything."
The defeat to the Ragin' Cajuns wasn't necessarily a wake-up call. But it did become a reminder of what it takes to win, especially at the clip to which the Mountaineers have been accustomed. They've registered at least nine wins in each of the last six seasons, with two conference title game wins and another two shares of Sun Belt championships in tow.
Hennigan said he saw the team dealing with the expected disappointment of a loss like that. He and other team leaders reacted quickly to make sure it didn't linger.
Team captains met on Thursday night, and from there, the push was on. Hennigan said in position rooms, team meetings and lifting sessions, certain players took time to step forward, jog the memories around them of the work required to stay in line with program expectations. Hennigan also pointed toward the reasons he returned to Boone for one more year, and when he decided to do it.
"I told the team earlier [last] week, because there was some heads dropped right after Lafayette, but I told them I made up my mind on the sideline at Coastal Carolina last year that I was gonna come back," Hennigan said. "I want to come back to beat these guys and win the Sun Belt championship."
Eight days after a brutal showing in Louisiana, the App State offense popped back after Coastal Carolina took an early lead. The Mountaineers did so through the air with the help of another App State receiver who made the choice for one more season.
Malik Williams streaked down the middle of the Chanticleers' defense often, and it resulted in the most prolific day in his career. He had 206 receiving yards, the first time since 2012 an App State player has had that many receiving yards.
Hennigan said as the team reviewed tape from last season, it noticed how wide the Coastal Carolina safeties would be. So much so, he said, the Mountaineers probably should've gone to it more in the 34-23 loss.
Williams had four receptions over 20 yards: a 45-yard catch in the first quarter; a 32-yard catch in the second quarter, as well as his 47-yard touchdown grab to give the Mountaineers their first lead.
"When you talk about Malik Williams, the one word that comes to me is consistent," App State coach Shawn Clark said. "... We call him 'Spider-Man' here for a reason: He catches everything."
Hennigan's been able to watch Williams grow unlike anyone else in the program. The two started as true freshmen in 2017, and they've been steady presences in the starting offense since then.
The deep ball has been a conversation point for this offense this season, trying to consistently stretch the field. To Hennigan, Wednesday night was an example of how much of a problem this offense can be the rest of the season.
"Everyone's gonna come in, and the first thing their coach or defensive coordinator's going to say is that App State's going to come and run the ball, which that's how it's been since I've been here," Hennigan said. "And we're always going to do that. I mean, we have the best receiving corps in the Sun Belt, too, and a quarterback that can really sling it.
"And when No. 7's (Chase Brice) on and him hitting like he was Wednesday night, I just don't see too many defenses being able to stop our run and then defend our top receivers in the passing game. It's gonna be a big challenge."