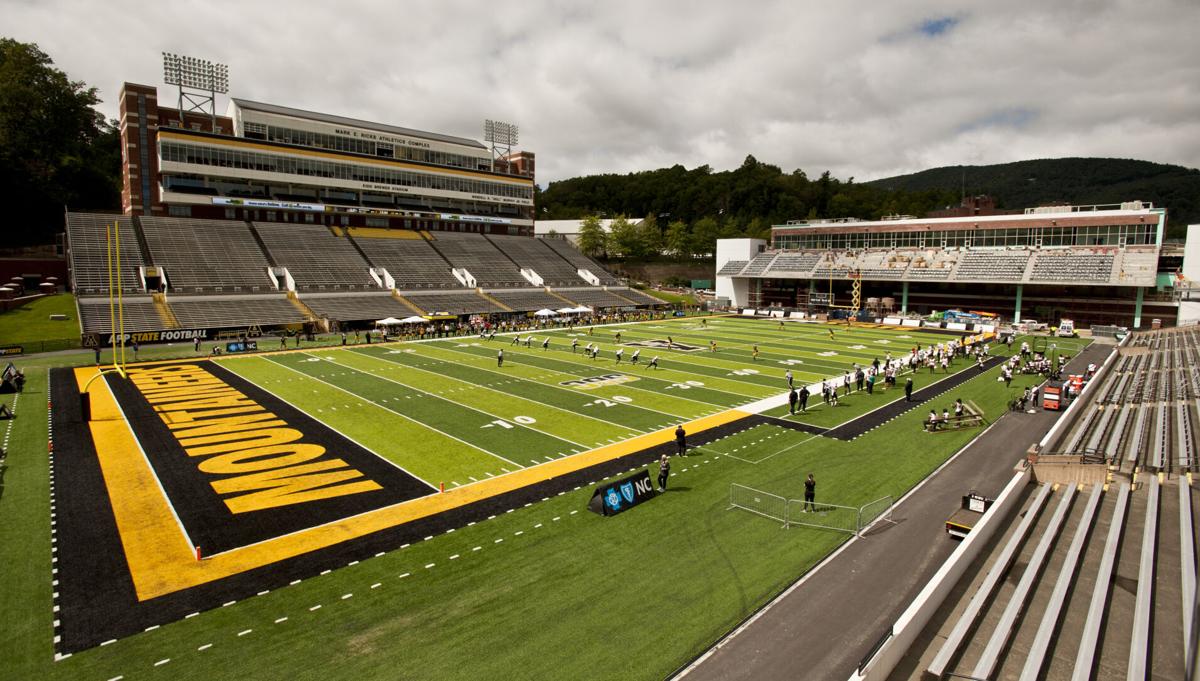 Shawn Clark needed five days.
That's the amount of time Appalachian State's football coach felt he could get his team game-ready after extended time away.
When the Mountaineers play Arkansas State on Thursday, 26 days will have passed since their last football game. A COVID-19 outbreak caused a stop for practices and the postponement of two games. App State is 2-1 and has stayed there for nearly a month as the season moved forward without them.
"That's college football in 2020," Clark said. "We're not the only program doing this. And again, whoever handles this the best will have the most successful season."
And that is the task for Clark and his Appalachian State staff: To go more than two weeks without practice but get a football team ready to return to play in a healthy and safe way. According to Clark, other coaches and a sports medicine physician, the Mountaineers have a good chance to find that acceleration lane.
'You want them to be ready to go'
Jim Grobe feels that COVID-19 has placed even more emphasis on one of the most important questions coaches have to answer: Physically, mentally and health-wise, are players ready to play?
"The key is, and there is no getting around it, the key is taking care of your kids," said Grobe, a former head coach at Ohio, Wake Forest and Baylor. "You've got to do what's best for them. And certainly what's best for them is trying to keep them safe from this virus.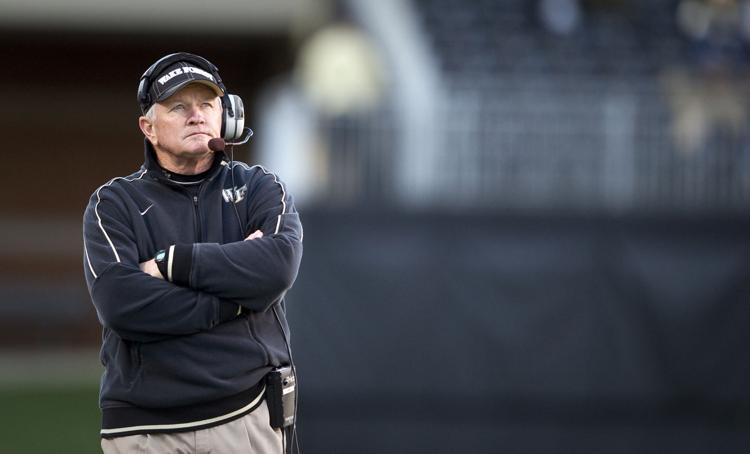 "And I wouldn't say a close second, but your next concerns have got to be if you're going to put them on the field, you want them to be ready to go."
In Appalachian State's case, Grobe said, his biggest issue would not be X's and O's. It would be making sure the team was in shape and ready for contact. That becomes an easier task, Grobe said, if players were still able to be active.
The program announced three active cases after the Marshall game on Sept. 19, then announced 19 more Oct. 1. That second batch, which has brought the program's cumulative total to 68, led to 17 days without team practice.
But through that stretch, Clark said, the team was able to continue conditioning and strength-training workouts in groups of four players to one strength coach.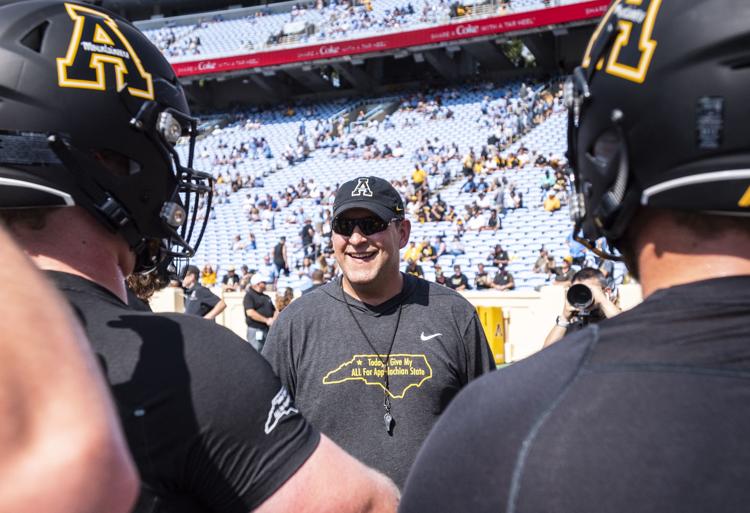 "You can never replicate football in running and conditioning," Clark said. "That does help get to where we want to be."
That's why, when the team returned to practice on Oct. 14, Clark said they went through a minicamp. He called it a way to reintroduce players back to football. The team scrimmaged the next day, 40 plays, and afterward he felt validated by his team's position.
They quickly snapped into their game-week format — setting the following days up for a typical game week, with walkthroughs Wednesday for a Thursday matchup. And they'll return on the national stage.
"I'm a glass-half-full kind of guy, and I see a positive in everything we do," Clark said. "And I'm excited to play here on primetime ESPN on Thursday night."
'If it was a young team, I would be concerned'
While the lack of physical contact could seem problematic, it's actually not, according to Dr. Chris Miles, a sports medicine physician at Wake Forest Baptist Health who has worked with the Wake Forest men's basketball and football teams.
For a team that's been able to remain physically active, Miles said, there's not an increased risk of injury even if a team went without tackling for a couple of weeks. That's mainly because college athletes go through drills and practices that fortify their on-field safety.
"That goes back to some of the technique, and whether that technique is how you run a pass route, or how you back-pedal as a defensive back, or as a blocker or a tackler," Miles said, "that repetition that you do over and over certainly makes that activity — that sport-specific or position-specific activity — easier over time, more successful over time because of that muscle memory."
Another benefit, Miles said, is that any football program currently playing has gone through the preseason ramp-up required to prepare bodies for football activities again. The base-level fitness, flexibility and strength are set during preseason and fall camps.
Miles also pointed out that players who deal with a general injury midseason don't have to start over with their strength and conditioning. The athlete keeps their body as ready as possible to resume activity again.
"We'd make sure they were being as physically active as they could be during their time off depending on what their injury was and then slowly progressing back over a week or so in some cases to get back to game-ready," Miles said. "Because although it seems like they've been away for a very very long time, because they were still able to condition and to lift, they were still able to stay in football-specific shape."
On Monday, Clark also mentioned an added benefit with this group of Mountaineers: Their starting units feature many players with a lot of experience. Only three positions on offense and defense combined are manned by players who aren't juniors and seniors. That includes fourth-year starters Thomas Hennigan at wide receiver and Noah Hannon at center.
"Am I concerned? If it was a young team, I would be concerned," Clark said. " … I like where we are as a team right now, and again I've mentioned this several times, we have a bunch of guys who've won a lot of football games around here and know what it takes to be successful."
'Those conversations are real'
When Sam Washington learned of App State's shift from no practices to game week, he said one word: "Wow."
The N.C. A&T coach and his program are waiting for the spring for their football season to begin. He has watched teams, locally and across the nation, deal with COVID-19 and all of its side effects.
"I fear this, I really do," Washington said. "It's coming. To say the least, it's coming. It's just where we are right now as a society, not just here in the United states, this is everywhere.
"It's something we must deal with, and we do the absolute best we can."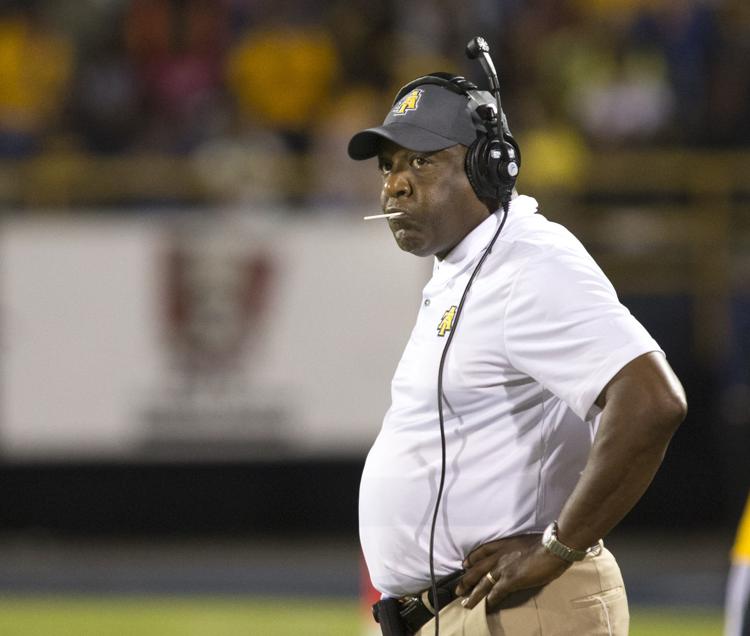 The Aggies started working out in pods in July, allowing players to condition and work out in groups of eight to 10 people. They're still doing that as of right now, Washington said, with a couple of pods stopped because of three positive tests and contact tracing.
Without the rhythm of game week, Washington said, he's noticed the fatigue that comes with all the modifications required to be safe. The mental component, and the search for fulfillment as an athlete without games or the typical rhythm, becomes something else to battle.
Washington said it's human nature to enjoy being around others. So when you factor in the lack of in-person classes and the potential of isolation or quarantine for someone who tests positives or interacts with someone who is, it's on him and his staff to stay attuned to his players.
"Athletes depend on each other more so than any other population," Washington said. "We depend on each other. We look for support, and we look for that communication, and then seeing all that is denied or restricted, that's tough on these kids. So we as coaches have to keep that in mind. They're not mentally where they normally would be because of that.
"A lot of conversations have to be had now, just where you are, man? How do you feel? What're you thinking? What's your struggles?' Those conversations are real."
Some seasons have been pushed in hopes of avoiding COVID-19. Others took a while to get going or ran into cancellations or postponements before play could resume.
Some schools and conferences opted not to attempt football at all, a notion on which a few reneged as others carried on.
"The tough part for this is there is no right or wrong way, I don't think," Grobe said. "You've just got to try to do what you feel like are the best things for your player and your team."
App State gets to finally move on when kick off comes on Thursday night. Nearly a month featuring many Zoom calls with players and small-group workouts has come to an end.
Clark has tried to avoid looking ahead, but his excitement of returning to play was palpable this week. His team is ready for the on-field fight it's longed for.
"I get up in the morning time, and it's just, 'What's going to be in store today?'" Clark said. "And if I can get through the day, we'll worry about tomorrow tomorrow.
"It's been different, but it's been exciting. And it'll definitely keep you on your toes."
Be the first to know
Get local news delivered to your inbox!