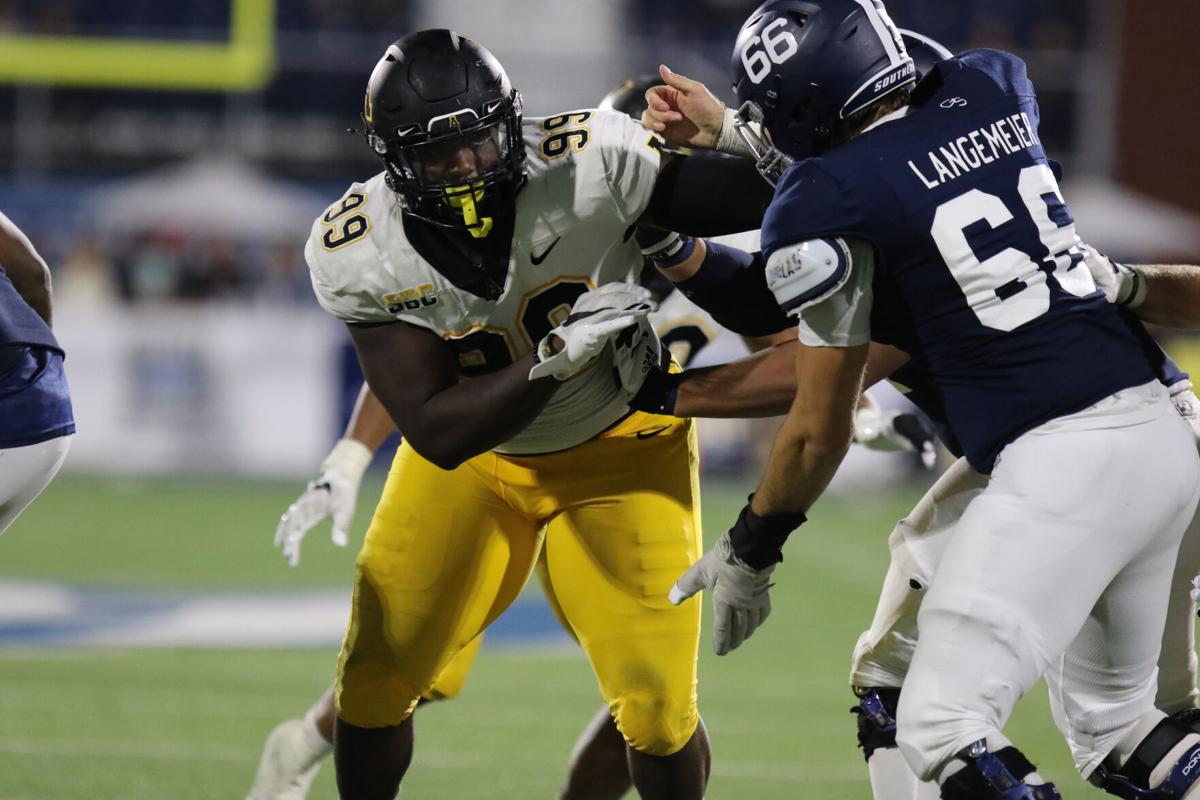 Georgia Southern couldn't have seen it coming.
Entering the final seconds of the Appalachian State football team's 34-26 win on Dec. 12, the potential for a celebration swirled. Especially considering last year's result, when some Eagles planted a flag at midfield in Kidd Brewer Stadium after beating the previously undefeated Mountaineers.
The final buzzer rang, and out came a plunger, in all its glory, splendor and confusion. App State linebacker KeSean Brown slammed it down flush with the Georgia Southern logo, where it sat upright briefly before toppling over.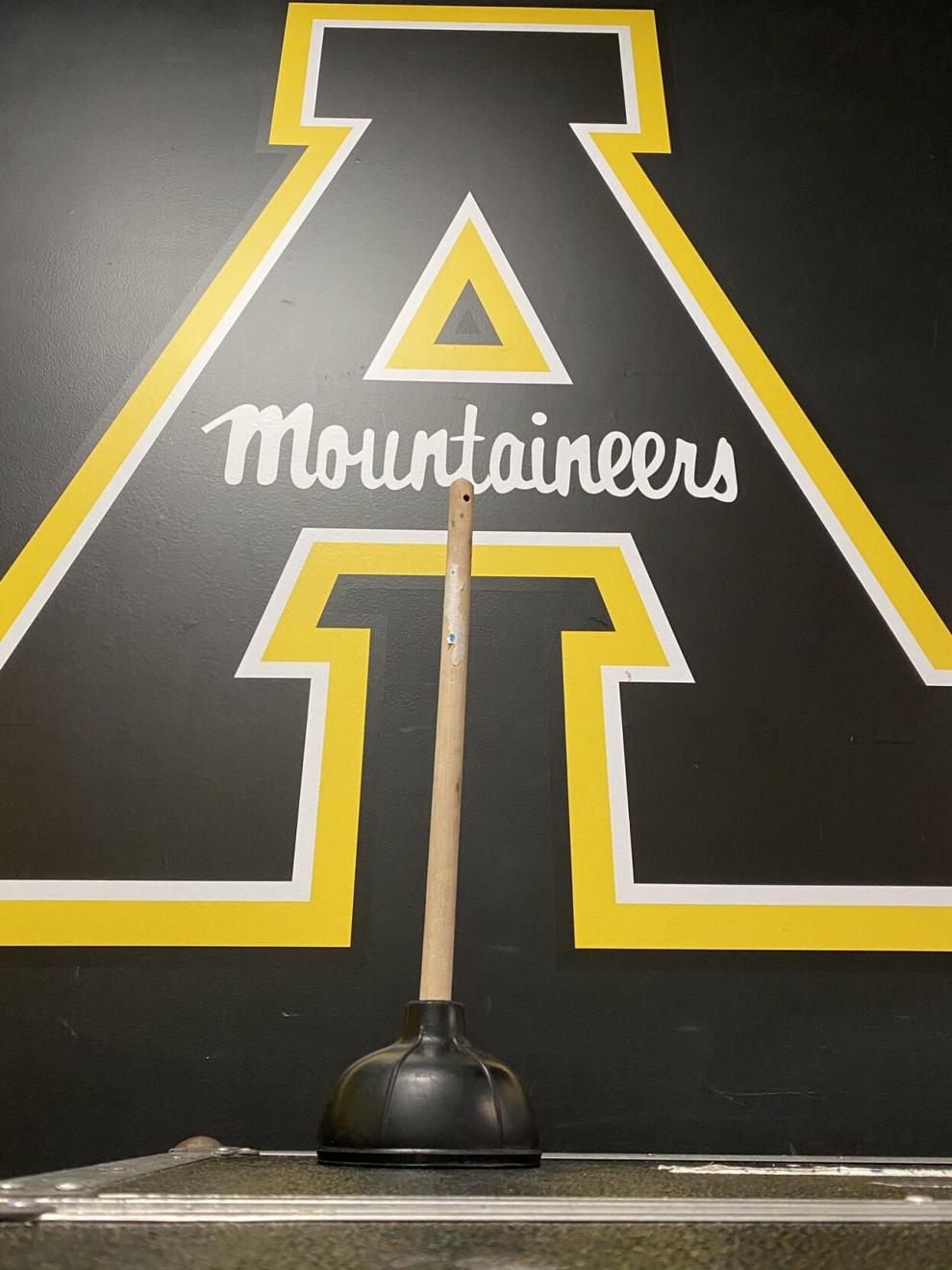 That victory prop led to a backlog of questions. The first one, and the big one: Why? In truth, this story isn't about a plunger or a rivalry. It's not a time to strain for toilet-related humor. It's about a guy who brought a unique saying and a metric ton of energy since joining App State in 2018.
His name is Jordon Earle, known mainly as "Big Earle" around the Mountaineers program, and he's a 6-foot-2, 300-pound sparkplug.
Earle, a sophomore defensive tackle who has started the last six games, brought a unique saying to the team right after he arrived on campus.
"People will say 'Buckle up' or 'Bow your backs' or something like that. He says 'Get the plunger,' like it's about to be a long night," senior defensive lineman Demetrius Taylor said with a laugh.
Let Earle explain why that's become a go-to mantra in his college football life. "The whole point of the metaphor is a run stopper," Earle said. "You've got to plunge something and stuff something. You've got to do what you've got to do, and sometimes it gets nasty while you do it, and that's where the plumber comes in at."
Under most circumstances, nose tackle is a thankless gig. And Earle has had to follow some players who were good at it. From MyQuon Stout, the starter there in Earle's true freshman year, to E.J. Scott last season. Earle became tasked with more responsibility when normal starter George Blackstock was sidelined with an injury after the first five games.
Now it's all coming to light thanks to a purchase of plunger from a teammate. Caleb Spurlin, another senior on the line, bought it for Earle and carried it into the locker room the day before the Louisiana game. According to all who were there, Earle went into full-on celebration mode before declaring he would get it down to the field. Spurlin said the gift was part fun and part reward.
"George is a heck of a player, but (Earle) stepped in and has done a great job there producing for us," Spurlin said. "The Day 1 he walked in here, he brought energy. … it's non-stop."
Earle could be seen before the game on Dec. 4, hoisting the plunger above his head. It was an essential item for the trip to Statesboro as well.
Really, senior Elijah Diarrassouba said, the plunger has played even more into what Earle does well: The nose tackle feeds off his own energy and brings his teammates there with him with the way he approaches his role.
"One thing about Earle is he takes pride in the work that most people don't take pride in. He likes doing the dirty work," Diarrassouba said. "He demands a double team. … Earle tells the opposing O-lineman 'you better double team me this play.' He's talking to them. He's talking to them the whole game."
Diarrassouba said now, it's almost taken on the meaning of a rally cry. Offense needing to convert a first down? Earle or some other Mountaineer might be swinging the plunger over their heads on the sideline. Defense needing to make a stop? Bet that Earle might say it out loud.
Taylor joked that sometimes Earle even adds to it, be it an embellishment or occasionally an explicit twist.
"He'll be like 'Meech, get the plunger, get some Pinesol, some Fabuloso, Clorox,'" Taylor said. "He'll be naming cleaning products because he'll be like, 'It's about to get messy.'"
One thing is certain, though. Earle has helped keep things fun in a year when it's been needed. Go to any given Mountaineers practice, and Earle's voice is easy to find. He pours out of the ramp that leads onto the practice field and is likely to start talking as soon as he hits the turf.
It's the person he's been since he arrived in Boone, and he's being rewarded with a chance to prove himself. When he's been needed most, Earle has got the plunger.
"Big Earle, you're going to notice if he's not there," Diarrassouba said. "If he's missing, you're asking, 'Where's Big Earle at? Where's Big Earle at?' because he just brings so much energy.
"That boy is funny, man. He's just an energetic guy. I've never had a teammate like him before, like ever."