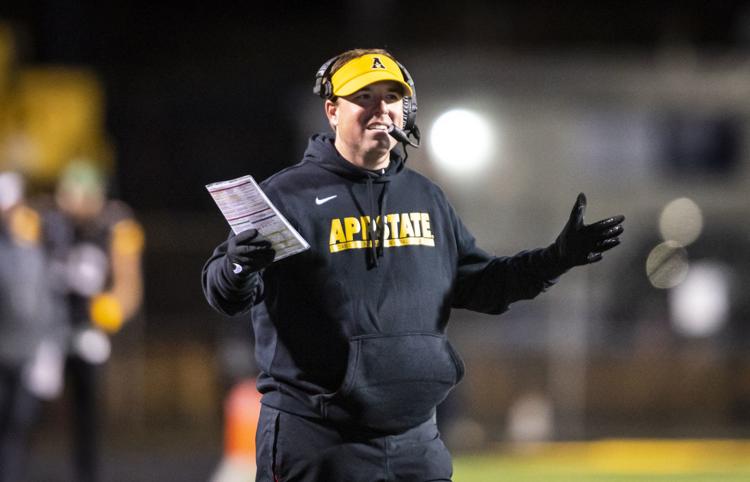 Saturday will be the first time Appalachian State will share a football field with South Carolina since 1988. But Eli Drinkwitz, the Mountaineers first-year head coach, has seen the Gamecocks and his coaching counterpart Will Muschamp much more recently.
At the start of the 2017 season, N.C. State and South Carolina played each other opened the season with South Carolina at Bank of America in Charlotte, when Drinkwitz was in his second season as the Wolfpack's offensive coordinator. It was an offensive shootout where the Wolfpack racked 504 total yards and quarterback Ryan Finley threw 64 times in a 35-28 loss.
Both teams started with promise — the game featured 42 first-half points — and they carried that through the season. Both finished with nine wins, including a victory in their respective bowl games: N.C. State won the Sun Bowl, and South Carolina won the Outback Bowl.
Gamecocks personnel obviously will have changed some during the last two seasons, but the defense will still carry similar traits of Muschamp, a lifelong defensive coach, and Travaris Robinson, his defensive coordinator since being hired in 2015.
The same can be said for Drinkwitz, now with a different program and implementing his system with players he inherited. But the 2017 game offers a glimpse of how Drinkwitz could attack South Carolina's defense on Saturday as the Mountaineers (7-1) head into Columbia.
Here's a quarter-by-quarter breakdown of how Drinkwitz and the N.C. State offense played that day:
First Quarter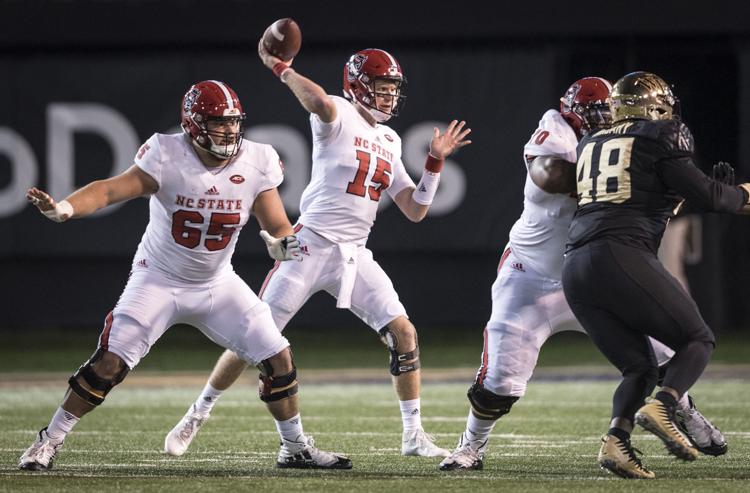 First, a couple items worth considering: South Carolina started this game with a 97-yard touchdown on the opening kickoff return; the Gamecocks also scored on their first offensive possession as well.
N.C. State founds ways to respond to both and end the quarter with a 14-14 tie.
The Wolfpack's first drive was a 14-play excursion, leaning on the pass until reaching the goal line. Finley attacked the middle of the field or horizontal on the line of scrimmage. The first two first downs that N.C. State converted came from passes around the hash marks. Two of three plays that spilled out in the left and right flats turned into first downs too. The series ended with four straight run plays, the last featuring a quarterback keeper by Finley for 6 yards.
After South Carolina's second score, N.C State used some rollouts and razzle dazzle to catch the Gamecocks off-guard. Two of their first three passing plays on the drive featured Finley rolling to his right. The Wolfpack was also able to pick up 28 yards on a double-reverse flea flicker. N.C. State established the run a bit more — running on four of its nine plays, including a 2-yard touchdown — to tie South Carolina.
Total points in the quarter: 14
Total yards in the quarter: 150
Time of possession: 8:58
Second Quarter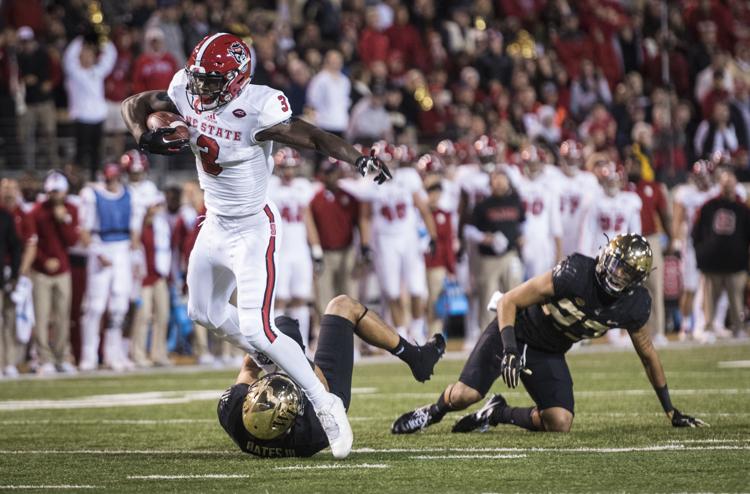 Things slowed down a bit for N.C. State here. Its first drive died out in five plays. The second ended with a missed field goal. But the third-and-final Wolfpack drive of the second quarter was Drinkwitz in quick-score-before-the-half mode.
In their first possession, an immediate first down was offset by a 5-yard loss on a run play, an incomplete rollout pass and a false start. An attempted wide-receiver screen on a third-and-20 was snuffed out, ending with a fumble that South Carolina recovered.
The second got no points out of a strong march downfield. N.C. State passed on nine of its 11 offensive plays, including a 32-yard pass on a first-and-20.
N.C. State scored its only touchdown with eight seconds remaining, the end result of a 10-play, 79-yard drive where South Carolina provided little pressure to wide receivers on the sidelines. They connected on four consecutive passing first downs, ranging from 7 to 16 yards, which made it pretty easy to manage the clock. Finley threw a touchdown pass on a short pass to the right-front corner of the end zone, and N.C. State ended the first half tied 21-21 with South Carolina.
App State has ended the first half of four games this season with similarly long touchdown drives: at North Carolina (10 plays, 79 yards), vs. Coastal Carolina (4, 77), vs. UL Monroe (8, 64) and Georgia Southern (10, 92). All of those scores came within three minutes or less of halftime.
Total points in the quarter: 7
Total yards in the quarter: 158
Time of possession: 8:32
Third Quarter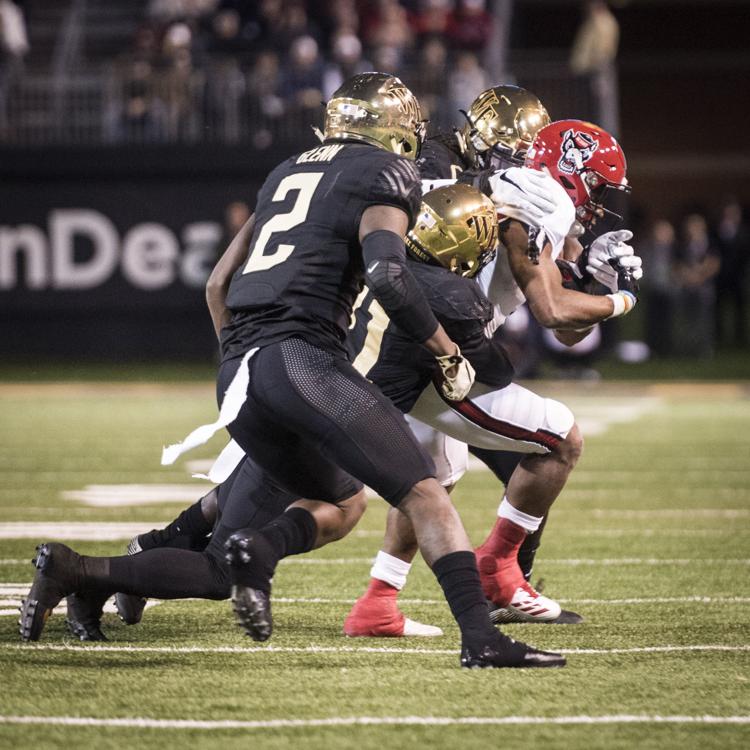 This is where things got ugly for the Wolfpack. South Carolina brought more pressure, and it caused serious frustration for the N.C. State offense.
The first three N.C. State series ended with sacks of Finley. The sack that ended the second drive resulted in another forced fumble and recovery by South Carolina. The fourth drive consisted of a shovel pass for negative yardage, an incomplete pass, and a penalty by N.C. State to make it third-and-17. The Wolfpack still nearly converted it, going 14 yards.
Still, the second turnover and the lack of overall production would set up a deficit that N.C. State ultimately couldn't climb out of. It ended the quarter with strong field position and hope for a comeback.
Total points in the quarter: 0
Total yards in the quarter: 41
Time of possession: 8:23
Fourth Quarter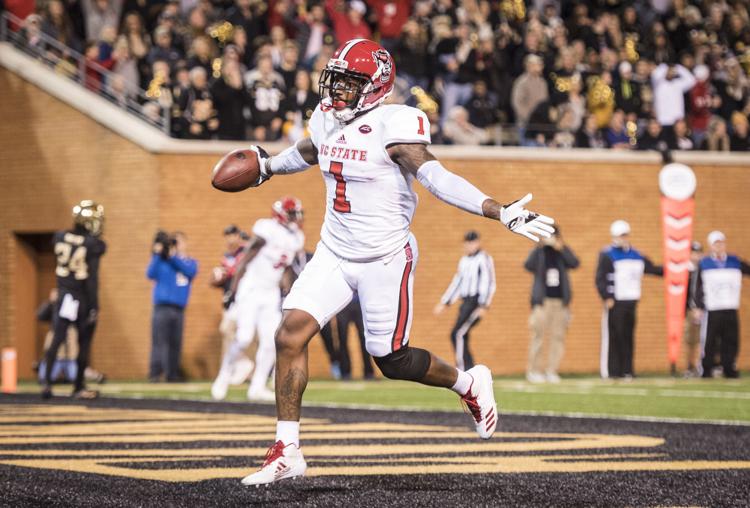 N.C. State ended the third quarter by pinning South Carolina in its end zone and forcing a punt. The Wolfpack started its first series of the quarter on the Gamecocks' 46-yard line.
It turned into the Wolfpack's final scoring drive. After leaning heavy on the pass, N.C. State ran the ball on eight of the drive's nine plays (the first three happening at the end of the third quarter). Only on a fourth-and-goal at the 1-yard line did N.C. State pass, with Finley faking a handoff to Jaylen Samuels and hitting the running back to the right of the end zone.
The Wolfpack defense intercepted South Carolina quarterback Jake Bentley on the next series, but N.C. State couldn't capitalize. The Wolfpak put together a drive that looked promising — featuring a 21-yard pass down the left sideline — but ultimately stalled out.
A review ended N.C. State's next series as a turnover on downs. Facing a fourth-and-5 on the South Carolina 35, Finley threw left to Samuels, who did his best to turn and stretch for the first down. It was a close call that did not go in N.C. State's favor. Finley went left to Samuels on back-to-back plays. The first was a drop well past the first-down marker.
On the Wolfpack's final drive, Finley led one final push where N.C. State converted one first down before benefiting from a defensive pass interference. That combination put the Wolfpack 30 yards away from a score. N.C. State converted two more first downs and had first-and-goal from the 8-yard line. Three incomplete passes and a second-down sack by South Carolina snuffed out a chance at a comeback and started N.C. State's season with a loss.
Total points in the quarter: 7
Total yards in the quarter: 115
Time of possession: 10:30