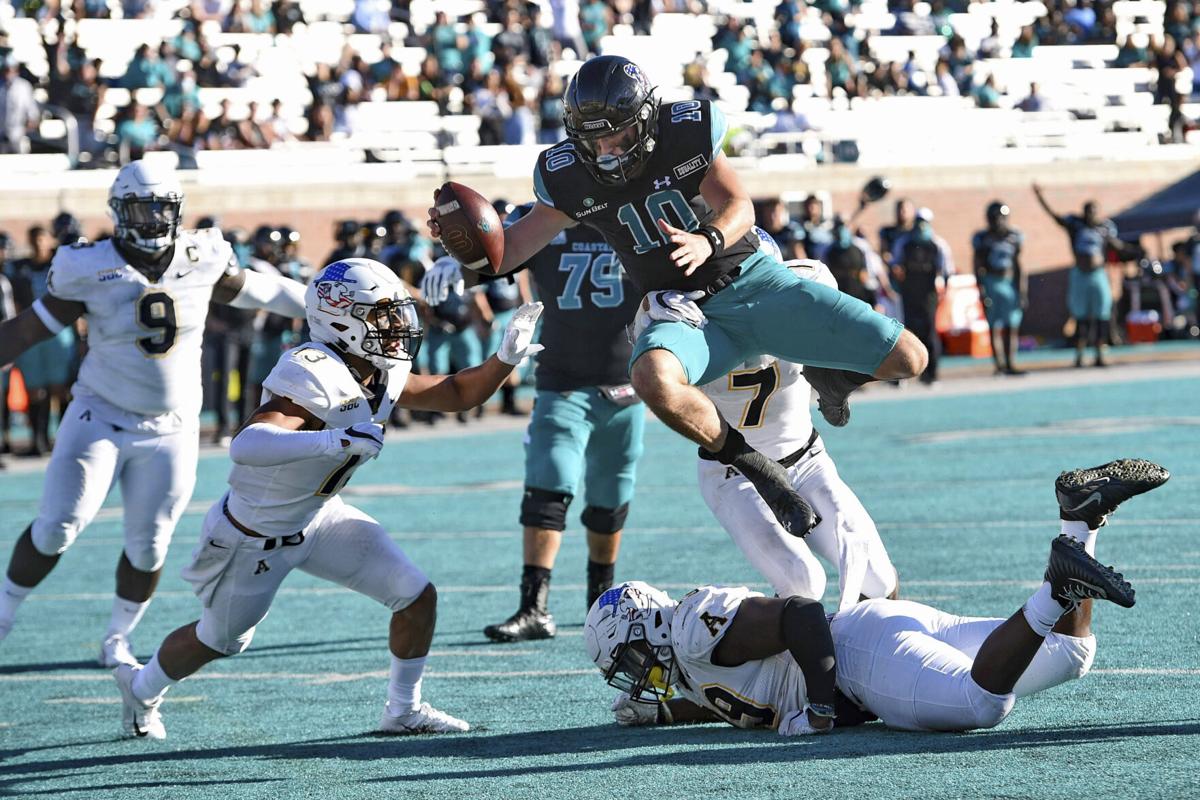 CONWAY, S.C. — The mistakes added up, and Shawn Clark knew it.
The Appalachian State football coach rattled off the ones he could think of after the 34-23 loss to No. 15 Coastal Carolina.
"I mean, those are mental errors you can't have," Clark said. "I don't want to call it undisciplined, but it is.
"We can't have those types of mistakes and go play a top-ranked team in the country, and that's what's going to happen."
App State's two losses this season have come to teams that are now ranked. The first came against Marshall, which is tied with Coastal Carolina in the AP top 25, on Sept. 19, when App State was forced to make plays through its passing games and struggled.
Coastal Carolina issued the same challenge. And while App State found some statistically, cracking 200 passing yards for the first time in four games, the Mountaineers' mistakes built on each other and became hard to overcome.
The ones that will stick out are the three interceptions thrown by senior quarterback Zac Thomas. The final one came in the Mountaineers' last drive, a desperation play on a fourth-and-long while Appalachian was pinned near its end zone.
But there were far more than just that. App State had eight penalties to Coastal Carolina's one. Three of those penalties were false starts on the offensive line, a group with four seniors. Another penalty, a holding call that served App State's part of offsetting penalties, killed a 33-yard pass from Thomas to Christian Wells in the middle of the fourth quarter. Two plays later, Thomas was picked off for the second time.
The group was bothered by the film review they watched after the Georgia State game. Starting center Noah Hannon called it sad discipline and bad focus, and he said it bluntly.
"We can't come out here and continually put out one- and two-quarter performances," Hannon said. "We got to have four, and that's it."
Offense wasn't alone there, either. The defense had a penalty in the drives that led to Coastal Carolina's last two offensive touchdowns. Defensive pass interference on one side of the field and a facemask penalty on the other helped the Chanticleers pull even and take control.
Special teams, featuring a three-field-goal performance from Chandler Staton, saw two kickoffs go out of bounds and two muffed returns that led to poor field positions.
And now a loss already difficult is made worse by App State being knocked off the championship trajectory to which it is accustomed.
"We definitely don't like being ever in the position where we can't control our destiny," safety Kaiden Smith said. "So having to rely on other teams obviously isn't ideal. It's not what we came here to do."
The truth is that App State has faced this scenario before. The last two years, App State has lost to Georgia Southern in each of the last two seasons. And in both, Appalachian managed to win the Sun Belt Conference title.
But, as if there isn't enough reminders of this, it's not a normal year. The Chanticleers are a game ahead in their actual schedule with App State. The Mountaineers' hiatus because of a COVID-19 outbreak means they have three games to play in the conference to Coastal Carolina's two.
With one more victory — their upcoming games are against Texas State on Nov. 28 and Troy at Dec. 12 — Coastal Carolina would clinch the East Division. It means App State might go from hosting the conference championship game the last two years to not making it this year.
"I mean, harder or not, still a chance," Hannon said when asked about the potential change in trajectory. "And so now what we have to do is take the bus ride back to Boone, watch the film, learn, get better, and then we've got a really good Troy team coming into Boone next week.
"And we've got to handle what we can handle. We can't worry about what Coastal's doing, we can't worry about what anybody else is doing. It's all on us, so we've got to come back as senior leaders and look at what we did and keep everybody moving forward so that we can put together a good game week."
Be the first to know
Get local news delivered to your inbox!