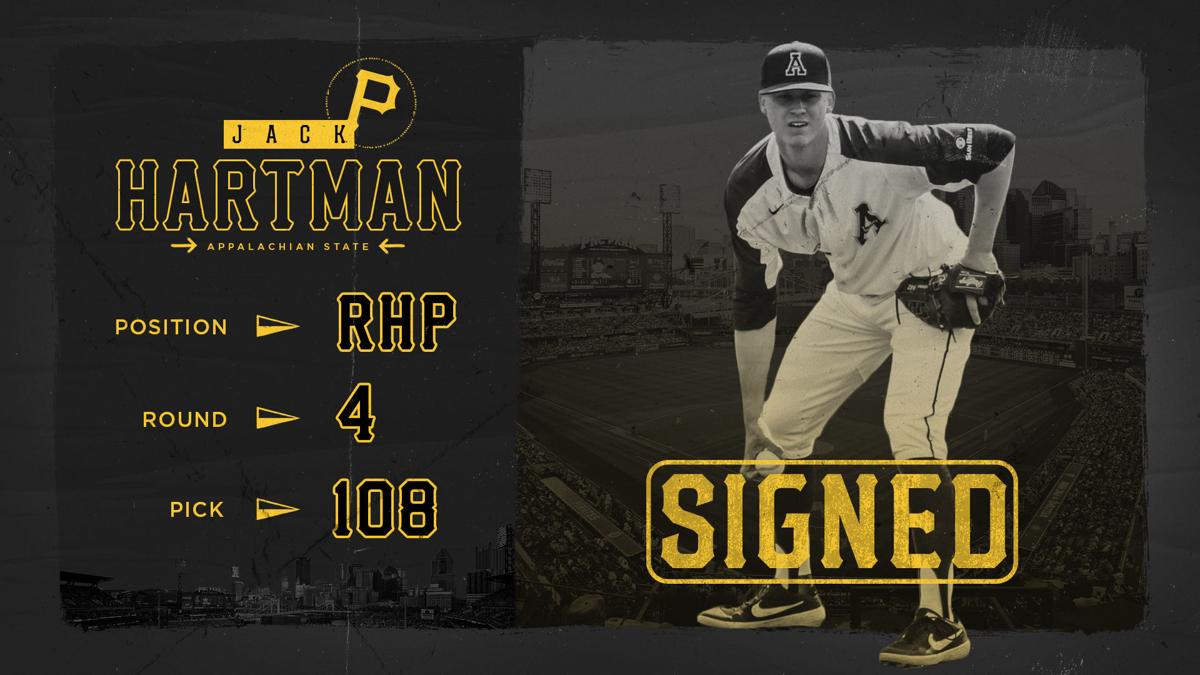 A month ago, Jack Hartman was a pro baseball hopeful ahead of the MLB Draft.
Now, he's a newly minted member of the Pittsburgh Pirates and ready to get started, whatever that could look like.
Hartman, who spent the last two years at App State before becoming the Pirates' fourth-round pick, went to Pittsburgh on Monday to sign his contract. He toured parts of PNC Park, checked out the field on which he hopes to play one day and strolled on the Roberto Clemente Bridge.
The ongoing pandemic has taken the feeling of normal out of everything. Hartman, for example, mentioned that he couldn't be with his parents during the draft as they all live in different places. He still hasn't seen his name on the back of a Pirates jersey or on a stall in the clubhouse. The ballpark, he mentioned, was needed sight.
"Seeing the field definitely got me more excited, just like this-is-real type of feeling, but again it's just not there yet," Hartman said. "I really want to get down there and start training.
"But don't get me wrong, I'm just super-excited for what's ahead. ... The field put things in a wow perspective."
MLB announced last week that the league would return for a 60-game regular season and postseason. Players started reporting on Wednesday, and as of right now, Hartman is waiting on what is next. He mentioned the Pirates hope to get him to a minicamp-like set up at the organization's spring training site in Bradenton, Fla., near the beginning of August.
Hartman's rise has been remarkable, going from junior-college infielder who transitioned to the mound before becoming a professional hurler. He pitched in 15 games at College of Central Florida before going to Boone, where he became App State's flame-throwing right-handed reliever.
Having pitched for only a couple years, Hartman said he started to establish himself more before this shortened spring season. During an early live at-bat session when the team returned from winter break, he blew through a few batters and walked away feeling like pitching was starting to click.
He had a strong showing in front of 50-plus scouts during a win at Wake Forest, striking out the last three batters for an 11-9 win. His phone blew up after that game, and he spent the bus ride home talking to scouts.
From the moment he began switching over, Hartman has focused on analytics.
That's part of the reason he admires Justin Verlander, a two-time Cy Young Award winner who pitches for the Houston Astros. Hartman was born in Detroit, and as a young baseball fan, he always appreciated Verlander's style as the Tigers' ace.
Then, when Verlander landed with the Astros and retooled his game to find success again, it added another level of respect for Hartman, especially as he started going through his own improvements.
A self-proclaimed visual learner, it helped him learn quickly what worked and what didn't. It also helped him develop high velocity on his fastball and the break on his cutter. Now, he readies to keep his positive trend going when he returns to the mound as a pro.
"I don't think it's the reason that I'm where I am today, but I wouldn't be here without it," Hartman said. "I don't think it's the No. 1 reason, but I think it just accelerated my career the last two years more than I ever could've imagined.
"I had to find ways to get by as quick as possible."