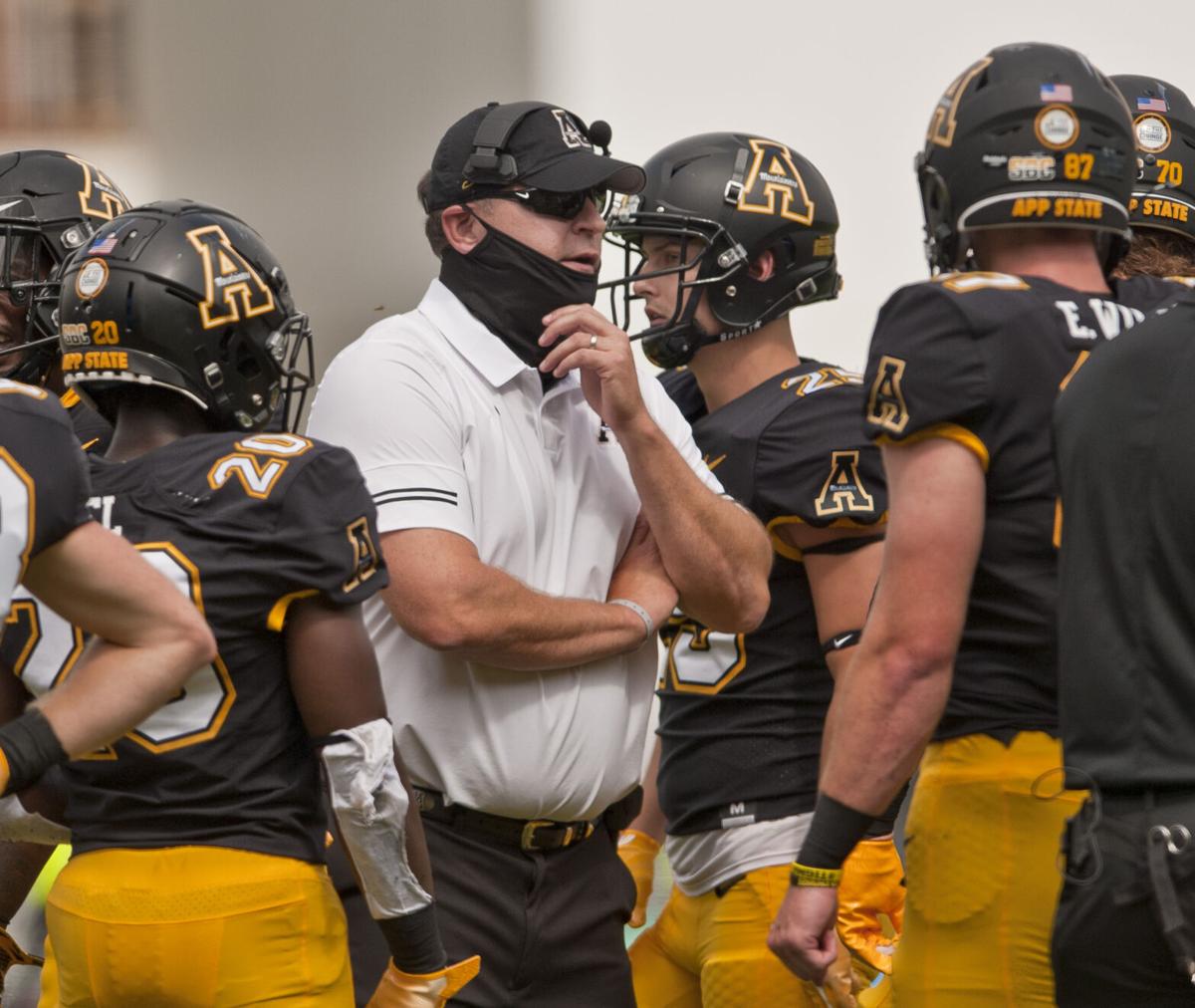 Standing with Noah Hannon ahead of the 2020 football season opener, Shawn Clark found a moment to laugh.
The Appalachian State coach anchored with his starting center on the football field, looking at an empty Kidd Brewer Stadium before a matchup with Charlotte.
Hannon looked at the coach and said this was probably not how Clark envisioned his first home game as a head coach, fairly quiet and fan-less.
"It was kind of a chuckle we had," Clark said. "But those were the cards we were dealt, and we went and did the best we could."
Nearly a month after the end of the season, in which the Mountaineers finished 9-3 with their sixth consecutive bowl win, Clark made the quick pivot from his first full year as the head coach to considering two major questions: One, who would be the next App State offensive coordinator? And two, who will be the starting quarterback after three years of Zac Thomas?
Clark has provided answers to both questions since the Myrtle Beach Bowl victory over North Texas on Dec. 21. He tapped Frank Ponce to return to Boone, replacing Tony Petersen after a year as OC and quarterbacks coach. And the Mountaineers scooped up Chase Brice, a former quarterback at Clemson and Duke, to fortify the QB position by adding a player with a full season's worth of starting experience. Another check for Clark.
When he was hired in December 2019, Clark said, he contacted Ponce, then at Louisville with former App State coach Scott Satterfield, about the role. The timing didn't work out. But when Petersen told Clark the day after Christmas that he would be interviewing at Illinois, a job that Petersen would ultimately secure, Clark said one of his first calls went to Ponce. Ponce joined the App State program in 2013, staying until he followed Satterfield to the Power Five level.
Clark said he interviewed two other candidates, but Ponce's familiarity pushed him ahead.
"I watched him, how he really game-planned for Satt," Clark said of Ponce, who worked with Clark at App State from 2016 to 2018. "Coach Satterfield, he called plays, but Coach Ponce really designed the game plan.
"I know he's ready for this position. It's going to be a great challenge. Something he looks forward to. But again we call the plays as an offensive staff. He'll have the final say so on what we call, what we run, but I know he's ready for the opportunity. "
After helping to mold the successful careers of Taylor Lamb and Thomas, Ponce's immediate focus is now on the present and the future of the position. When App State realized it would pursue a grad transfer quarterback, Clark said, Petersen put together a list of 20 to 25 options. With that, the staff compiled a reel of the quarterbacks.
Clark thinks the Mountaineers found a fit with Brice, even though his time at Duke featured a team that struggled with turnovers — 39 to lead the nation, with 15 interceptions and six fumbles by Brice.
Turnovers were a sore spot for Clark in 2020, becoming problematic in Sun Belt Conference matchups against top 25 opponents Coastal Carolina and Louisiana. Clark mentioned how difficult it was for any transfer in 2020, much less a quarterback going into a new program to lead a team.
In evaluating transfers, Clark said, a coach leans on the people they trust in the profession. Between the video he saw on Brice and the insight from others, he's confident in what Brice can do.
"What was best for our program was to have a guy with some experience that could come in and compete for the starting spot," Clark said. "And I'm not exactly sure what his turnover margin was there, but when I turned the tape on, he was what I felt was best for this program.
"Just the way he commanded the huddle, the way he ran the offense and talking to him, I believe in Chase."
Clark said that Brice would have to earn the starting spot, saying he'd be pushed by Navy Shuler and early enrollee quarterback D.C. Tabscott.
The Mountaineers will open spring practice March 8, working toward the start of a season they hope will look more normal than the scene Clark walked out to in September. They'll continue to test for COVID-19 through that 15-practice camp.
App State will open the season in Charlotte against East Carolina on Sept. 2, then eventually start its pursuit of another Sun Belt title after coming up short in 2020.
"I know that's not where I want to be, or our fan base wants to be, but very proud of the way our guys competed," Clark said as he contemplated his debut season. "We lost to three top-25 programs at that time, but were able to go win a bowl game, and that was our main goal at the end is to win a bowl game.
"That's something that we take a lot of pride in here. Again, exciting. Room for improvement. I learned a lot about myself and I learned a lot about this team, and we're looking forward to moving to 2021."