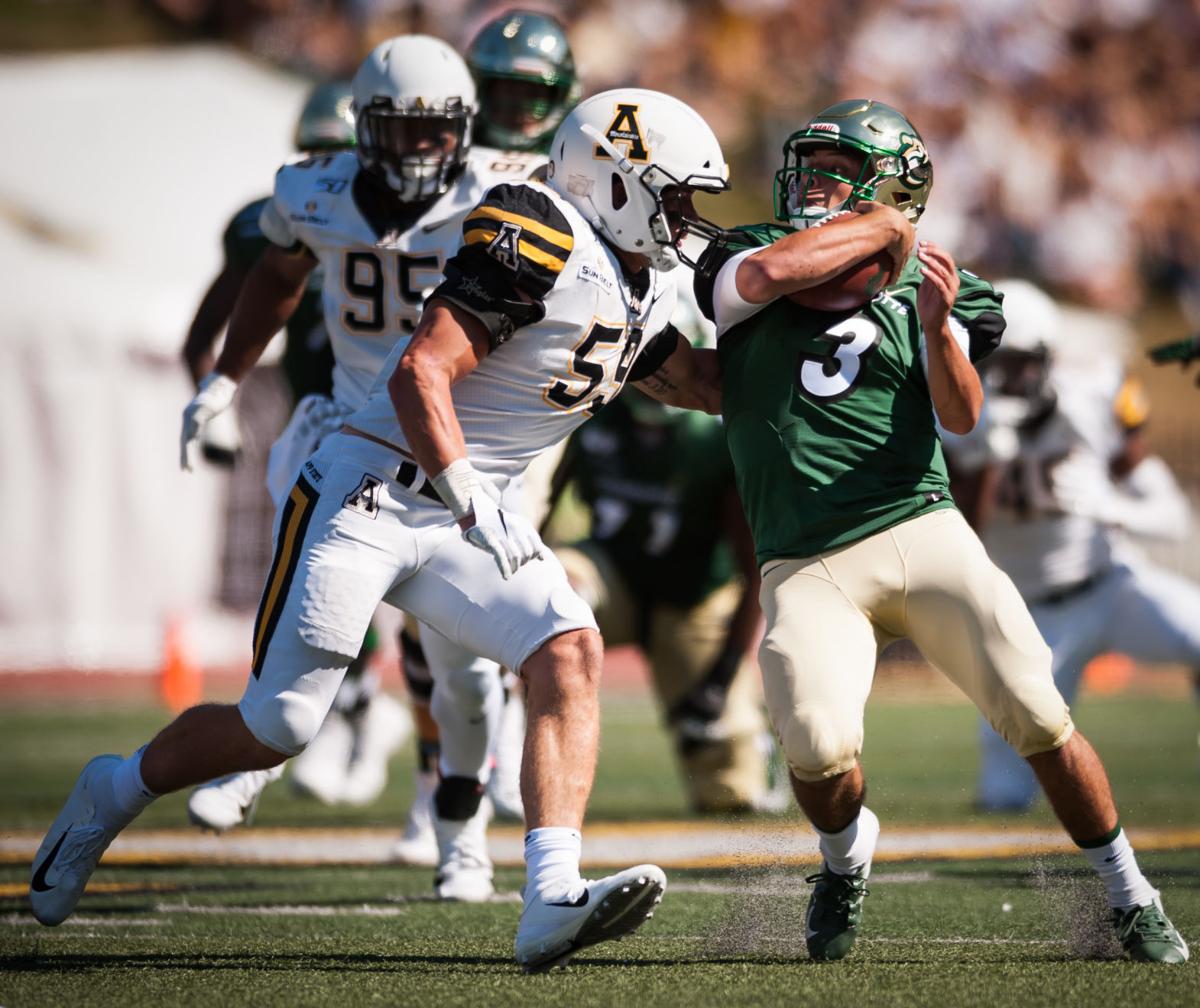 This year's NFL Draft featured 14 Group-of-Five schools that had multiple selections in the three-day, seven-round event.
And two of those were North Carolina schools. Appalachian State and Charlotte were the first two G5 schools with at least two picks last weekend.
App State was the first following the third-round selection (93rd overall) of running back Darrynton Evans and the fourth-round selection of outside linebacker Akeem Davis-Gaither (107th). They went to the Tennessee Titans and Cincinnati Bengals, respectively. 
Charlotte saw defense end Alex Highsmith picked nine spots after Evans in the third, going 103rd to the Pittsburgh Steelers. Former 49ers offensive lineman Cam Clark then went in the fourth round (129th) by the New York Jets. 
Those pros, along with the schools' undrafted free agents — Charlotte running back Benny LeMay (Cleveland Browns), as well as App State inside linebacker Jordan Fehr (Minnesota Vikings) and safety Josh Thomas (Buffalo Bills) — were all on the field for the matchup between the two programs on Sept. 7 in Kidd Brewer Stadium. The Mountaineers fought off a few scares from the 49ers, hanging on for a 56-41 victory.
Evans starred, scoring four total touchdowns. His first touchdown came on App State's first offensive play, an 87-yard run down the right sideline. He finished with a 46-yard touchdown off an onside kick to help secure App State's victory. Highsmith had four total tackles and two sacks, while Davis-Gaither tied for the game-high nine tackles and a sack.
Charlotte was one of four schools from C-USA to have multiple picks, along with with Florida International, Louisiana Tech and Marshall. App State was one of from the Sun Belt with the same distinction, joining Georgia Southern and Louisiana.
The Ragin' Cajuns had the highest pick of any G5 school, sending Robert Hunt to the Miami Dolphins in the second round with the 39th overall pick. They led the Sun Belt with three total picks.
Temple had the most selections for any G5 school with four, followed by Boise State, Louisiana and Memphis, each with three. Others with multiple picks Fresno State, Tulane, Tulsa and Wyoming.