Before its first game week, the Appalachian State football team was already down one of its better pro prospects.
Wide receiver Corey Sutton opted out for 2020, allowing him to get healthy following an ACL tear near the end of the 2019 season. He's also going to take advantage of the NCAA's decision to give fall athletes an extra year of eligibility and not hold the bizarre nature of this season against them.
Without knowing whether all games will be played and how many seniors could come back in 2021, a handful of players could improve their NFL stock by performing well this season at App State.
Jalen Virgil
Jalen Virgil is an off-the-bus specimen. He's 6-foot-1, 210 pounds, stacked up and has blazing speed.
And if there's one guy who benefits most from the vacated snaps of Sutton's opt out, it's him. Virgil has always shown flashes, and he's worked hard during his App State career to become more comfortable as a pass catcher. He has 61 total receptions, 24 last season, and seven receiving touchdowns.
His speed is NFL quality: 10.29 seconds in the 100-meter dash for the track team. If he puts together a quality season for what should be a high-scoring offense, he'll get attention.
Shemar Jean-Charles
Here's a borderline fact worth remembering: App State defensive backs get NFL chances.
The defensive back and safeties coaches have changed the last few seasons, but the results remain consistent. It's why Doug Middleton keeps getting picked up by NFL teams, why A.J. Howard always had a spot on a practice squad before starting his coaching career and why Tae Hayes went from undrafted to a roster spot.
Shemar Jean-Charles could get that chance, too. He had a quiet but solid season in a first-year starter combo with Shaun Jolly. And if he can add another, Jean-Charles has smarts to warrant at least a chance.
App State guards
Ryan Neuzil has been wildly consistent and unheralded as App State's left guard the last 2½ seasons. He's a Sun Belt favorite from the analytic types at Pro Football Focus, and he became the bridge from former four-year starting left tackle Vic Johnson to senior center Noah Hannon the team sought in 2017.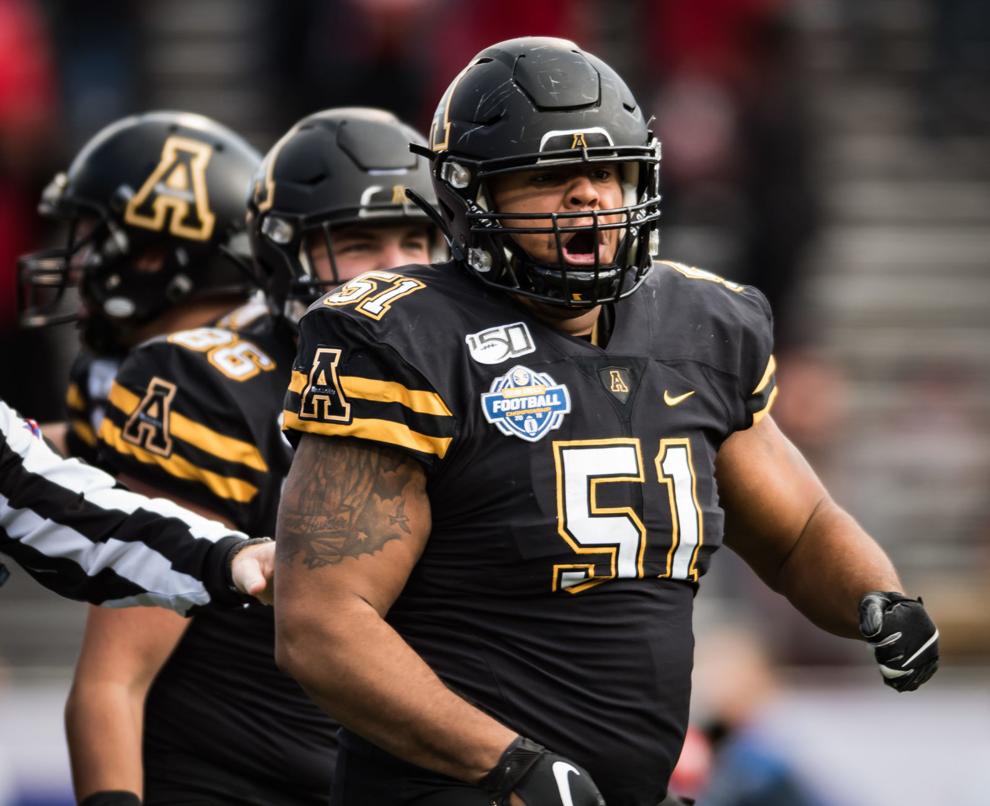 Baer Hunter at right guard has gone from defensive-line convert to an early candidate for the Outland Trophy, which is given to the best interior lineman in college football.
If App State DBs always get chances, offensive linemen come right after them. Both should warrant looks with another typical year from the two.
Marcus Williams Jr.
Never seeking attention and always grinding forward, senior running back Marcus Williams Jr. has a chance to take a premier role in a potentially stellar backfield.
Cam Peoples is coming back from an ACL tear suffered in last year's season opener. Daetrich Harrington came back from injury at the end of last season and is looking stronger and more motivated than ever.
Williams has always been there to take a hand off, staying healthy and find ways to get positive yards. Last year he had 652 yards and five touchdowns, and he'll get some more opportunity now that Darrynton Evans has moved on.
Shaun Jolly
Jolly made his mark last season with five interceptions, a Sun Belt high, including two that he took back for touchdowns. 
He's also only a junior this season. But with what could be a fluky year in college football, and if he can piece together something similar to 2019 (albeit he'll be targeted much less now), Jolly can fortify himself as one of the top Group of Five defensive backs and not have much else to prove.
Though on the smaller side — listed at 5-9 and 180 pounds — Jolly grew immensely and showed he had little issue covering anyone. App State could see its third early draft entry in as many years after this season.