The football season teetered between happening and not happening, but Appalachian State managed to get through it in this hectic year.
The Mountaineers finished 9-3, falling short of a Sun Belt Conference title but winning another bowl game as first-year head coach Shawn Clark navigated his debut season in a national pandemic.
Here are Journal staff writer Ethan Joyce's superlative winners for the 2020 football season:
Offensive MVP: Camerun Peoples, running back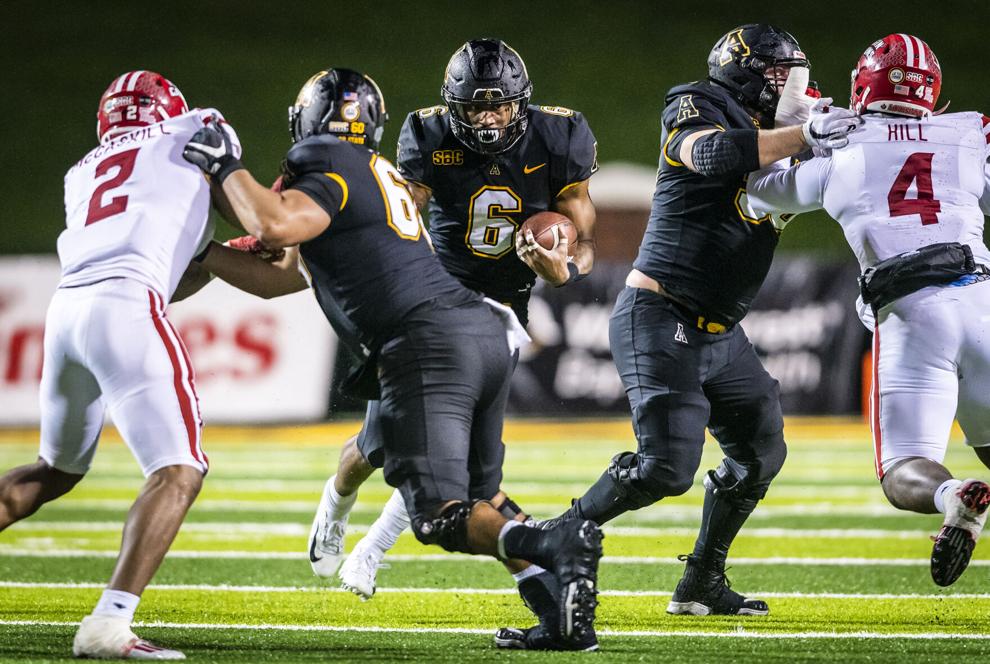 An offense that chronically leaned on its run game produced a 1,000-yard running back for the ninth straight season, the longest streak in the nation. Peoples ran for 1,124 yards and 12 touchdowns, which included a dominant performance in the Myrtle Beach Bowl: 317 yards and five scores in a 56-28 victory.
As one of three running backs, with Daetrich Harrington and Marcus Williams Jr., to enter the season vying for carries, Peoples scored a touchdown in seven of the 10 regular-season games in which he played.
Originally it looked like Harrington would be the star of the backfield, running for 595 yards in the first six games. But an injury halted his season, allowing Peoples to pick up more responsibility and sprint away with it. Peoples' best performance in season came at Brooks Stadium in Conway, S.C., where he rushed for 178 yards and a score as the Mountaineers lost late to Coastal Carolina.
Defensive MVP: Shemar Jean-Charles, cornerback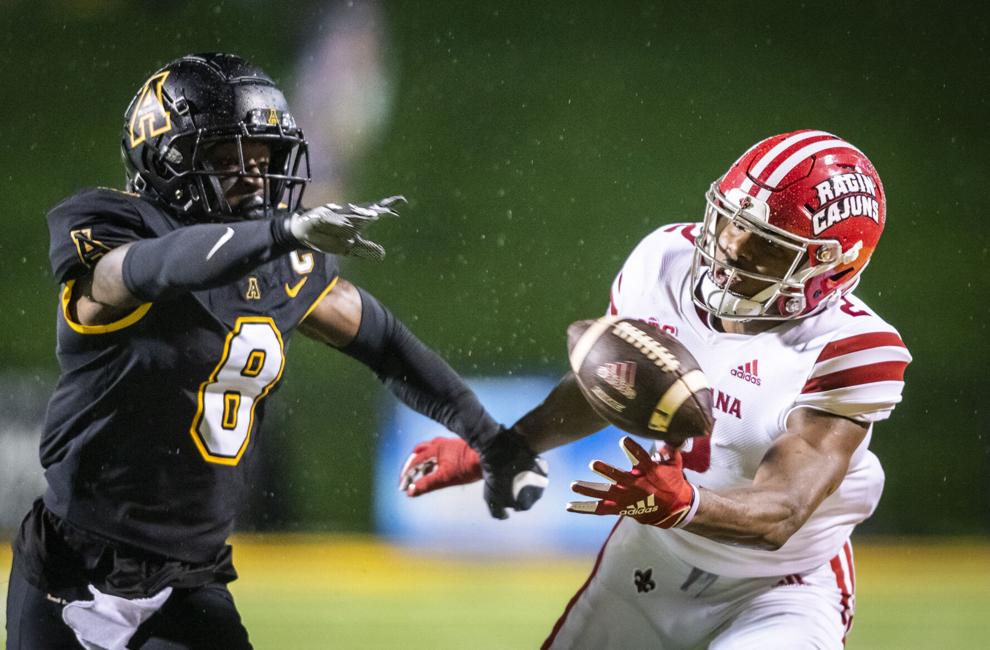 Jean-Charles turned his senior season into a dazzling year that should earn him a chance in the NFL.
Playing primarily at nickel during his first couple of seasons, Jean-Charles earned a starting spot last season. But he really thrived in 2020. He led the nation with 16 pass breakups and helped App State field a top-10 defense against the pass — the Mountaineers allowed 177.9 yards per game to opposing quarterbacks.
His will be a tale that Mountaineers coaches will point to in recruiting for years: a player who waited his turn, finally got his shots and took off.
Mr. Invaluable: Zac Thomas, quarterback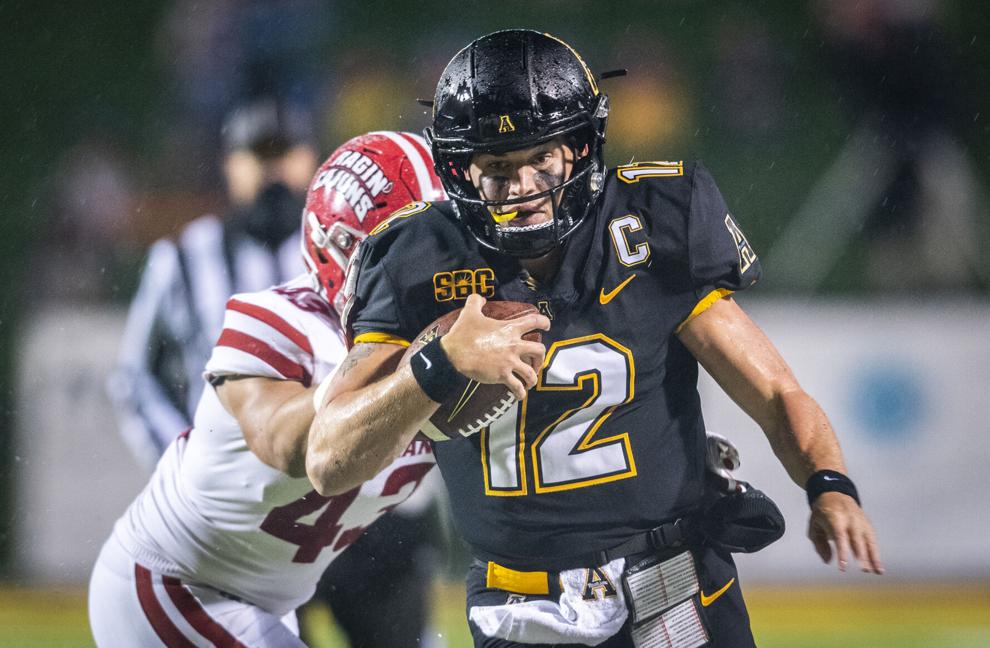 The season contained ups and downs for Thomas. His 11 interceptions, the most in his three years as a starter, nearly matched the combined total of the previous two seasons (12). He got hit out of bounds against Georgia State and was taken away in an ambulance, although it wasn't as serious as it looked and he returned to play the next week.
But not many quarterbacks could play for three coordinators in three years and still maintain a similar amount of production throughout.
The Mountaineers will break in a new starter for 2021 after a strong stretch of quarterbacks to start its FBS existence. 2020 was hard enough. It would've been even harder without Thomas, as the wide receiver crew dealt with the absence of Corey Sutton and injuries.
Most Improved Offensive Player: Caleb Spurlin, goal-line back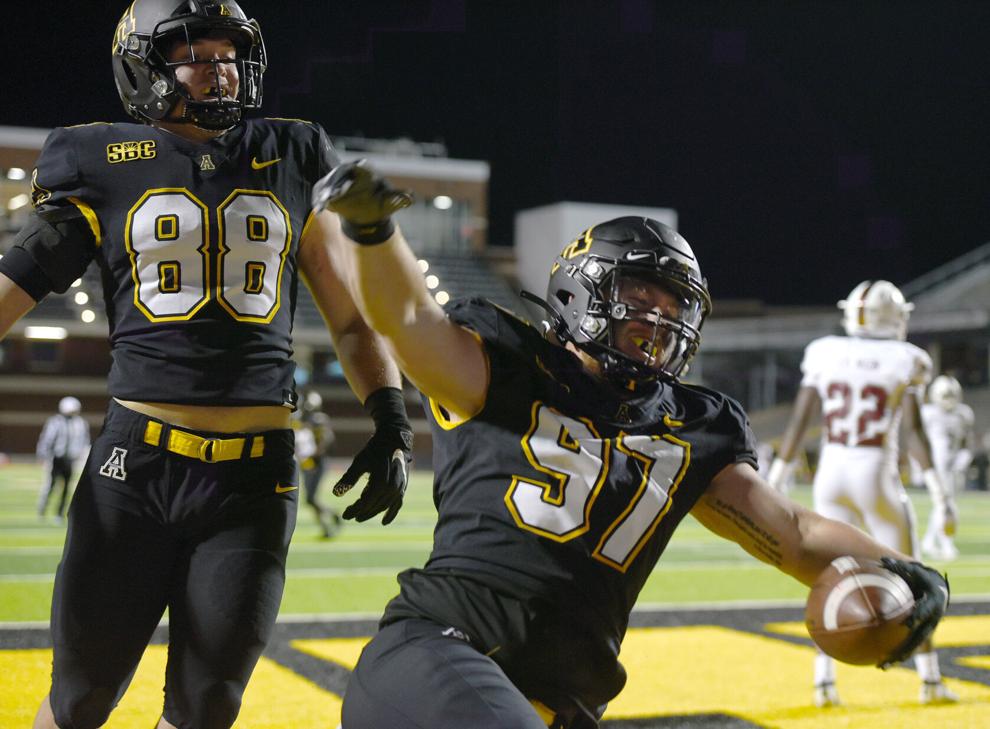 OK, OK, OK: So he's not a traditional offensive player, but who cares?
Spurlin entered in situations near the goal line and scored two touchdowns this season, against Texas State and Troy. In a quirky and fun stat from App State, Spurlin is the only person in the country with multiple touchdowns and sacks.
And you might see some more next season: He has announced he's coming back for his extra year.
Most Improved Defensive Player: Trey Cobb, inside linebacker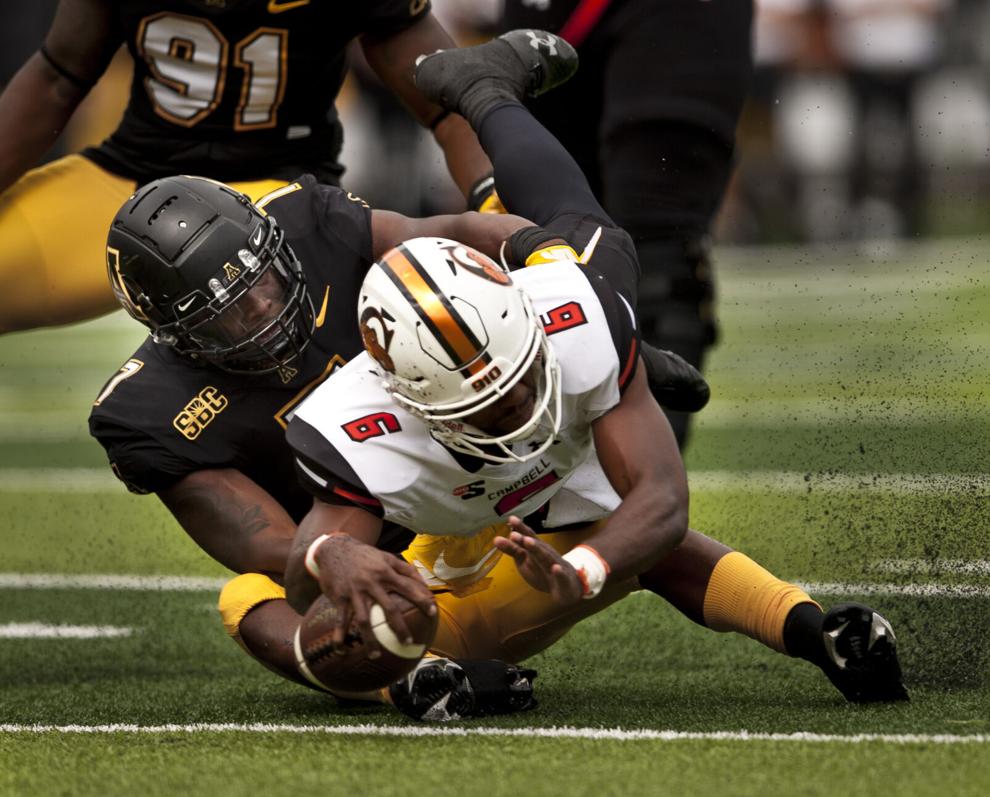 Cobb played frequently in 2019, splitting time with D'Marco Jackson at the inside linebacker spot opposite of Jordan Fehr before Jackson took over the role to end that season.
Starting alongside Jackson this year, Cobb led the team with 91 total tackles and 10.5 for loss.
Top Offensive Newcomer: Nate Noel, running back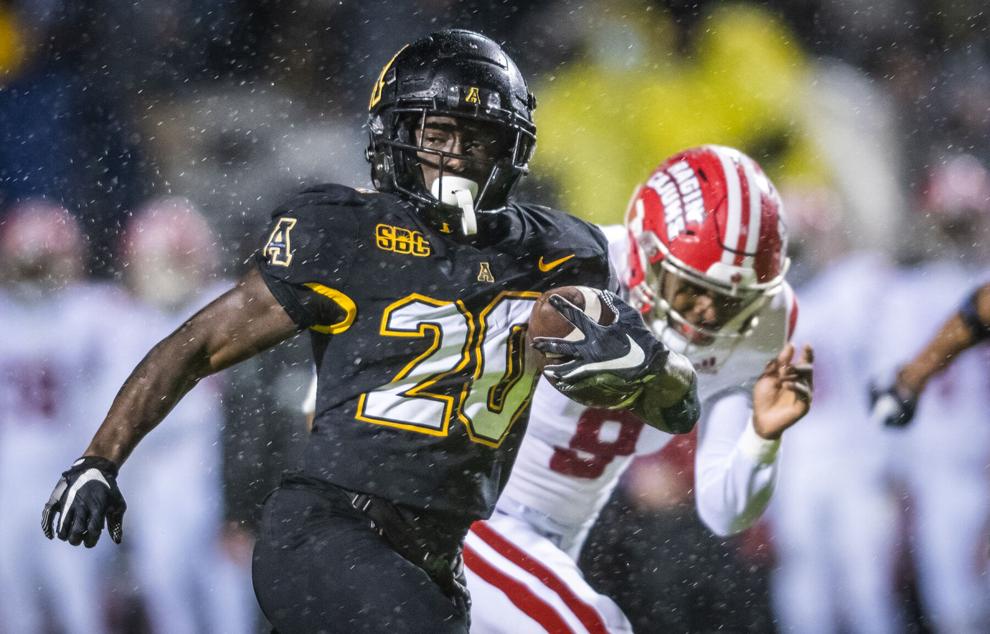 Nate Noel was a late pickup in the recruiting class and turned into a major contributor. Noel's speed allowed him to hit holes and fly off, pairing well with the bruising style of Peoples as the Mountaineers finished out the season. The Miami native had 510 yards — one of four running backs with at least 500 for App State — and three touchdowns.
Top Defensive Newcomer: Brendan Harrington, outside linebacker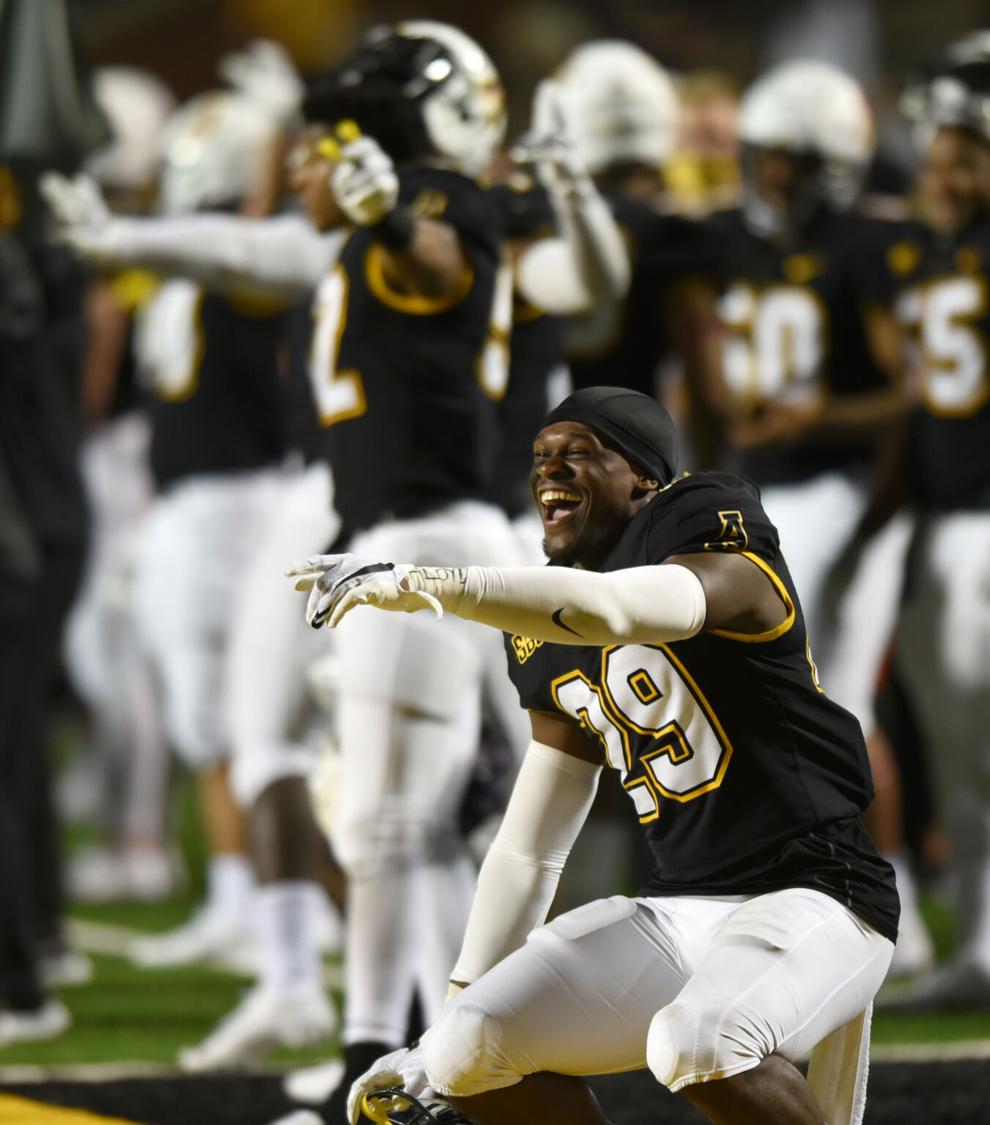 Harrington earned time as a true freshman last season on a 13-win team. He moved into the starting spot vacated by now NFL linebacker Akeem Davis-Gaither and shined. Harrington had four interceptions to lead the team, returning one for a touchdown against Texas State.
Biggest Momentum Play of the Season: Jalen Virgil's kickoff return TD vs. Georgia Southern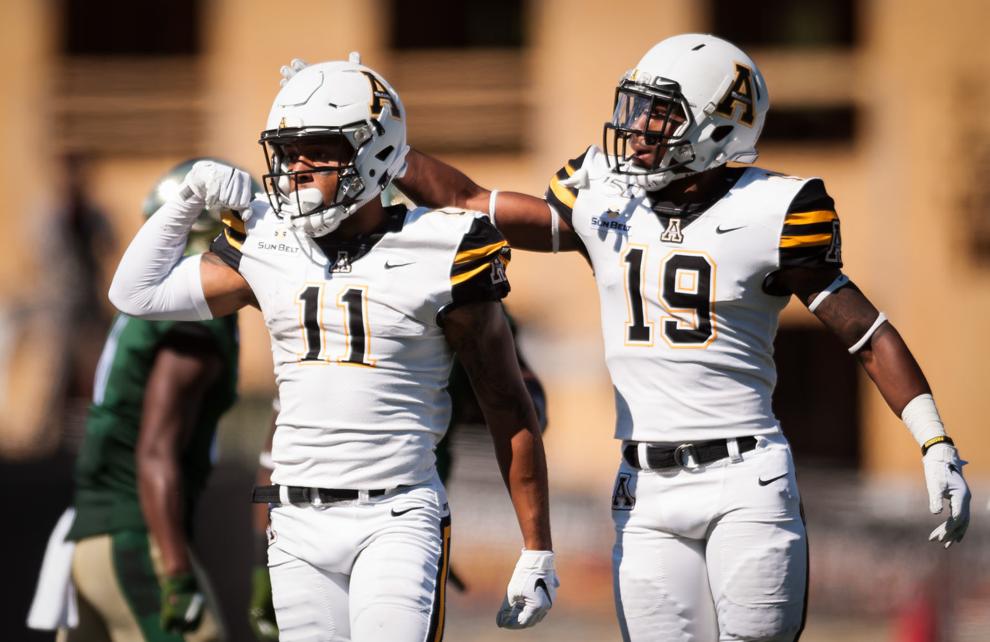 The Mountaineers already had two conference losses and were trailing against their rival, which had beaten them in each of the last two seasons. They were also trailing the Eagles in the fourth quarter.
Jalen Virgil to the rescue. The senior ran a kickoff back 100 yards for a touchdown and gave App State a lead it wouldn't relinquish in the 34-26 victory.
People Who Define The Program: This one is plunger-inspired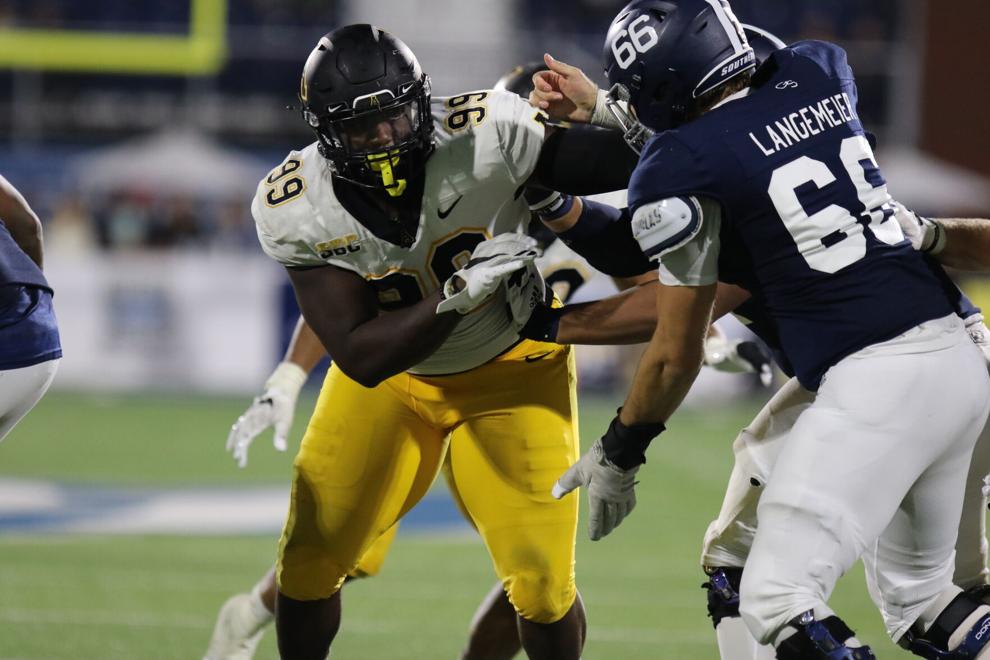 Jordon Earle popped up on the radar for hilarious reasons — his go-to saying of "get the plunger" inspired a prop that popped up at midfield of the Georgia Southern game and all over the sideline at the Myrtle Beach Bowl.
But he's a player who caused ripples throughout the program, both with positive energy since he joined in 2018 to the late-season surge he gave the defensive line in 2020.
In a year where pick-me-ups have come at a premium, Earle's energy paid dividends.