2021 brought a welcomed sight back to college football: Fan bases nationwide, in full capacity, have returned to their weekend homes.
The masses, though, have paired with the worker shortage in the service industry, forcing college athletics departments nationwide to cope with a lack of staffing for concessions and ticketing. College athletics programs typically lean on third-party vendors to provide those workers for game days, and programs around the state have worked with smaller workforces while bringing in big crowds again.
The first month of the season has forced schools to be creative and communicative. N.C. State has acknowledged the issues early, encouraging Wolfpack fans to be prompt and patient ahead of a home matchup against Furman last weekend. Appalachian State and East Carolina both addressed game-day challenges afterward, either to ticket holders or on their athletics website.
And Winston-Salem State and N.C. A&T are not only preparing for their first home games since 2019, but proof of vaccinations or negative COVID-19 tests will add to the challenge of getting people to their seats on time.
And it's not just in North Carolina:
For Virginia Tech's home opener against North Carolina on Sept. 3, fans endured a stadium wireless signal that made using digital tickets complicated and encountered concessions stands staffed at 40 percent, the Richmond (Va.) Times-Dispatch reports. Virginia Tech reduced menu options at its next game and added beverage-only stands.
Louisville, Texas, Texas Tech and Ohio State are among the colleges that have faced issues, and NFL teams went into the season bracing for problems brought on by not having enough workers.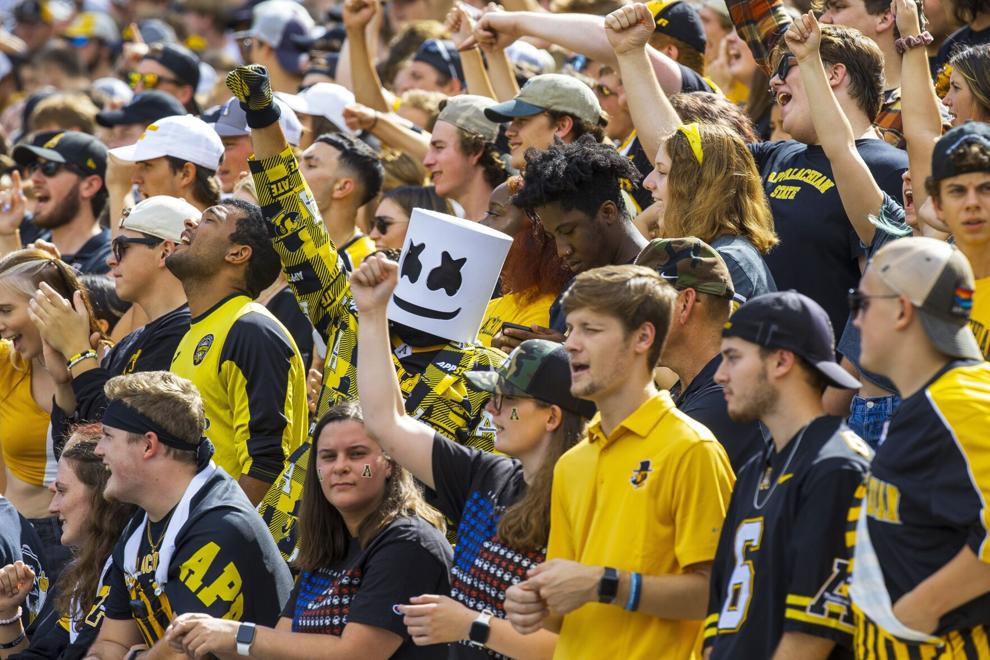 The Mountaineers announced an attendance of 30,224 for their 44-10 victory against Elon. Fans experienced delays at the main entrance for the west side stands and at concessions stands.
Bryant Barbery is a first-time season ticket holder. He and his family bought seats on the east side of Kidd Brewer Stadium last year before the pandemic rocked society. He went to the game expecting potential snags. Parking and getting into the stadium were pretty typical for him — the east side is often a quicker entry into Kidd Brewer — but the main problem he observed were the food and drink lines, which he felt were longer than normal.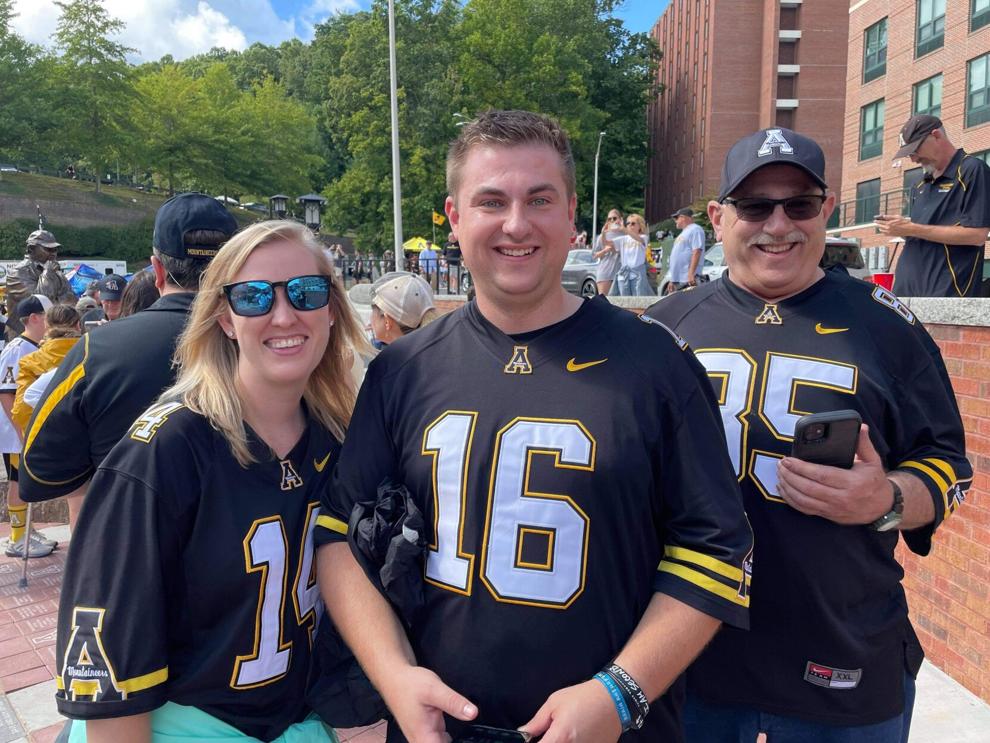 "If you're newer to the App State football experience and everything, obviously we want to put a good foot out in front of us, make sure everybody's welcomed if this is their first experience coming out to a game," said Barbery, who graduated from App State in 2016. "The staffing issue — everyone needs to be understandable about that."
"Things will improve. Saturday with everybody back, too, being the first game with everybody there. That, in itself, after two years is an adjustment."
Fred Demarest, N.C. State's senior associate AD for communications and brand management, said the school learned on Thursday that its Saturday home game would be understaffed regarding ticket takers. The athletics department opted to share the issue so fans wouldn't be surprised.
Demarest said the school experienced longer concession lines with the season opener against South Florida, but that problem thinned down now that N.C. State is allowing customers to buy up to two beers at a time.
He felt like fans were compassionate to the situation because they communicated early.
"Fans understood," Demarest wrote in an email. "And we had staff chipping in: AD Boo Corrigan, former Wolfpack Club Executive Director Bobby Purcell and our gold medal-winning volleyball head coach Luka Slabe were all scanning guests in. That brought some reality to it, and people saw that everyone was chipping in to make the best of it."
Mike Silver readied himself for delays heading to Wake Forest's first three home games this season. He's been a Deacons season ticket holder since 2007, and most of the time he attends games with his wife and two children. They have sat on the hill near the scoreboard since the children were old enough to go.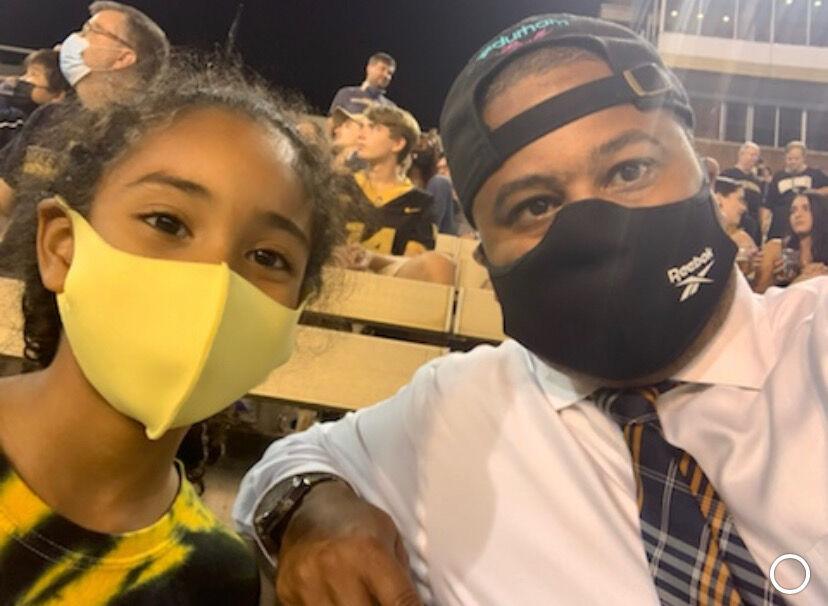 What he found around Truist Field, though, were little-to-no instances of his experience being affected. E-tickets have expedited the process of entering Truist Field. It also allows him to keep the hard copy for his ticket collection.
Plus, as the country still deals with the ongoing COVID-19 pandemic, he said it's more enticing than ever to avoid a clogged ticket line.
"This has probably been the most efficient it's been, getting into the stadium, since I've been going," Silver said.
Wake Forest did experience staffing shortages, but the athletics department tried to be proactive. Ahead of the football season, the department shared a story about their third-party partner, Rhino Sports & Entertainment services, which included a link for interested workers to sign up.
Athletics staffers have been stationed outside of the stadium to point fans into the appropriate lines — such as for those who are ready to scan tickets or brought bags. The Deacons announced a crowd of 29,564 and fan surveys have yielded positive overall results so far.
"Wake Forest has staff positioned out there to help serve on our goal of having the best fan experience in North Carolina," said Will Pantages, Wake Forest's associate AD for athletics communications. "It's not just when you're in your seat or you're in a concession line ... it's everything around the stadium."
A&T and Winston-Salem State will face this home game situation for the first time Saturday, with the added wrinkle of the extra COVID protocols.
Etienne Thomas, WSSU's athletics director, said the school would have hired roughly 35 people from Show Pros Entertainment Services to work the game and parking before the pandemic. Now, while trying to navigate the extra step of entry, she expects a number closer to 80 for the 1:30 p.m. kickoff against Elizabeth City State.
"It's not going to be without its challenges and we will require a mask for everybody in the stadium, and again, we just want it to be safe as possible," Thomas said.
Earl Hilton, in his 10th year as N.C. A&T's athletics director, is prepping for the school's biggest rival for its home opener, hosting N.C. Central in the Aggie-Eagle Classic at Truist Stadium.
Hilton said he had not seen anything to make him expect fewer workers available for the 6 p.m. kickoff.
Formerly a MEAC matchup between the two schools, N.C. A&T's shift to the Big South Conference pushes this game into non-conference territory.
"It seems surreal to even think about it that it's been 600-something days," Hilton said. "In some ways, it feels like it was just yesterday, and other ways it feels like it was a lifetime ago. But nothing beats being back and seeing our student-athletes have a chance to play in front of our fans."
The extra step to attend does become another caveat to weigh for fans, though. Silver's fandom is a complex tapestry — working in Winston-Salem, he wants his children to be around Wake Forest. He's also an A&T undergrad and a Central law graduate.
He loves The Classic, and appreciates the additional precaution for health and safety. But with two who aren't old enough for the vaccine yet, trying to iron out the time for testing is a challenge.
"That's a whole lot of stuff to do to pay for," Silver said. "A family of four to the Aggie-Eagle is going to be $200, your parking pass is going to be $75.
"Look, it's a big game. We love it — $275 and I'm going to have to spend four days prepping to get in? Maybe I'll catch it next season."
Reporter John Dell contributed to this story.