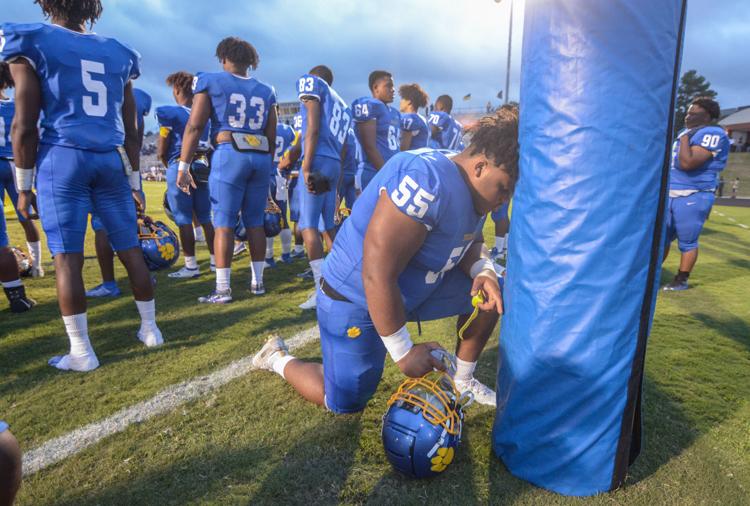 GREENSBORO — The recruiting process began for Dudley football player Payton Page after his freshman season and "got ridiculous." That's what happens when you're a consensus four-star recruit ranked No. 30 in the nation by Rivals.com, No. 31 in the ESPN300 and No. 80 in 247Sports' rankings for the Class of 2021.
It ends just after 6 p.m. Tuesday, when the 6-foot-4, 330-pound defensive tackle will announce his college decision. Page will choose from among Clemson, North Carolina and Tennessee after narrowing the field of 30 to 35 Power 5 scholarship offers.
"After freshman year it was really exciting," Page says. "I was actually waiting for my first piece of mail, just looking forward to that. After I got that bucket of mail I got so excited and I just kept getting mail, mail, mail. It was from everybody, and I didn't expect it to be like that. It's still coming in to this day.
"It got really overwhelming when I could call or text them. It got ridiculous. When they could call and text me, that's when it got out of hand. Other recruits … I don't know how they do it."
And it isn't just Payton who's been overwhelmed. It's his mother, Felicia, and father Eric.
"They're tired, too," he said. "The coaches have their numbers, too."
With Page's announcement set for 6 p.m. Tuesday, here are his thoughts:
On how he narrowed his choice to three schools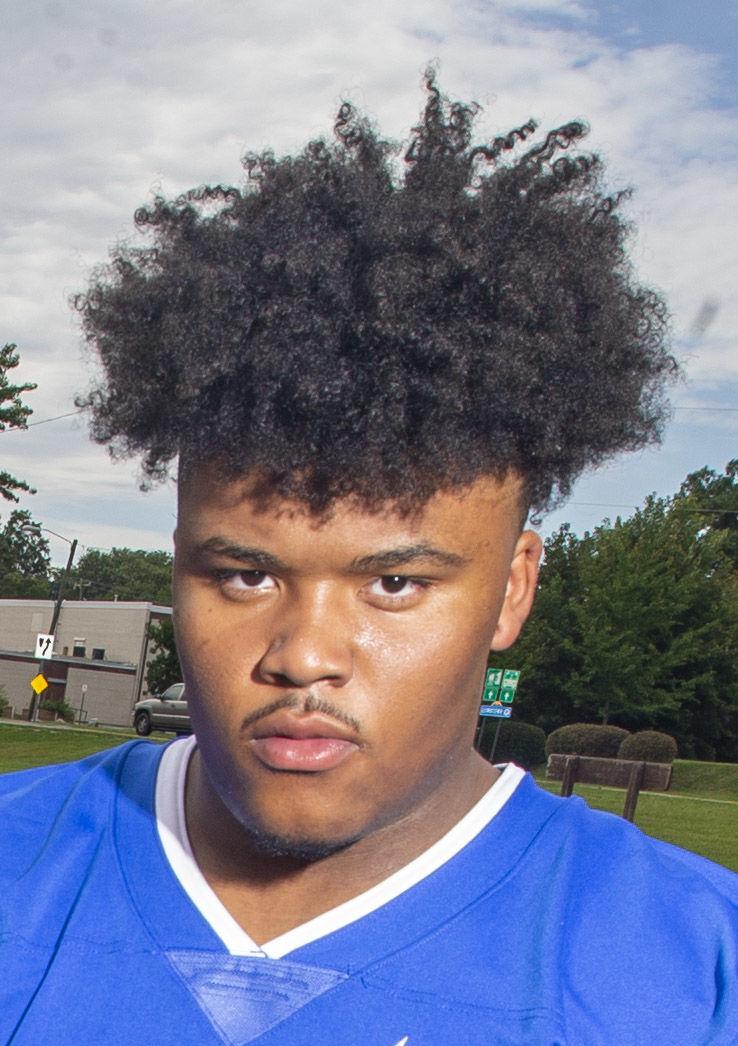 "We had to look at distance right away, so a lot of schools were out of there because my Momma has to see my games no matter what. Then, it was where I was comfortable (based on unofficial visits). Then it was the D-line coaches, how comfortable I was with them. I have to be able to be myself. I'm really goofy. Everybody knows that, so I need somebody to mess around with. I couldn't handle somebody who was mad-serious all the time. I know when to get serious, but I can't do that all the time for three to four years."
On what he likes about each of his three finalists
Clemson: Defensive tackles coach and recruiting coordinator "Todd Bates checks up on me every other day to make sure I'm still doing conditioning. I was on the phone with (head coach) Dabo Swinney about a week ago. I like it when coaches don't talk about football 24/7. I really like that. He didn't bring up football one time in that conversation. I really respect him for doing that, especially because he could see how exhausted I was the last time I was talking with him about football. … He's a jokester. He talks about beating me one-on-one all the time. I basically called him out if it was wide receiver-DB. I can beat him. He ain't that fast. And we just talk about family. When my dad's mom died he was there (for us)."
North Carolina: "They're right up the street. It isn't a relationship that was built over four years. (Head coach Larry) Fedora was there and I built a relationship with them and it broke down at one point (when Fedora was fired). It took about six months for them to come back, I guess. Then they started recruiting me really hard and I was overwhelmed at one point. They love the 336 guys. About five months ago we started building a really good connection, with the D-line coach (Tim Cross) especially. He's so cool. Mack Brown is cool, too. I don't know what to say about Mack. … They've got a lot of momentum (in North Carolina). That might affect my decision, too. That's a big factor."
Tennessee: "When I first went there it was the best environment ever. The atmosphere was crazy, oh, my God! The facilities … they were ridiculous. I did have a bad experience there, where somebody threw up on my shoe. It was after the game. We saw a lot of drunk people … I knew the guy was about to throw up, and the next thing you know … Blaaaahhhh! … I do like the new D-line coach (Jimmy Brumbaugh). He's really cool."
On what college coaches say they want to see from him and how he's addressing those critiques
"Explosiveness and a motor. They say I'm doing everything else right. … Consistency goes along with 'motor,' of course, and motor goes with conditioning, of course. That's what I've been working on, my motor. The VertiMax (a training platform with bungee cords attached) and three sets of 10 20-yard sprints three times a week. I wish you had a video of that. I'm about sweating bullets."
On where he's improved the most as a player at Dudley
"It's about heart. My ninth-grade year I got hit so daggone hard. (Coutize) Pope hit me so hard! I shed a couple of tears. I was crying just a little bit. Every joker started laughing at me on the field. Mind you, I didn't know anybody because it was my first two or three practices, and everybody was laughing. After that day I always had a chip on my shoulder because I didn't like that kind of stuff. I just kept earning my respect going against people like Pope, Reggie (Robertson), Caleb (Matthews), a whole lot of big jokers. I earned it every day. Every day. In my head it was, 'I want my respect. I want my respect.' It made me a whole lot better, because I was working so hard to get my respect out of them."
On goals for his senior football season
"I'm not really focusing on stats this year. I'm trying to work on leadership in general. Not by yelling but by setting the tone, the example. Pass rush is what I'm working on. I want to be a three-down guy. I don't want to be a one-down guy on third-and-short, goal line (in college)."