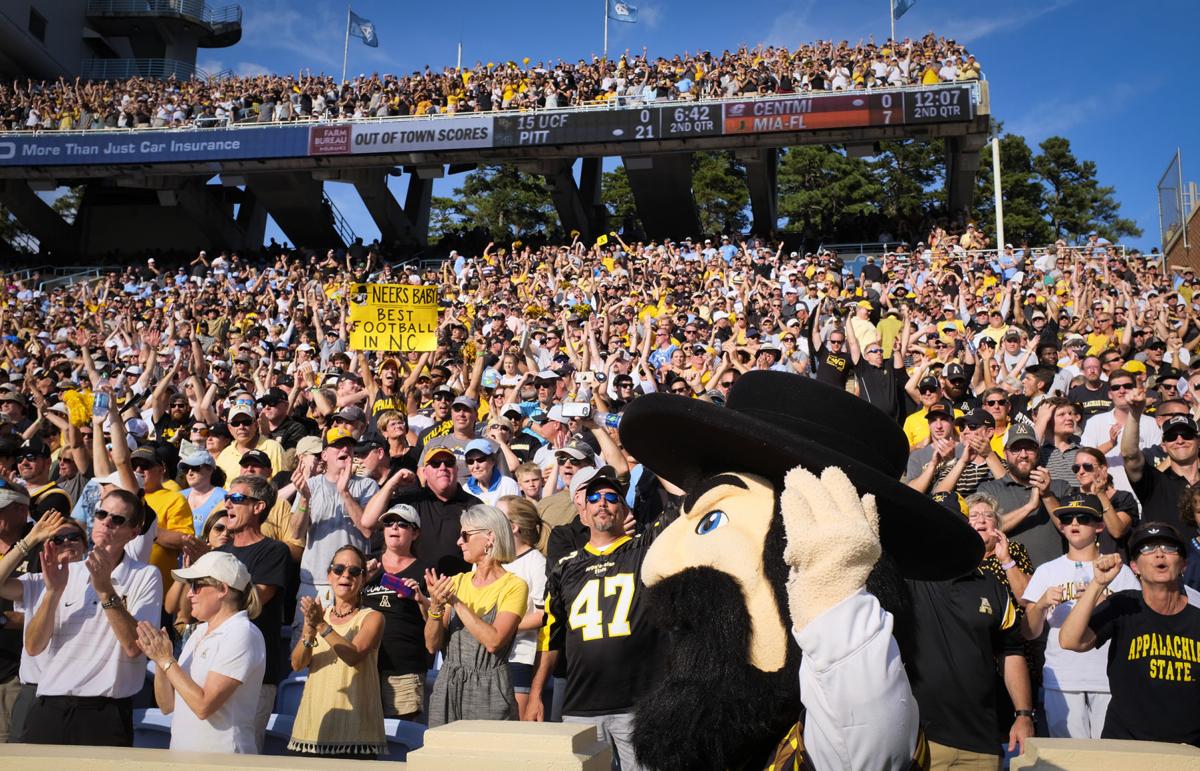 As the question has shifted from whether the COVID-19 pandemic would cause cancellation of the college football season to how abnormal the season will look, athletics departments across the state are preparing for what that could mean.
Spoiler alert: Nobody knows.
While it's too early to make final decisions, a variety of scenarios are being discussed in determining how many people will see those games in the stadiums.
Schools will seemingly have to be prepared for scenarios that reduce crowd sizes and allow fans that are in those crowds to adhere to social distancing mandates.
"You're just trying to sort of prepare your thought process for, 'OK, if we have 50% capacity … ,'" said Chris Fuller, Charlotte's deputy athletics director for external affairs. "Or if you even have to go down to a 20-25% level, what might that look like operationally?"
Gov. Roy Cooper moved North Carolina into Phase 2 of reopening plans May 22. Phase 3, the final stage, would be enacted four to six weeks after the implementation of Phase 2, according to N.C., Department of Health and Human Services and would "allow increased capacity … at entertainment venues," but will "encourage to continue practicing social distancing."
It's difficult to predict how things will move in the next month, let alone three months from now, but it seems a foregone conclusion that football stadiums will at least have limited crowd numbers this season. 
"We do anticipate that we will not be at capacity crowds," Athletics Director Etienne Thomas of Winston-Salem State said. "And to be honest, I would imagine a lot of our alumni and supporters this year will probably rather see us from a distance."
WSSU announced its academic calendar will begin Aug. 17, while Wake Forest has yet to announce a specific date of when classes will begin.
"President (Nathan) Hatch and our university leadership have been working around-the-clock to create plans for a safe and healthy environment for our students to return to campus and resumption of activities," Wake Forest Athletics Director John Currie said through a school spokesman. "Concurrently, Wake Forest is planning how to safely host events on and off campus following CDC & NCDHHS rules and guidelines."
N.C. State's Carter-Finley Stadium is the largest venue in the state for college football with a capacity of 57,583 – though this season Wake Forest will play Notre Dame at Bank of America Stadium, the Carolina Panthers' stadium that holds 75,412.
N.C. State senior associate athletics director Fred Demarest said the school has "several models in place."
"We do continue to sell season tickets right now, but obviously have a number of contingencies and models in place should we need to deviate from our traditional path," Demarest wrote via email.
Wake Forest is bracing for the chance it can't allow fans to enter with a ticket assurance program.
"Through the Deacs Ticket Purchase Assurance Program, fans have three options if their ticket was purchased directly through Wake Forest and they are not permitted to attend a game due to cancellation or potential restricted attendance requirements," Currie said. "These options included converting their purchase to a donation in support of Wake Forest student-athlete scholarships, receive credit towards a future ticket purchase or receive a full refund."
North Carolina's Kenan Stadium holds 50,500, and team spokesman Jeremy Sharpe said the program has renewed 94% of season tickets from last year. He said the university has "not made any decisions regarding capacity constraints for this fall" and that discussions with infectious disease experts are continuing.
A similar message came from Tom McClellan, East Carolina's assistant athletics director for media relations. East Carolina's Dowdy-Ficklen Stadium has a capacity of 50,000.
"We've been engaged in ongoing discussions and continue to look at various options and models, but not in a position at this point – without established directives from health, conference and NCAA officials – to move forward with a finalized plan," McClellan wrote in an email.
Fuller said Charlotte's priority after players' families would be the student section, followed by season-ticket holders.
For Jerry Richardson Stadium, which holds 15,314 and is the smallest FBS stadium in the country, Fuller said that would already put the attendance about 50% of the stadium.
"How do you socially distance within a student section which, to this point, has been a general admission, come-as-you-will type of deal?" Fuller said. "And then the thing that's really interesting, I think people don't really have a good answer for, is say you create a model for 50% of your stadium – well, we know that – and I'll take this from all of the venues I've worked in over the years – you never have 100% capacity, ever. It doesn't matter what the game is.
"So … what's your percentage of no-shows going to be? Even if you plan for 50% capacity, you may well end up having a 15, 18, 20% no-show rate. Which is hard – you can't really plan for it, but just so people understand what those real capacities and accommodations are going to be."
Appalachian State senior associate athletics director for strategic communications Joey Jones gave a similar statement through email, "variety of scenarios" are being discussed for what attendance will look like.
A spokesperson at Duke declined to comment, and officials at A&T could not be reached for comment.
Around the nation, similar discussions are being held.
"We don't know how we'll be coming back," Kansas athletics director Jeff Long told the Associated Press. "We've modeled 15,000 to 16,000 in Memorial Stadium (for football), and to be honest with you, we've modeled Allen Fieldhouse, and I can't bring myself to look at it because I know how few people it will be and that's upsetting."
Iowa State is planning for only 50% capacity in football, and Notre Dame athletics director Jack Swarbrick has already warned Irish football fans, "We won't be at capacity."
After schools come to a conclusion on attendance, the rest of the machinery for college football can be determined.
"The additional sanitation needs," Fuller said. "How do we limit hand-to-hand contact, whether it's with concessions transactions or having a bag checked at a gate? All of those things, we're trying to walk through and figure out best practices."
Concessions and merchandise sales account for revenue that may become a cost of social distancing. Thomas suggested the possibility of having pre-packaged meals available at WSSU games or allowing fans to bring food and drinks into the stadium, although not alcohol nor breakable containers.
Would the number of people in restrooms be monitored? Would people waiting to enter the stadium be spaced out in line? How will social distancing be implemented in luxury suites? Will visiting teams have their ticket allotments reduced? Will band members be socially distanced?
Figuring out how many people will be in the stadium to buy concessions or have bags checked at the gate is only the beginning of figuring out what football will look like come September.