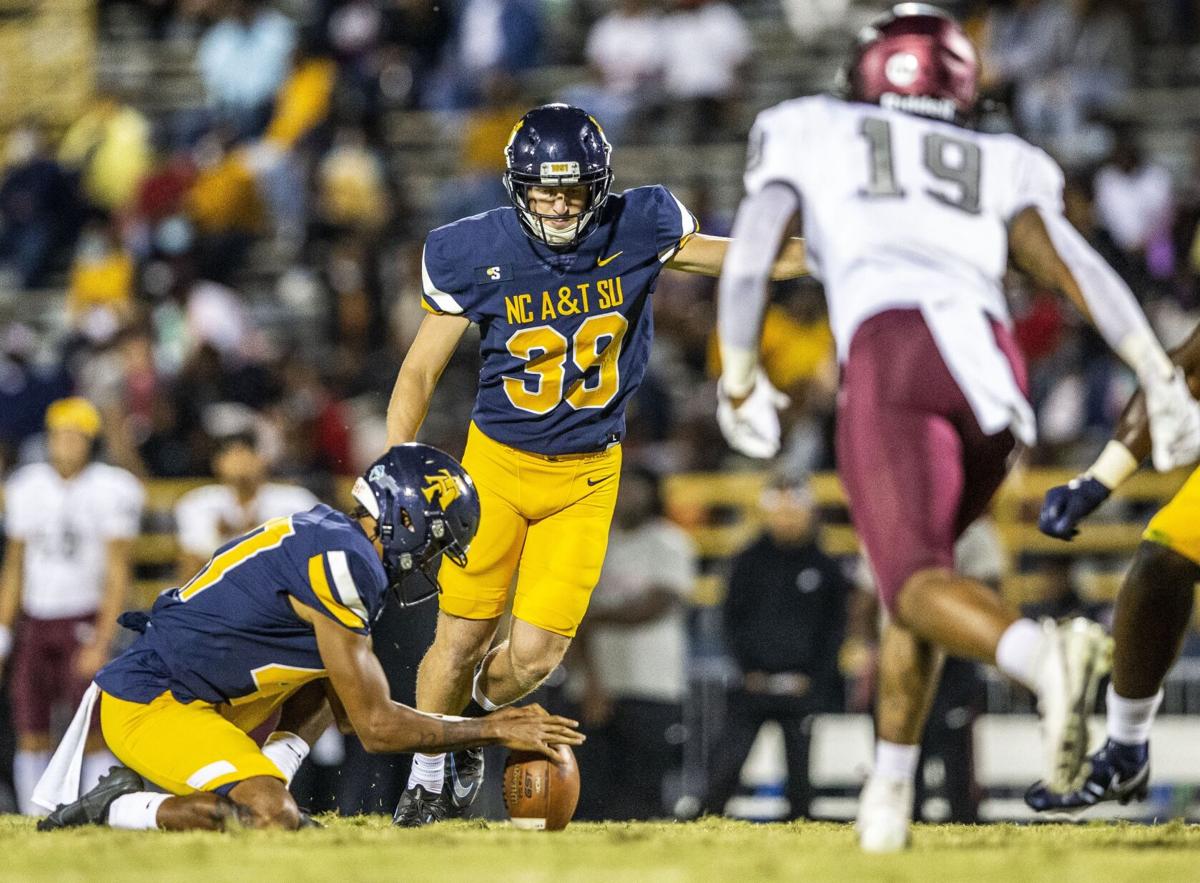 GREENSBORO — One of the perks of playing close to home became evident Saturday for Andrew Brown, a freshman placekicker for the N.C. A&T football team.
After the Aggies dispatched of Robert Morris rather easily at Truist Stadium, the West Davidson High School graduate hung out with his parents in the parking lot after the game.
He had to be summoned to talk to a journalist, and told his parents he'd be right back.
"That's really a great thing because our house is about 45 minutes from here," said Brown, who has made seven of eight field-goal attempts and all 12 points-after for the Aggies, who will play North Alabama at home on Saturday.
Brown, who graduated in 2020, arrived in Greensboro last fall and acclimated himself to college life without pressure.
"I do think that helped me with us not playing at all last season, even though it was disappointing," said Brown, whose father, Chris, is the boys soccer coach at West Davidson. "We all wanted to play, but we also understood that we couldn't."
Dominic Frescura, the Aggies' kicking coach, discovered Brown at a kicking camp in 2019 and watched his progress in high school, showing video to head coach Sam Washington and assistants.
"The benefit to that time off was being able to get the kids in the weight room and have them go through conditioning drills more often than we normally would," Frescura said.
Part of Brown's development is a result of work with strength coach Faris El-Ali, Frescura said.
"All of our kids who went through his workout program were able to gain speed, lose fat, and increase muscle mass to varying degrees, Andrew included," Frescura said.
Brown slid into the starting spot after Noel Ruiz transferred to Georgia State. In 2019 Ruiz was 23-for-27 on field-goal attempts, making one 52-yarder.
Washington, who throws out a lot of nicknames to his players, calls Brown "Money" because he's done so well.
Because Brown doesn't believe in superstitions, he's OK with acknowledging his success.
"It just feels better and better every game, especially when we are at home," Brown said about his steady improvement. "Everyone trusts me, so it makes me feel better about myself and really gives me confidence."
Brown is working to build consistency on landing kickoffs in the end zone for touchbacks. Only four of 23 kickoffs have reached the end zone, but he delivered his best kickoff in the second quarter of Saturday's 41-14 win over Robert Morris.
As he hit a line-drive kick near the 10-yard line, the ball backed up and stayed in bounds, much like a well-delivered wedge shot in golf. The return man for Robert Morris had no choice but to pick up the ball and try to run, getting tackled after just a 4-yard run and pinning the Colonials deep in their own territory.
"That's an important part of my job," said Brown, who made All-Northwest in 2018 for the Winston-Salem Journal, earned all-conference twice and achieved All-America by maxpreps.com.
Brown's only scholarship offer after his final season at West Davidson came from the Aggies, and he jumped at the chance to kick at the Football Championship Subdivision level. His family and friends can make the short drive to home games and he said the winning tradition is a big deal.
"He was signed, sealed and he's delivered," Washington said when asked where the Aggies found Brown.
Frescura said one of Brown's best attributes might be his positive attitude, even if he's struggling in practice.
"He is extremely poised for being a freshman and possesses the short-term memory that kickers need," Frescura said.
Because the Aggies are new to the Big South Conference, the rookie who has made a 47-yard kick this season might be unheralded because he's the youngest starter on the team. He's OK with that.
"I feel like I'm a weapon on our offense," Brown said. "We don't want our offense to stall out, but if it does I'm ready to go out there and try to get us those three points."