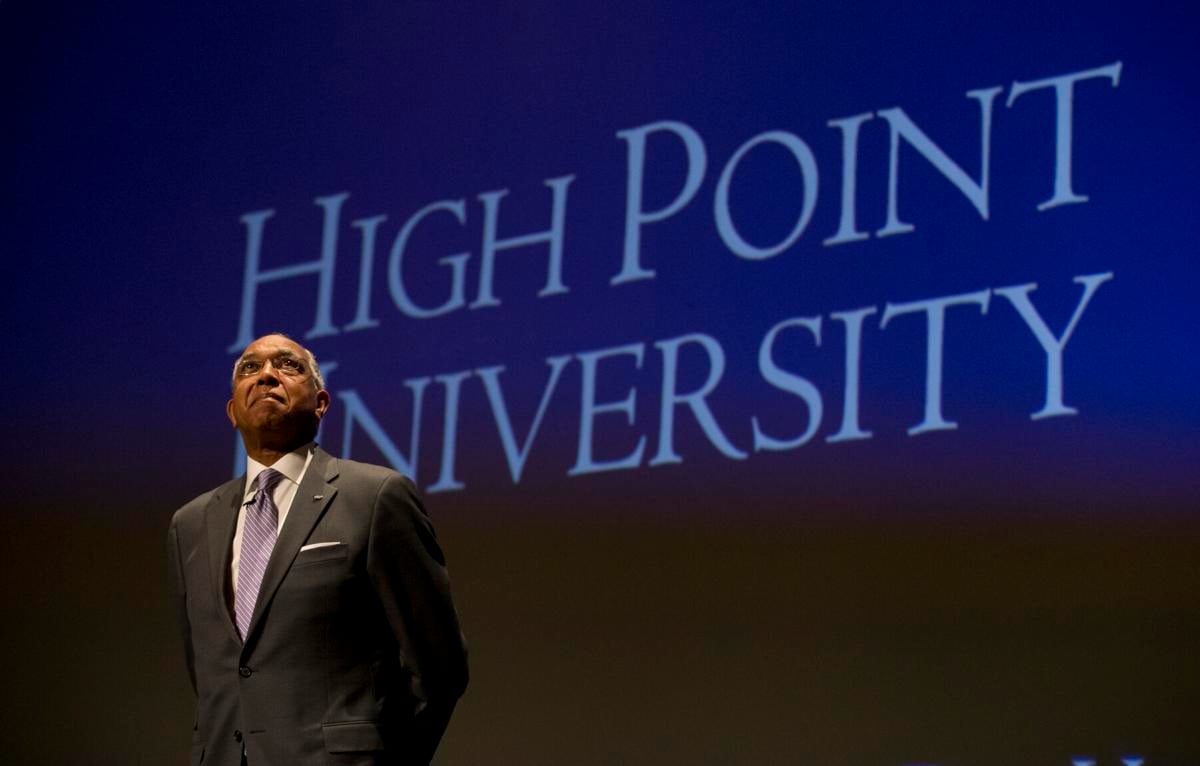 Tubby Smith acknowledged that he thought about quitting earlier this college basketball season, but his competitive juices and that he has a young team he eventually let those thoughts drift away.
Throw in the fact that Smith battled COVID-19 symptoms for 10 days in January, the thought of stepping away did cross his mind. Smith's son, G.G., is the associate head coach and is the likely successor when the coach retires.
"Yeah, I'm ready to quit," Smith, 69, said about the early season when the Panthers were 1-5. "I had that thought, but now I'm feeling better and the key is I am feeling better and we've responded pretty well to everything."
Smith didn't go into details about having symptoms but said thanks to strong dose of antibiotics he's back to 100 percent.
His team is 8-11, and a losing season would be his fourth in the last eight years. But Smith, who will turn 70 in June and who led Kentucky to the 1998 NCAA championship, has won 630 games in a coaching career that includes 30 seasons leading Division I programs.
His rise in the profession began back in suburban Maryland where he was raised.
"When I was first exposed to the game of basketball it was in the ninth grade," Smith said. "It was the first time I had a chance to play and it was 1965. My math teacher, Cecil Short, who recently passed away had played football at Maryland-Eastern Shore asked my dad if I could play. That was at George Washington Carver and it was an all-Black school."
The next year the schools in suburban Maryland desegregated, so Smith went to another high school.
"I had never been to a college game and I had never even seen one on TV," Smith said. "Something happened that spring of 1966 and was a watershed moment that put me onto this path to coach. At Cole Field House (at Maryland) Texas Western beat (an all-white) Kentucky team and it was the first college game I watched on TV and they had an all-black starting five and Texas Western won.
"And I knew at that moment I was going to teach and coach, and now here I am how many years later."
Big House Gaines as mentor
The year after Texas Western's monumental victory, Smith's attention turned to Winston-Salem, where he had heard of Earl "The Pearl" Monroe and his coach, Big House Gaines.
The Rams won the Division II national championship in 1966-67, and as a high school player Smith said he tried to follow that team that went 31-1.
"Big House was the guy who was a basketball coach who I first identified with," Smith said. "He was the first, great black coach and I didn't know John McLendon at the time, but I did meet him later."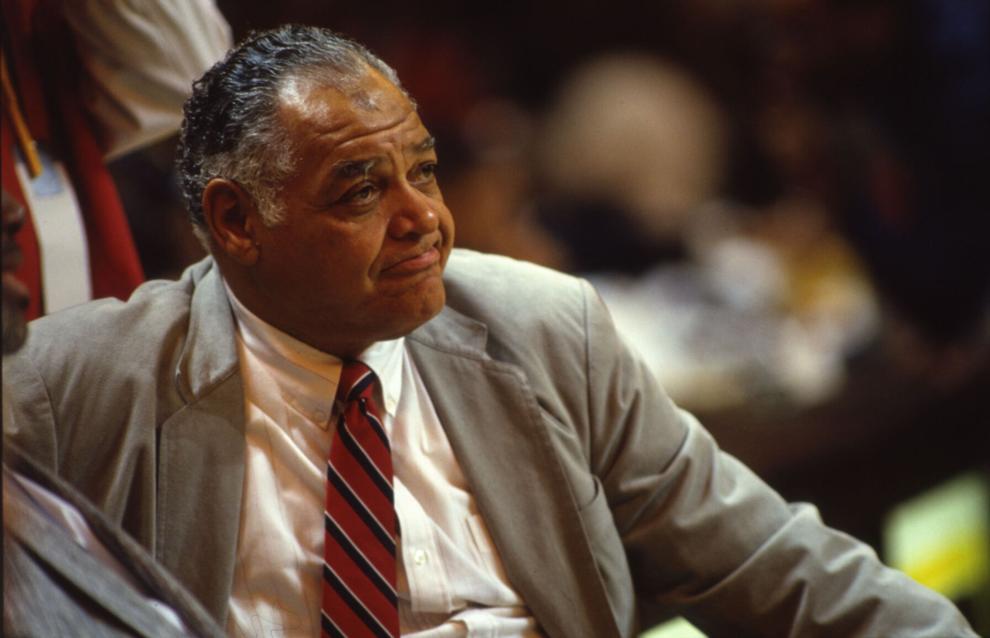 Smith then later played against the Rams and Gaines in the early 1970s when he was as star player at High Point. Smith then got to know Gaines when Smith started up the ladder as a college coach in the late 1970s.
"How he conducted himself is what I remember the most," Smith said about the legendary status of Gaines. "We spent some time together on those Converse trips with guys like Ben Jobe, Dean Smith, John McLendon, and they all wore Converse basketball shoes back then."
Smith would also speak at Gaines' funeral in April 2005, along with John Thompson and John Chaney.
"Coach Gaines and his wife, Clara, we got to know really well and my wife (Donna) could identify with them and we sort of watched how they went through life," Smith said. "The one thing that he was adamant about was image and how you presented yourself every day. 'Don't let them pigeon-hole you into something, you just be a coach and a teacher,' he often told me."
Smith said seeing the family values that Gaines always talked about were something that stuck out to him. Clara Gaines died last week at age 95.
"Coach Gaines always said his family was a big part of his success," Smith said, "and I learned that from him that in this business of coaching you need that great family beside you."
Honoring John Thompson
In Thursday's home game against Winthrop, as will be the case at several games around the nation this week, High Point will honor Thompson's memory with towels featuring his picture. Thompson, a former Georgetown coach who died in August at age 78 and who famously coached with a towel draped over his shoulder, was one of Smith's favorite coaches.
"Coach Thompson and I spent a lot of time together and I'm kind of glad I never coached against him because he had some really good teams," Smith said.
Smith said he got plenty of advice from Thompson through the years.
"Coach Thompson also said if you take over a job, be careful, and don't try and win them all at one time," Smith said, alluding to his stop at Kentucky.
What Smith loved about Thompson was he wasn't afraid to fight for the Black athlete.
"Coach Thompson was another man who was a proud, Black coach who spoke his mind," Smith said. "He was the first one, really, who had a national voice and he didn't mess around."
Another mentor is gone
Late last month Smith lost another of his mentors, John Chaney, who turned Temple into a consistent winning program. Chaney, who was 89 and, like Gaines and Thompson, is in the Naismith Memorial Basketball Hall of Fame, was another passionate coach who was adamant about fighting for his players.
"We've got to do something to honor John Chaney as well," Smith said.
What Smith said he learned from Chaney had a lot to do with discipline.
"He was an unbelievable coach," Smith said. "I used to talk to him a lot about his matchup zone. We were both with Nike for a while and we spent some time on some of those coaches' trips with Nike."
Chaney was famous for leading early-morning practices.
"Part of that discipline he had with his teams was he would practice 5:30 or 6 o'clock in the morning," Smith said. "And I asked why did he do that, and he said his players had to be in bed earlier the night before. He said they were more alert at that time of the day with practice that early."
While Smith has been an avid golfer for years, he remembers a time when Chaney wanted to learn the game.
"One time on those Nike trips Coach Chaney rode with me in a golf cart and he wanted me to teach him how to play," Smith said laughing. "He was in a leisure suit so that was kind of funny. He thought I could teach him how to play in a few minutes."
Hall of Fame talk
During his 30 seasons as Division I head coach, Smith has taken teams to 18 NCAA Tournaments through stops that have included Tulsa, Georgia, Kentucky, Texas Tech and Memphis before his return to his alma mater, to which he and his wife donated $1 million and where the Panthers will play on the Tubby and Donna Smith Court when the Qubein Arena and Conference Center opens. It's a career that could earn him a place in Springfield, Mass., alongside some of his Hall of Fame mentors.
"I don't even bridge that conversation," Smith said. "I've always been one that my dad raised me to do the best job that you can and everything will take care of itself. That's all I do.
"I'm concerned with High Point University, and as you get older you don't look too far ahead. You're just thankful to wake up every day, and then you go to work."