Anybody looking for a team to pull for in the NCAA Tournament regional at the Greensboro Coliseum might want to gravitate toward Providence College.
Jeff Battle, the associate head coach for the Friars, said he feels like he's coming home to the Triad because he spent 13 years as an assistant at Wake Forest, learning plenty under the late Skip Prosser.
"When I saw the actual options and sites, I was first hoping that we would just get in, but to go to North Carolina would be cool," Battle said by phone earlier this week. "Then I saw we were playing Kentucky and I quickly went back into coach mode."
Battle, 61, one of the top assistant coaches in the country, is in his second season as the associate head coach for Ed Cooley. Earlier this season, Battle was selected for induction into the Step Up Assistant Coaches Hall of Fame for his dedication to the profession.
Battle was at Wake Forest for 13 seasons — from 2001 until 2013 — where he worked under Prosser until Prosser's death, and then worked for Dino Gaudio and later Jeff Bzdelik. It was Battle, Gaudio, Pat Kelsey and Mike Muse who helped pick up the pieces of a broken program when Prosser died as he was building the Demon Deacons into a top team in the country.
Muse is currently on staff with Coach Steve Forbes at Wake Forest, and Kelsey is leading College of Charleston as its head coach. The Cougars are also in the NCAA Tournament.
"Every time I come to North Carolina the first person I think about is Skip because we spent so much time together there at Wake," Battle said of Prosser, who died of a heart attack at age 56 in his on-campus office in July of 2007. "I have so many great memories of Wake Forest and what we accomplished. And a lot of Wake Forest people were texting me and congratulating me after the selection show, so that's been great."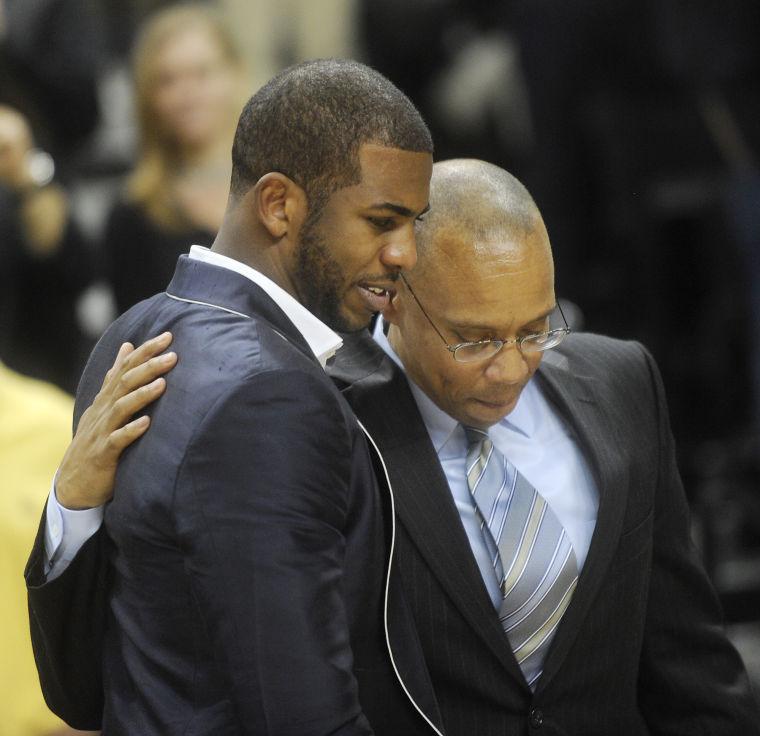 Among those many accomplishments was the Demon Deacons being ranked No. 1 for a while in the 2004-05 season and again in the 2009-10 season. Battle was around for Chris Paul's two seasons before Paul turned pro.
"I just remember the buzz on campus when we had attained those rankings and Joel Coliseum was filled to the brim," Battle said.
After his time at Wake Forest he landed at Providence, and in his eight seasons there the Friars are 163-95, and they are going to their second straight NCAA Tournament.
It wasn't long after the Sunday night announcement of the NCAA Tournament pairings when Battle's phone started buzzing. It was ticket requests from friends in the Triad and he loved hearing from so many.
"It's great that I've maintained so many friendships after leaving Wake so that's not a bad thing that they want tickets," Battle said. "We are looking for any support that we can get, so I'll see just how many of those ticket requests I can grant."
During his time in Winston-Salem Battle, like most coaches, got into a morning routine that lasted the entire time he was at Wake Forest.
He would make his way to the Gold's Gym on Reynolda Road and work out at least four days a week. It was there that he met a lot of people who he still stays in contact with, and he would go to breakfast at least once a month. While the Gold's Gym is long gone Battle stays connected to those group of friends thanks mainly to social media.
Even though Battle could have worked out at Wake Forest, he said it was important to not always be on campus and be consumed by the job.
"It's funny, but we developed a bond with those people at the gym and when I first started going it was just to see the people and say hi," Battle said. "But still to this day whether it's through Facebook or whatever, we've stayed in touch. It's pretty cool because those people supported me through thick or thin whether we won or lost, so I just always appreciated that they were there for me. That's why I value those friendships."
One of those friends he met at Gold's Gym, Tony Burke, will be at the game on Friday.
"We talked yesterday and he's coming to the game," Battle said.
One of the keys to being a college assistant coach at a high level is not being consumed by the job. Battle has been doing this for 33 years and has outlasted a lot of coaches his age who moved into other professions.
"You do need some down time from always thinking about basketball," Battle said when asked about his longevity in the cut throat world of college basketball. "When I first started in college coaching (at Delaware State in 1990) it was a lot different. I know that when I look around now a lot of guys who were assistant coaches aren't doing it anymore."
Battle said he's always maintained a philosophy that he's never wavered from. He's been an assistant coach with stops at Loyola and Xavier before coming to Wake Forest.
"I just feel blessed," Battle said. "I've just been able to have this consistency in this profession, and I think learning from all the people I've been around have allowed me to prosper. All the head coaches that I've worked for have been great, and I've really just based all of this on two things—integrity and humility."