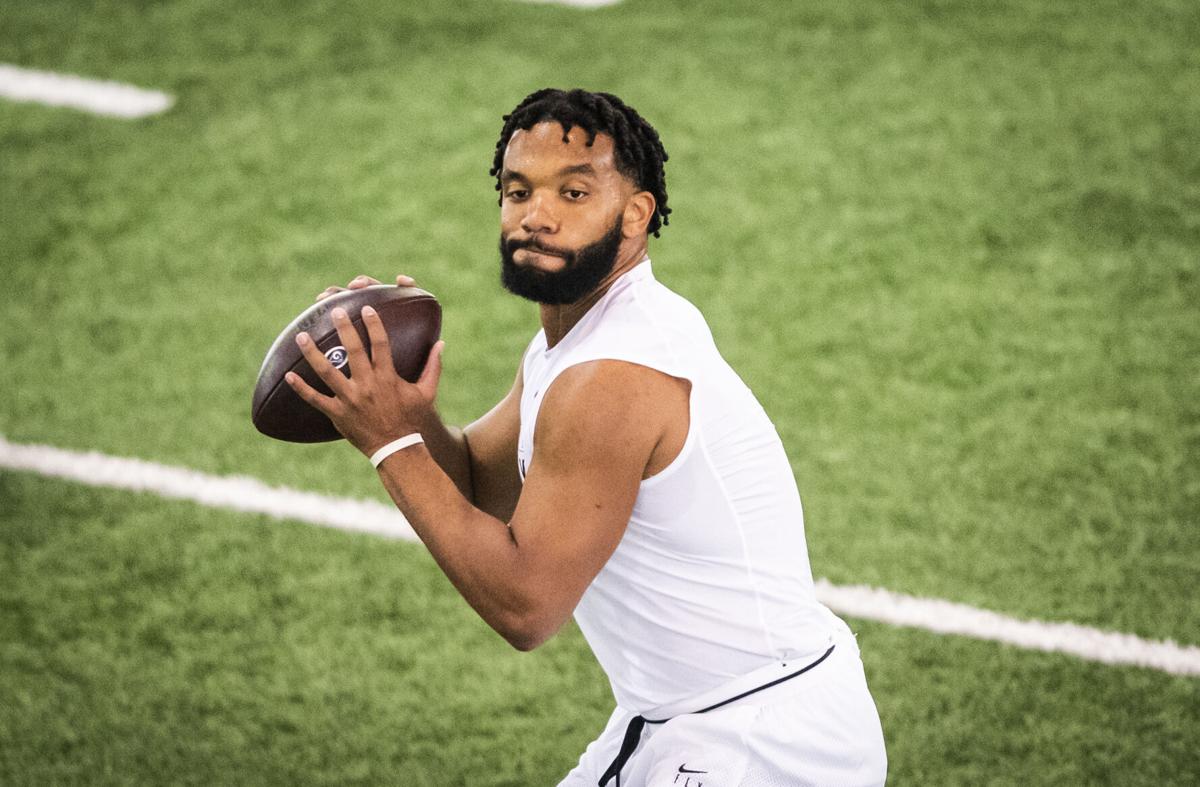 Besides Wake Forest's Carlos Basham, Winston-Salem's Divine Deablo of Virginia Tech and Appalachian State's Shemar Jean-Charles, a look at other NFL Draft hopefuls.
Wake Forest
Last season: Transferred to Georgia as a graduate student but opted out because of COVID-19 and didn't play in 2020.
Key stat: His 2,868 passing yards in 2019 are the fourth-most in a season in Wake Forest history and his 26 touchdown passes that season are second-most.
The skinny: All it takes is one team to like his upside, so he could be a pick in the fifth or sixth round. Pro Football Focus, a website that ranked the 300 best draft prospects has Newman ranked 174th.
Last season: Opted out of the 2020 season, citing concerns for COVID-19.
Key stat: In 2019 he ranked first in the ACC in receiving yards per game at 111.2 and was second in receptions per game with 7.3. He also tied for fourth in the conference with 11 touchdown catches.
The skinny: He and his brother, Chazz, a North Carolina linebacker, could be drafted in the later rounds.
Last season: Joined Wake Forest as a graduate student and consistently got the ball to the end zone on kickoffs. Over the last three seasons, with two of those at Washington State, he had 130 touchbacks.
Key stat: He had 36 touchbacks in 2020 and helped the kickoff return defense finish nearly 40 spots higher than in 2019. He also was 7-for-7 on extra-point attempts in 2020.
The skinny: NFL teams don't really draft kickers who can only kick off so he'll have to show something if he gets into an NFL training camp as an undrafted free agent.
Appalachian State
Last season: Capped a career that featured 44 straight starts at left guard. Ranked a top-100 college player by Pro Football Focus.
Key stat: App State's offensive line was inside the top 20 nationally for rushing yards per game – seventh in 2020, 16th in 2019 and 14th in 2018.
The skinny: Often under the radar but wildly important to the Mountaineers' line dominance. He was the first App State player to declare for the draft, announcing the night of the Myrtle Beach Bowl that he would pursue his pro career.
Last season: In his third season as a starter, Thomas connected on 64.3 percent of his passes with 2,189 yards, 20 touchdowns and 11 interceptions.
Key stat: He's third overall in school history for passing touchdowns (69), fourth overall with 6,979 passing yards.
The skinny: Not as frequent a running threat last season, Thomas is a legitimate dual-threat option at quarterback. He registered 1,301 career rushing yards and 19 rushing touchdowns, 10 of those scores coming in his first season as a starter in 2018.
Last season: A locker-room leader, Hannon started all 52 Mountaineers games. He snapped the ball to two of the best quarterbacks in App State history, Taylor Lamb and Zac Thomas, while leading an offensive line that was one of the best in Group of Five football and the nation.
Key stat: Back-to-back first team selection on the All-Sun Belt team.
The skinny: Hannon is attempting a position change for a chance to make the NFL. A team bringing him on would be scooping up a proven winner and an stout football mind.
Winston-Salem State
Last season: Played in his final season in 2019 but has had to wait to get a shot at the NFL after COVID-19 wiped out pre-draft workouts in 2020. He stayed in school to finish up his degree requirements and continued to work out for this draft.
Key stat: He was a ball hawk for four seasons as a starter for the Rams and had 22 career interceptions, the second most in school history.
The skinny: WSSU hasn't had a draft pick since William Hayes in 2008. Despite his speed and hands he hasn't been on the radar even though he's been to an HBCU combine. He'll likely wind up as an undrafted free agent in a team camp.
Last season: The Dudley High School alumnus from Greensboro didn't play in 2020 after A&T decided to not play during the spring but he has 30 pass deflections and 87 tackles in his career.
Key stat: He was on the Buck Buchanan Award Watch List for the best defensive player in FCS in 2019
The skinny: He attended an HBCU combine and has shown off his abilities. His speed and ability to play on the inside at cornerback will only help his potential to be selected.
Last season: Didn't play in 2020 after A&T decided to not play during the spring but he had 55 catches in 2019 with 855 yards and eight touchdowns.